Cheryl Bloxham
According to the station's website, Cheryl studied English, History and Geography before completing the Broadcast News program at the Southern Alberta Institute of Technology in Calgary. Her first career move brought Cheryl back to the North Peace region of British Columbia, where she spent several years as a child. She worked as a videographer in Fort St. John before moving to Dawson Creek to anchor the Evening News on CJDC Television. One year later, Cheryl landed a job as a reporter, producer and late night anchor at CFJC Television in Kamloops. She gained a wealth of experience in the Interior, covering a range of stories including the wildfires of 2003.
In 2004, Cheryl jumped at the opportunity to move to Vancouver Island and join the CTV News team, where she has had the opportunity to expand her reporting, anchoring and producing skills. Cheryl has always been passionate about telling stories that interest people and reflect the community.  She is proud to call Vancouver Island 'home' and thinks it is an amazing place to raise children.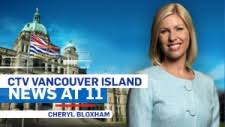 Cheryl is married (to a fellow CTV personality Adam Sawatsky) and has two little boys. She is active and enjoys exploring Vancouver Island and discovering all it has to offer, from wild outdoor adventures, to great shops and restaurants, and amazing beaches. She loves spending time with family and friends, travels as much as possible, both close to home and overseas, and can't imagine life without a pair of skis!
The station said goodbye to Cheryl Friday night, and you can catch that video tribute HERE.
We at Puget Sound Radio are sorry to see Cheryl leaving the Victoria airwaves where she has been such a reliable fixture, and wish her well in her new role.