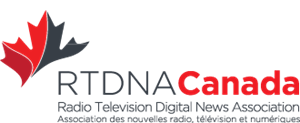 April 19, 2018
REGINA, Saskatchewan, April 19, 2018 (GLOBE NEWSWIRE) — RTDNA Canada is pleased to recognize two outstanding individuals in the Prairie region who have distinguished themselves through outstanding service and continued excellence during the course of their careers in journalism and news management.
"Once again the prestigious RTDNA Lifetime Achievement Award is recognizing two exceptionally talented people who have provided their community with decades of vitally important local information", said RTDNA President Ian Koenigsfest, adding, "thank you, Geoff and Sheila for making a difference and providing leadership to our industry."
Sheila Coles and Geoff Stickle will be presented with their RTDNA Canada Lifetime Achievement Awards during the Prairie Regional Meeting on April 21, 2018. For more information on the event visit http://www.rtdnacanada.com/2018-prairie-regional-meeting/.
Sheila Coles
Born in England, Sheila moved to Canada before hitting her third birthday.  She lived in many countries and parts of Canada before landing in Regina, Saskatchewan, a place she has called home for more than 30 years.  Sheila started at CBC 34 years ago as a reporter before moving into the host chair of the CBC Saskatchewan's Morning Edition in 1993.  Sheila is known for her tenacious interview style. She has also been a mentor of young journalists, teaching interviewing at the University of Regina's School of Journalism.  Well respected in Saskatchewan and all of Canada, her retirement party drew hundreds of people to her farewell live open house show, including former Saskatchewan Premiers Lorne Calvert, Roy Romanow, and Brad Wall.  Sheila has won many awards for her journalism including the RTDNA's Peter Gzowski Award for best radio news information program.  Sheila is now being recognized by the RTDNA for her contribution to journalism with the association's Lifetime Achievement Award.
Geoff Stickle
Geoff Stickle began his broadcasting career by enrolling in the Radio & TV Arts program at Edmonton's Northern Institute of Technology in the mid 70's.   His first job out of NAIT was as a grip assistant on a movie being shot at Fort Edmonton.  It was there he met a production cinematographer who suggested Geoff apply for an opening at ITV for the position of film assistant. When he was hired in October of 1977, his plan was to work his way up to cinematographer.  The advice given to him at the time was to go into news first and gain valuable experience by being challenged daily. He never looked back. After 42 years with Global Edmonton, Geoff retired as camera supervisor this past February as the longest-serving member of the team.  During his four decades, Geoff covered all of the big events: from the Black Friday tornado, to Oilers victory celebrations, to the more recent Fort McMurray wildfire.  The man affectionately known as "Sticks" was much more than a cameraman, and that is obvious in the words from his teammates.  He's called someone "who truly appreciated his career", and who "treated every assignment like it was the most important story he's ever covered".  Those of us in the television business know how hard it can be to convince someone to tell us their story on camera: that's when it was great to have "Sticks" by your side.  His never-ending patience was a calming influence for interviewees, no matter how disorganized or tongue-tied they might have been.  He also has a soft spot for kids, often taking the time to show them how those big ENG cameras work.  That same teaching spirit was shown in his mentorship of dozens of young shooters at Global Edmonton.  And, in what is one of the highest compliments anyone can receive, Geoff is the kind of journalist who makes everyone else in the newsroom want to do a better job.  Geoff is now being recognized for his contribution to journalism with the association's Lifetime Achievement Award.
RTDNA CANADA     
RTDNA Canada is the voice of electronic and digital journalists and news managers in Canada. The members of RTDNA Canada recognize the responsibility of broadcast and digital journalists to promote and to protect the freedom to report independently about matters of public interest and to present a wide range of expressions, opinions and ideas. The RTDNA Canada Journalistic Code of Ethics, adopted by the Canadian Broadcast Standards Council, is used to measure fairness and accuracy in our profession.
Become a Member:  https://rtdna.wildapricot.org/join-us
CONTACT INFORMATION
Ian Koenigsfest
President, RTDNA Canada
[email protected]
Jennifer Nguyen
RTDNA Canada Awards
[email protected]
http://www.rtdnacanada.com