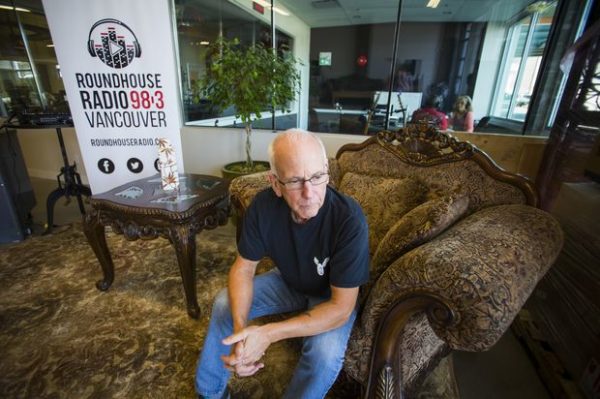 Vancouver radio station Roundhouse Radio is scheduled to cease broadcasting April 30, following a decision by its board of directors to discontinue financial support. The news was delivered to employees on Monday by a devastated Don Shafer, the station's founder, CEO and director of programming.
"The bottom line is we ran out of time, money and runway," Mr. Shafer told The Globe and Mail in an e-mail on Monday. "Our investors believed and did their utmost to find a way, but we are now out of both [time and money], without investment or a buyer."
The board had been trying to find investors or a purchaser with Capital Canada. The station stays while there continues to be dialogue, but the board has determined that without a potential buyer, Roundhouse Radio will go off the air at the end of this month.
Billing itself as hyperlocal, Roundhouse Radio – CIRH-FM – was launched in October, 2015, broadcasting from Railtown, with an interview-heavy, NPR sort of format. At 98.3 FM, the signal is low power so as not to interfere with other stations on the same frequency. Its reach is limited to the city of Vancouver and the North Shore.
.
Hosts include former Toronto radio personality Gene Valaitis, former Sportsnet host Jody Vance and former mayoral candidate Kirk LaPointe, who hosted the morning show when the station launched.
"It has been a great privilege to be a day-one host at the station. I didn't particularly love getting up at 4 to be the morning person, but I did love what I could discuss. My evening show permitted me to stretch some discussions a bit, and the hour-long Business in Vancouver show I now co-host with Tyler Orton and Hayley Woodin is the only local show with a focus on business," Mr. LaPointe wrote in a Facebook post on Monday.
According to the post, the station has featured more than 10,000 guests. "It's a daily master class in the expert fields of those who talk to us," he wrote.
He wrote that the business model is "highly challenging" for a for-profit station with a very limited broadcast reach.
READ THE REST OF THE STORY  HERE  AT THE GLOBE & MAIL WEBSITE
For the VANCOUVER SUN's take on this story, go HERE.