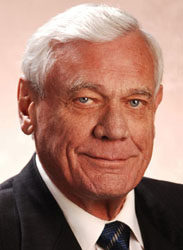 Very sad to hear from my old friend Jim Morrison that another former CKWXer from the "rock house on Burrard" has died.  Barrie Clark, who was also a Liberal MLA long before that included any kind of power in the BC Ledge, passed away Friday at age 86 after a short, unsuccessful battle with cancer.
At Barrie's request, there will be no service, which is a shame, because I know a bunch of us would show up.
Vancouver Broadcasters has thankfully posted Barrie's broadcast itinerary:
Announcer CKOV Kelowna 1949; CHEX Peterborough ON 1951; news: CJOR Vancouver 1952; Reuters News Agency London UK 1954; talk-show host: CKLG Vancouver 1955; CKWX Vancouver 1956; CHAN-TV Vancouver 1961; CKWX & CBUT Vancouver 1962; Councillor District of North Vancouver 1963; elected to the BC Legislature 1966; Rentalsman BC Attorney General's Ministry 1973-76; talk-show host: CKNW 1977-86; CJOR 1988; CKOV Kelowna 1989-99; Councillor Kelowna City Council 1999-2008
Does anyone else remember Barrie as the host of CHAN-TV's Dance Party?   Even he recalled that casting as a rock jock as pretty strange!  But it really spoke to his versatility, and his willingness to take on anything that was thrown his way.
It should be mentioned that some of Vancouver's most entertaining radio came from his on-air partnership with Jim MacDonald in the CKWX 9-noon time period in the 1960's.
Barrie was a good friend to me personally in a time of need, and I believe he could be very proud of all his radio accomplishments, though he himself found greater satisfaction from his years in politics.
RIP old friend.