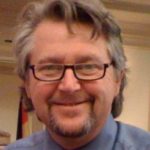 JJ-365
March 12, 2018
Welcome to JJ-365 Salutes. Over 2018, we pay tribute daily to one of "The Good Ones". Today we are shining the light on Martin Strong.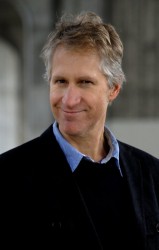 When I first arrived as CFOX Program Director I had a series of one-on-one "get to know you meetings" with all. This tall, gangly young lad named Martin Strong came on in when it was his turn. He told me he was working in what was called the foreground department. As always, you are responsible for delivering on a number of CRTC regulations and at that time you also had to guarantee a certain amount of talk content and specialty music quotas. Martin was in charge of that mostly through his writing of "The Rock Journal", an excellent hour-long show hosted by John Beaudoin who was the FOX PD before I got there. This was an important rock music show and with all rock FM's in Canada in the same CRTC predicament, the show was gobbled up by rock stations across the country.
Marty's first job in radio was at CFOX in the mid 80's as an operator. He said he lasted 3 weeks – sort off. "After 3 shifts in which I made a bunch of mistakes on the board (and one night failed to play a bunch of commercials), Don Shafer, the PD at the time, took me into the office and gently told me he was going to have to let me go. He also asked if I could work one last shift on Saturday until they could find somebody to replace me. So, I did…and as I was leaving that final shift, I noticed I was still on the schedule for the following Saturday. So, I decided to quietly come in and see what happened. I worked that shift, then noticed I was scheduled for 2 shifts the following weekend. I assume Shafe forgot to tell the guy who did the scheduling, so I decided to keep quiet, avoid his office for a while and just keep coming in. I started to get better at operating, and it was a never brought up again."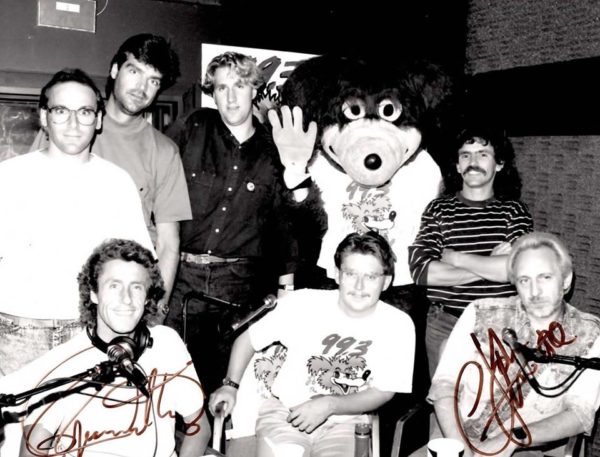 When I arrived at the FOX, I wanted us to have a completely different approach with the station promos: Creative, fun, and funny. Well that kind of sums up Martin right there doesn't it?
We got to work, and began turning out amazing award-winning promotional announcements, with Martin writing, the great George Raymond producing and voicework done by the cast of characters at the station.
One very successful series was in conjunction with Budweiser, where we did a multi-spot campaign take off of "Leave it to Beaver". Budweiser loved it.
Also at that time, and back to the CRTC, we had to run at least a couple of hours of JAZZ Sunday mornings on the FOX. What? You could imagine how a JAZZ show stood out from the rest of the FOX Rocking. We had to play the music, but we could at least be creative with the delivery of the show. We invented "The Three Jazz Ego's", which featured Martin as "Dizz", Robin Robin LaRose as "Blind Melon Larose", and me as "Jack the Whack". We had a whacked-out presentation every Sunday morning with the façade being that the three characters played gigs all night, and then dragged their tired and sorry butts into the radio station to do the show. That was pretty out there stuff, but we played the right amount and kind of JAZZ music. A CRTC person once told me "Great tunes, and the show certainly qualifies. Keep in mind I am not a programmer when I say this, but I'm not sure of the presentation."
Martin told me he was hoping for more on air time, but felt he was cast in his position, which was an important one. He has a different voice and I liked it because in my books different stands out from the pack. I was always on the lookout for different sounds and hired many over the years that sounded off the regular beaten path. One hire was Guy Dobson, an Aussie who was on a long leave to British Columbia. No one would take him on because of his accent. Really? We snatched him up and he did a great job. Guy went back down under and has long been an award winning Chief Content Officer for SCA, a huge radio company there. Happy to say we are doing work together these days and it is a pleasure working with him and his "switched on" teams.
Back to Martin…Soo, as time went on we started putting him on doing the news live in the afternoons with the awesome Liz McKinney who appreciated his talents and was a great support for him. Marty is quick on his feet and has this hearty laugh all of which led to him co-hosting in the afternoon until '96 when he was offered a job at ROCK 101 by then PD Ross Winters to work with Robin LaRose in afternoons.
A couple of years later, Ross teamed him up with Brother Jake Edwards and was there until 2011. On that Martin says "Being teamed up with Jake was another of my lucky breaks. If you don't learn anything working with a talent like Brother Jake you're just not paying attention. We had an amazing run…and I'm very proud of what came out of the speakers in those years."
In a "what goes around comes around" twist, Don Shafer – the PD who sort-of-fired him all those years ago – hired him to work at his new Roundhouse Radio Station in Vancouver in 2015. Marty left Roundhouse this past September (he says "at least I think I did – I should check the schedule").
I was lucky to work with Martin, Jake and Robin again when I went back to the west coast to lead CORUS Vancouver radio in 2005.
Today Martin is keeping busy as the Dept. Head of the Broadcasting & Online Media department at The Vancouver Institute of Media Arts (VanArts) and doing a bunch of voice over work including narrating Jade Fever on Discovery Canada (4th year). A TV commercial for Toyota with Marty and Darcy Rota got a lot of airtime in BC last winter.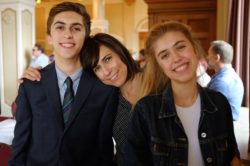 Martin and wife Lori Strong have two great kids who are well on their way. Their son Liam is in his 3rd year at McGill in Montreal and daughter Ruby just got accepted there for September.
Different, smart, a great writer and performer, quick on his feet, and a good family man. Atta be Martin!
Congrats Martin Strong, the legend, on being one of "The Good Ones". Feel free to like and share Martin's positive story. Who is the subject of tomorrow's JJ-365 Salutes? Stay tuned!
Jim Jj Johnston is the CEO, President and Chief Talent Coach for JJIMS INC. and works with talent worldwide.
J.J.'s bio, courtesy of VancouverBroadcasters.com
J.J. Johnston – Board operator CKLC Kingston ON 1974-75; midday host CJET Smiths Falls ON 1975; morning hostCKOB Renfrew ON 1975-76; nights CFCH North Bay ON 1976-77; evenings CFGO Ottawa and part time CKLW Windsor ON 1977-79; swing CFTR  Toronto 1979-81; p.m. drive/mornings/ssistant PD CITI-FM Winnipeg/Jet's hockey broadcaster at CKY Winnipeg 1981-86; PD CHAM Hamilton ON 1986-88; national PD Moffat Communications/PDCFOX-FM/CKLG Vancouver 1988-93; national rock PD WIC Communications/CFMI-FM Vancouver 1993-94; VP programming Standard Radio/CKFM-FM Toronto 1994-2000; GM Corus Radio cluster Toronto 2000-05; GM Corus Radio (CFMI-FM/CFOX-FM/CHMJ/CKNW) Vancouver 2005-10; regional GM then contract consultant Corus Radio East – Barrie/Collingwood/Peterborough/Kingston/Cornwall ON 2013-current; President/CEO, JJ international Media and Management Solutions Ontario 2013-current; Interim GM CJPE-FM Prince Edward County ON 2013-current.  LinkedIn profile