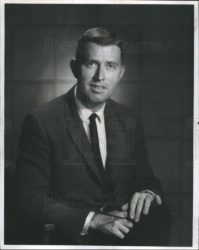 Sorry to get the news today that Jim French has passed on.  He was aged 88.
Jim was born in 1929 in Seattle. At the age of eight he knew he wanted to be a radio announcer. During WWII Jim got a job as an announcer on a radio station called KPAS. He entered the Army a few years later and, after being sent to Japan with other troops, was assigned to an Armed Forces Radio Service where he started writing weekly radio shows.
In 1952 Jim French began working for both KING AM1090 and KING-TV. He became morning DJ on KIRO (AM) in Seattle in 1959.  After a move to KVI AM570 he began writing and producing weekly radio plays.  In 1980 when he returned to KIRO his weekly productions aired under the title KIRO Mystery Theatre.  That evolved into Imagination Theatre, which in 2003 moved from KIRO to KIXI-AM.   At their peak his syndicated programs were broadcast on over 120 stations in the U.S. and Canada, and were also heard on the XM Satellite Radio system all over North America.  The most popular programs in the series proved to be the Seattle-set Adventures of Harry Nile, and The Further Adventures of Sherlock Holmes.
French made an appearance in an NBC Movie of the Week Pandora's Clock (1996) in the role of an Army non-com. He provided the voice for the Scientist in Gunman Chronicles, Father Grigori in Half-Life 2, the Fisherman in Half-Life 2: Lost Coast, Bill in the games Left 4 Dead and Payday: The Heist (as a cameo in the opening cutscene to one of the missions), and Elder Titan in Dota 2.
Jim's wife and frequent Imagination Theater collaborator Pat French died in 2015 or '16.  In late January 2017, it was formally announced via the Imagination Theater Facebook page that, due to age and health issues, Jim French and his family would be closing down their production company and discontinuing all broadcasts of Imagination Theater at the end of March 2017.
Above picture is from 1966 when Jim was in his hey day as the 9-noon talk show host on KIRO AM710. Below is Jim pictured in more recent times.