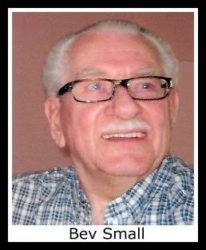 News update from our radio friend Chuck Benson of the Oceanside Media Club (OCMC), reporting , Never (Beverly) Small passed away this morning.  He was employed in radio in Manitoba.  That's all I know. He was a recent participant of the Oceanside Media Club In Parksville.  As a matter of fact this Club has many members from across Canada, including delightful 94 year old Howie Meeker. Bernie Pascal is also a member.
OCMC organizer Jim Archibald sent out invitations to the next Oceanside Media Club luncheon, which is taking place next week.
Looks like our turnout for this last luncheon of the year is going to be a record-breaker!  
So far 24 have said they'll be there, and that includes a few spouses who'll be coming.  
As soon as we reported that our founder, Verne Prior was coming to this one, the positive responses started coming in!  We're suggesting that name tags (if you have one) should be worn.
You're one of the few I've yet to hear from and I do hope you'll be able to make it.  Remember, we are encouraging members to bring their spouse, a friend, or come alone …..whatever works.
Tuesday, Dec.19th
12:00 Noon
Please let me know ASAP whether or not you can make it, and how many.
Oceanside Media Club in Parksville/Qualicum Beach website HERE