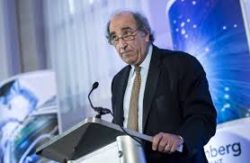 Andy Lack is the NBC News executive who fired Matt Lauer. The 70-year-old chairman is now under fire himself.
If you can make it in New York, you can make it anywhere, the song goes.
Evidently, making it in the highly-competitive television news industry in the Big Apple has often meant, for women, enduring sexual harassment at the hands of their male co-workers.
The list of men ousted from high-profile seats of TV power grew this week with NBC's ousting Wednesday of Today co-anchor Matt Lauer.
But NBC is not alone. All of the major television networks have been hit with similar situations recently, making Lauer just the latest in a line that most recently includes Charlie Rose, who co-hosted CBS This Morning and had his own nightly show, produced by Bloomberg Television and aired on PBS for 26 years. He was dismissed from all three networks two weeks ago after accusations of sexual harassment and assault.
NBC News also last month terminated its contract with political analyst Mark Halperin who also appears on MSNBC. He had been accused of sexually harassing women while he worked at ABC News as political director in the late 1990s and much of the 2000s. Showtime also dismissed Halperin should the premium channel continue its political documentary series The Circus, which he co-hosted.
Back in April, Fox News Channel 
dismissed
 Bill O'Reilly, host of the network's ratings leader 
The O'Reilly Report
 after an internal investigation prompted by 
The New York Times
 report that Fox and O'Reilly had paid millions to settle several sexual harassment accusations. O'Reilly's ouster followed the July 2016 resignation of Fox News CEO Roger Ailes, who had also faced allegations of sexual impropriety.
.
That media scandals would arise in New York makes sense because that is where the major outlets' headquarters reside and house the executives who have the power to hire and promote staffers, says Mark Feldstein, a broadcast journalism professor at the University of Maryland, College Park.
"New York is where the power is and this is fundamentally a scandal about power and the abuse of power in sexual ways," said Feldstein, a former journalist at NBC. "When I was a network correspondent it was often a running joke about the ugly TV executives bedding the beautiful on-air women, who otherwise obviously wouldn't have given them the time day.  … It seemed to be a consensual casting couch mentality that resembled the Hollywood version of that."
READ MORE  HERE  AT THE USA TODAY WEBSITE