Fired 'Today' Host Accused of Sexual Harassment by Multiple Women
Wednesday, 29 Nov 2017 03:50 PM
by Ramin Setoodeh, Variety.com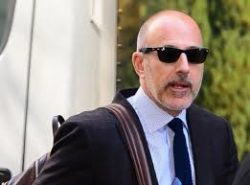 LOS ANGELES (Variety.com) – As the co-host of NBC's "Today," Matt Lauer once gave a colleague a sex toy as a present. It included an explicit note about how he wanted to use it on her, which left her mortified.
On another day, he summoned a different female employee to his office, and then dropped his pants, showing her his penis. After the employee declined to do anything, visibly shaken, he reprimanded her for not engaging in a sexual act.
He would sometimes quiz female producers about who they'd slept with, offering to trade names. And he loved to engage in a crass quiz game with men and women in the office: "fuck, marry or kill," in which he would identify the female co-hosts that he'd most like to sleep with.
These accounts of Lauer's behavior at NBC are the result of a two-month investigation by Variety, with dozens of interviews with current and former staffers. Variety has talked to three women who identified themselves as victims of sexual harassment by Lauer, and their stories have been corroborated by friends or colleagues that they told at the time. They have asked for now to remain unnamed, fearing professional repercussions.
On Wednesday, NBC announced that Lauer was fired from "Today." It was a stunning move for a co-host who was widely considered the crown jewel of the network's news division, with a $25 million annual salary. The cause of his dismissal, according to sources, was a detailed complaint from another current NBC employee about inappropriate sexual conduct from Lauer that started on a trip at the Sochi Olympics in 2014 and continued for several months.
.
The employee met with human resources at NBC on Monday night. In a statement, NBC News Chairman Andy Lack called this the first complaint about his behavior in over 20 years and acknowledged that it may not be the last: "We were also presented with reason to believe that this may not have been an isolated incident," Lack said.
Several women told Variety they complained to executives at the network about Lauer's behavior, which fell on deaf ears given the lucrative advertising surrounding "Today." NBC declined to comment. For most of Lauer's tenture at "Today," the morning news show was No. 1 in the ratings, and executives were eager to keep him happy.
REA THE REST OF THIS VARIETY INVESTIGATION  HERE  AT THE NEWSMAX WEBSITE