by BILL BRIOUX, THE CANADIAN PRESS
Posted Oct 6, 2017 9:05 am PDT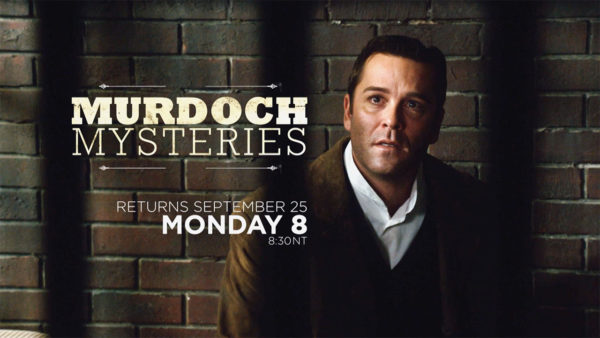 If you can't bring the audience to the TV show, bring the TV show to the audience.
That seems to be the strategy as Canadian television struggles to survive the current upheaval in the industry.
This fall, CBC has sent stars from two of its series — "Murdoch Mysteries" and "Kim's Convenience" — to various Canadian cities in an attempt to strengthen connections with their viewers. The live audience response has been encouraging. More than 700 fans lined up to see "Murdoch" stars Yannick Bisson and Helene Joy last Sunday at the Vancouver Police Museum. In the same city, 1,200 people recently jammed a sold-out screening with the cast of "Kim's Convenience."
For "Murdoch," catering to its loyal fan base is paying off. The Monday night drama returned to 1,227,000 total viewers for its 11th season premiere.
For all shows made in Canada, it's is clear that reaching out to viewers has become more important than ever. The clutter of competition, especially on streaming services is steadily chipping away at the broadcast television audience.
The erosion seems more apparent than ever this fall. In English Canada, based on the first three weeks of the season, the total available TV audience among broadcasters CBC, CTV, City and Global is down eight per cent year-to-year. Among viewers aged 25 to 54, a demographic advertisers covet the most, the drop is 12 per cent in all day parts, according to Numeris, which measures TV viewership in Canada.
READ THE REST OF THE STORY  HERE