.
His radio career ended this afternoon as the Seattle Mariners' regular season faded inauspiciously (again) to black .. and we'll not hear again the playbyplay announcer's mention of "Producer/Engineer Kevin Cremin" (pictured above).            A longtime fellow press box inhabitant, the loquacious New York Vinnie Richichi last week paid him tribute on his retirement on his Facebook page:
.
If there was a Hall of Fame for radio producers Kevin Cremin would without a doubt be a unanimous choice for induction. Kevin has for the past 35 years been the heart and soul of your Seattle Mariners radio broadcasts. He puts the whole broadcast together start to finish as well as the award winning Mariners Magazine and Hot Stove League. From booking guests, and making sure everyone behind the microphone has what they need to sound good to setting up and breaking down the equipment Kevin has made sure that the broadcast has run seamlessly even in the times the team was not seamless!
It is the best radio broadcast in Major League Baseball.
I was lucky enough to work with Kevin through some of the best days of Mariners baseball.
Playoffs, All Star Games, the opening of Safeco Field, Lou Piniella, 9/11 in Anaheim, Angel Bravo, wild rides through New York City, 116 wins and Dave (Niehaus).
Kevin and I shared a passion for baseball, telling a good story, The Mariners, radio and a great steak and I always believed it showed in our work. We were a family that got to go to work in a baseball park every night.
I liked Kevin so much I even danced with him at one of my weddings!
The only regret is unless a miracle happens he won't have a World Series ring to go along with all of the beautiful and some of the not so beautiful baseball he has seen. Good Luck my friend. The broadcasts will go on just as the game of baseball does with new names marking the time as it passes, but when they read the broadcasters line-up not hearing the words "along with Producer Engineer Kevin Cremin" will mean a big piece of the team is missing. Yo Kevin…meet me at Jake's!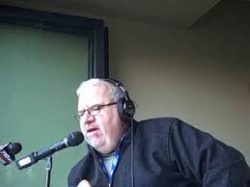 New York Vinnie Richichi
Columnist Larry Stone of the Seattle Times had his own take on the Kevin Cremin legend HERE.