Five reasons to celebrate Nardwuar, on the radio and on the stage
 .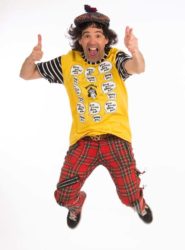 Nardwuar the Human Serviette CiTR Radio Show 30th Anniversary Celebration
Sept 23 at 7:01 p.m. | The Hall (1739 Venables at Commercial)
Tickets and info: $10 at Neptoon, Red Cat, and Zulu Records, or eventbrite.ca and nardwuar.com
---
1. Nardwuar. College radio is not known for the staying power of its DJs. In this, Nardwuar is an anomaly — he's celebrating his 30 years at UBC's radio station CiTR. In his tenure as DJ and interviewer/correspondent, Nardwuar the Human Serviette has made history (famously prompting, at a news conference, then-prime minister Jean Chretien to say "For me, pepper I put it on my plate!"), interviewed Snoop Doggy Dogg nine times, and even survived an encounter with infamous hip-hop act Insane Clown Posse.
2. The Evaporators. Besides commanding a college radio empire, Nardwuar helms the so-much-fun-it-hurts surf-garage band The Evaporators. They headline an all-ages show (over by 11 p.m.!) Sept. 23 show that celebrates 30 years of the plaid pants-and-tam-wearing wonder.
.
3. Videos from his vault. Nardwuar has a vault — metaphorically speaking, we're almost sure — and he'll be showing clips from it. He promises a video of a 1991 gig he promoted with Washington, D.C. punk band Fugazi "that hasn't been seen anywhere else, plus some modern-day encounters with luminaries such as Drake."
4. Owl Empire. Opening for The Evaporators is Owl Empire, a band comprised of teenage girls from Vancouver playing a mix of originals and covers.
5. CiTR marathon. The gig caps a 20-hour "marathon" of Nardwuar's interviews. Hear the announcer's unique interview style in clips of conversation with personalities ranging from Jay-Z to Michael Gorbachev, Destiny's Child to Chicago cult fave Wesley Willis, and more. (Listen live at citr.ca starting on Thurs. Sept. 21 at 9 p.m. to Fri. Sept, 22 at 5 p.m.)
READ MUCH MORE VANCOUVER & B.C. NEWS  HERE  AT THE VANCOUVER SUN WEBSITE