FOR IMMEDIATE RELEASE
Roundhouse Radio 98/3 Unveils New Morning Programming
VANCOUVER, BRITISH COLUMBIA—September 13, 2017 – Roundhouse Radio, 98.3 is enhancing their weekday programming with the addition of award winning broadcaster Eugene (Gene) Valaitis taking on the role as Morning Show Host, starting Monday September 18th, 2017.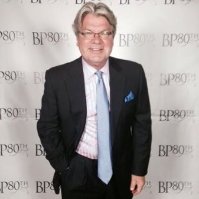 THE MORNING SHOW WITH GENE VALAITIS – 6:00 am to 10:00 am (Weekdays) Starting Monday September 18th:  Gene is an award winning Canadian broadcaster/performer who may be best known to radio listeners for his work at CFRB, CKEY and Q107 FM.
He brings an incredible international perspective to our city having lived and worked in Hong Kong, Dubai, Toronto, Ottawa, Winnipeg, Dallas and Los Angeles.  Vancouver is now Gene's home as he explores our city and finds his own voice in it. A self-confessed news junkie who isn't afraid to challenge the status quo, Gene will provide Morning Show listeners with a humorous and occasionally silly take on daily events.
Roundhouse Radio CEO Don Shafer: "Gene's special brand of storytelling will help ease Vancouverites into their day in his trademark witty, topical and provocative way. We are very excited about what Gene will offer our audience in the mornings to keep them thinking and talking at the proverbial water cooler".
About Roundhouse Radio 98/3:
Roundhouse Radio 98/3 is a commercial station with a community focus, serving the needs of the people who live, work and play in the City of Vancouver through public debate, storytelling, live music, local arts, community events, news and features focused on the City's neighbourhoods and cultures.
[30]
To learn more about Roundhouse Radio please visit www.roundhouseradio.com
CONTACT INFORMATION:
Barb Snelgrove | Promotions & Communications Director
Roundhouse Radio 714 Alexander St. Vancouver, British Columbia, V6A 1E3
Ph: 604-449-5505 ~ Cell: 604-838-2272