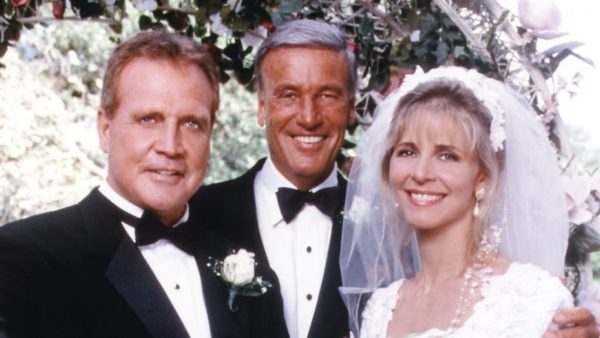 by Mike Barnes

August 31, 2017
He played Oscar Goldman on 'The Bionic Woman' spinoff as well after working in such films as 'Paths of Glory,' 'Seven Days in May' and 'Seconds.'
Richard Anderson, who portrayed Oscar Goldman, the head of a secret scientific government organization, on the 1970s series The Six Million Dollar Man and its spinoff, The Bionic Woman, died Thursday. He was 91.
Anderson, who was mentored by nice guy Cary Grant and received a huge career boost when he was cast in Stanley Kubrick's anti-war classic Paths of Glory (1957), died at his home in Beverly Hills, publicist Jonathan Taylor announced.
A frequent authority figure onscreen, Anderson also portrayed a colonel in another notable war film, the Rod Serling-scripted Seven Days in May (1964), and he operated on Rock Hudson, the second time much to Hudson's dismay, in another John Frankenheimer film, the sci-fi thriller Seconds (1966).
As an MGM contract player who started out in the mail room, Anderson appeared early in his career in such films for the studio as The Magnificent Yankee (1950), Scaramouche (1952), Escape From Fort Bravo (1953) and Forbidden Planet (1956).
He then moved to Fox and played Joanne Woodward's mama's-boy boyfriend in The Long, Hot Summer (1958).
In the highly rated, two-part episode that brought a thrilling end to the 1960s ABC series The Fugitive, Anderson portrayed the brother-in-law of Richard Kimble (David Janssen). He also was Police Lt. Steve Drumm on the final season of CBS' Perry Mason and Santa Luisa Police Chief George Untermeyer on ABC's Dan August, starring Burt Reynolds.
After three popular Six Million Dollar Man telefilms in 1973, the Universal TV property was given steady life as an ABC series in January 1974. On the show, Anderson played the chief of the fictional Office of Scientific Intelligence and the boss of Steve Austin (Lee Majors), a NASA astronaut who is injured in a crash and "rebuilt" (at a cost of about $29 million in today's dollars), becoming a secret agent.
Read More HERE