Bell Media Radio Takes Daily Evan Solomon Talk Show Coast-to-Coast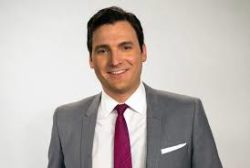 .
BELL MEDIA RADIO is launching News-Talk CFRA-A/OTTAWA 2-5p (ET) "OTTAWA NOW" host and National Affairs Specialist EVAN SOLOMON's daily talk show as a national show.  The program will air on all BELL MEDIA News-Talk stations as of SEPTEMBER 5th as "THE EVAN SOLOMON SHOW."
SOLOMON is the host of CTV's "QUESTION PERIOD" and the former CBC RADIO 1 "THE HOUSE" and CBC NEWS NETWORK television's "POWER AND POLITICS" host who left the CBC in controversy and later hosted a show for SIRIUSXM CANADA.  The daily show will air on CFRA and sister BELL MEDIA News-Talk stations CFRB-A/TORONTO, CJAD-A/MONTREAL, CKFR-A/KELOWNA, BC, CFAX-A/VICTORIA, CKLW-A/WINDSOR, CJBK-A/LONDON, ON, and CKTB-A/ST. CATHARINES, ON .
"I'm very excited to launch this new, national forum for thought-provoking debate and discussion, highlighting compelling people who are making a difference in CANADA," said SOLOMON. "There's nothing more important to a free society than public opinion, and this show will be a platform for Canadians to share their thoughts on the most pressing issues of the day, at home and around the world."
"THE EVAN SOLOMON SHOW will leverage BELL MEDIA's industry-leading radio network to connect with listeners across the country," said BELL MEDIA Head of Radio Content, Strategy, and iHEARTRADIO ROB FARINA. "EVAN is an experienced, talented broadcaster who is a perfect fit to lead nationally focused conversations on significant issues. We're looking forward to listeners across the country engaging with him each and every day."
Read More HERE
Published on August 30, 2017 at 3:37 pm by Turn Table3
---