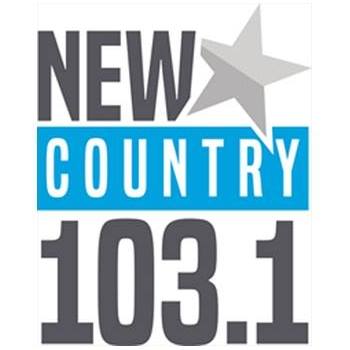 August 18, 2017
For Immediate Release
"New Country 103-1" Arrives in Kamloops!
This morning listeners to 103.1 FM woke up to a slightly different sound on their radios. Country 103 was rebranded today as "New Country 103-1".

New Country 103-1 is still Kamloops' and The North Thompson's source for country music, but with a fresh coat of paint, according to General Manager Garth Buchko. "Our listeners are going to notice an added level of excitement, enthusiasm, and passion that matches the sound of today's country music," said Buchko. "It is a reflection of the reality that modern country music is the hit music for many people of all ages, city or country. New Country 103-1 embodies that."
All of the personalities on Country 103 remain. Morning host Jody "Teddy" Tedford and afternoon host Louis "Big Rig" McIvor will be joined by Casey Clarke and Roo Phelps in the evenings. Casey will be familiar to many as a long-time host on CMT Canada. Casey & Roo's evening show is based here in the BC interior, and is carried nationally on country stations from coast-to-coast.
With the on-air line-up intact, what differences can listeners expect from New Country 103-1? "More high-profile promotions, giveaways, and excitement. An energy level to the music that is fresh. And all-round attitude that says fun and today," says Buchko. "New Country 103-1 will look, feel, and sound like today's country music."
The "New Country" brand is part of a national brand that includes New Country 100.7, nearby serving Kelowna, Penticton, Princeton, and towns and cities along the Okanagan Valley. The "New Country" brand also has stations in eastern Canada, in cities like Fredericton, Moncton, and Sydney, Nova Scotia.  All of the stations are owned by Newcap Radio, which recently acquired Country 103 (CJKC-FM) and sister stations Radio NL (CHNL-AM) and 97.5 The River (CKRV-FM).
For information on New Country 103-1 please contact Garth Buchko, General Manager, at (250) 571-5204.
For information on Newcap Radio, please contact Steve Jones, VP Brands & Content, at 416-323-6834.