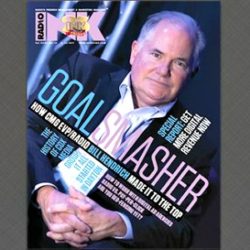 Cox Media Group's Bill Hendrich could write a how-to book on what it takes to set goals, work toward them, and achieve them. In some cases, as he points out in our August 14 cover story, he achieved them too quickly. It all worked out in the end as Hendrich climbed his way to the top of the Cox Media Group radio management ladder and, since July of 2015, he's been CMG's EVP of Radio and CMG Research. Not bad for a guy who was running a travel agency in his 20s.
Here's an excerpt from our interview with Radio's Goal Smasher, Bill Hendrich.
Bill Hendrich didn't plan to be in radio when he started his career. In his early 20s, he was running a travel agency in Mobile, AL, and the local radio stations would call on him to sell him advertising. He got to know the program director at WKSJ in Mobile, which led to Hendrich's working with the station on listener trips. He would accompany the morning show host, the GM, and listeners and act as the tour guide in places like Las Vegas and Mexico.
One day Hendrich stopped by the station's new offices to take the boss to lunch, and the boss said to him, "This is where the new promotions director will be. We're hiring someone new this afternoon." Hendrich wanted that job. They went to have lunch, he was offered the job, and he took it. In that sense, his getting into radio was a fluke; Hendrich says, "My start in radio came by total timing." After only eight months, Hendrich moved into sales.
READ THE REST OF THIS FEATURE-LENGTH STORY  HERE  AT 'THE INK' WEBSITE