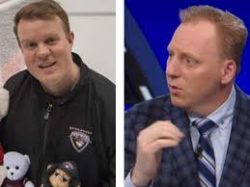 VANCOUVER (NEWS 1130) – Get ready to hear the names Brendan Batchelor and Corey Hirsch.
They're the new play-by-play team when Sportsnet 650 starts broadcasting Vancouver Canucks games next month.
Bachelor tells Breakfast Television on City, after four seasons calling games for the Vancouver Giants, the NHL gig is a dream come true.
"It's been a long process, but it's very exciting for me to be able to do this along with Corey and we're really looking forward to the season."
Hirch is a former goalie with the Vancouver Canucks.
The station hits the airwaves on Labour Day.
(Posted courtesy of CKWX News 1130.)