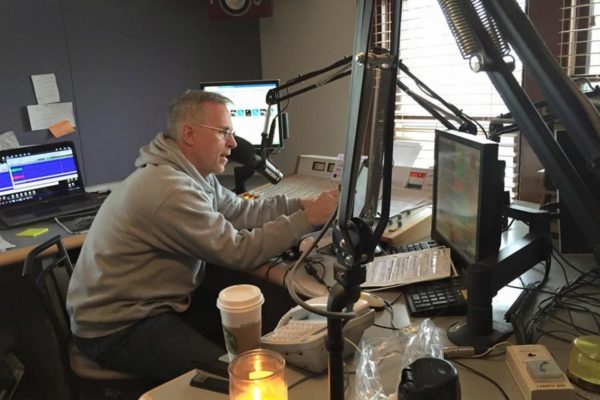 Ed Note: WTPA is a commercial FM radio station licensed to serve Palmyra, Pennsylvania. The station is owned by Patrick H. Sickafus a.k.a. Pat Garrett and broadcasts an 'active rock' format. Wikipedia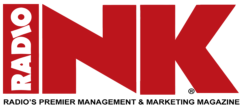 June 20, 2017
Here's a story getting national attention, and probably wouldn't be, if Donald Trump was not the President. Bruce Bond quit his job as a jock on rock station WTPA in Camp Hill, Pennsylvania. Repeat: He works at a Rock station. He's gone on a social media rampage claiming he had to leave because his GM asked him to follow the format of the radio station. Poor guy, how often does that happen at a radio station every day.
Bond wanted to use the station as an outlet to talk politics and criticize the President. Perhaps he just didn't want to take direction from the boss. He was asked by General Manager Tim Michaels to back off the political discussion. Michaels even put his request on paper, which Bond proceeded to post on his Facebook page. Bond didn't want to follow the rules and because it had to do with Donald Trump, many national media outlets lapped up the story like it was a big deal. How many rock stations across the country are used as political outlets?
Here's what Michaels told Radio Ink on Tuesday. "Bruce Bond was hired at WTPA to host an entertainment type show. He was cautioned many times about making it a political show. He chose to resign. We have accepted the resignation and wish him well. WTPA is a station that does not promote or endorse any political party or candidate. We have always positioned the station to be welcoming to all, no matter their political affiliation. We do not wish to be offensive to anyone. Bruce crossed acceptable boundaries."
The note Michaels sent to Bond to get him to back off and stick to the format.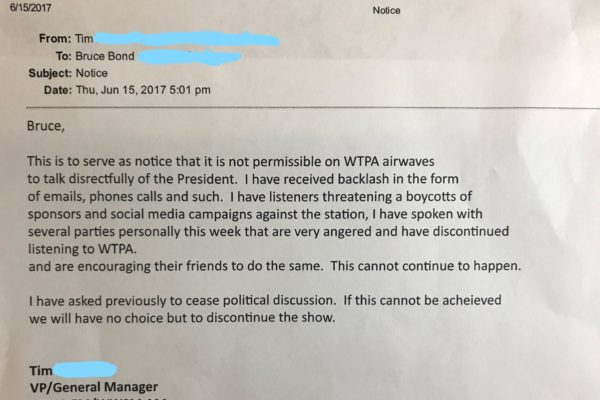 After posting the Michaels letter to social media, Bond then apologized for not including the GM's e-mail and phone number on the original post. Bond's claim for quitting was that "there is this really ugly political environment in this country with the current president. Unfortunately, Bond adds, "Central PA can't handle someone as liberal and brutally honest as I can be."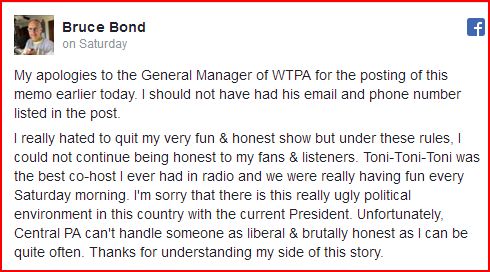 Bond is no stranger to controversy. According to Pennlive.com he was hired at WTPA about three years ago. He returned to PA in 2013, after a two-year prison sentence for a $4.3 million forged check scheme.
Here's where Bond is getting his 15 minutes of national fame:
Fox News.
The New York Post.
The AP at U.S. News & World Report.
The Blaze.
The Philadelphia Enquirer