By Joseph Ax, Reuters    June 17 2017
.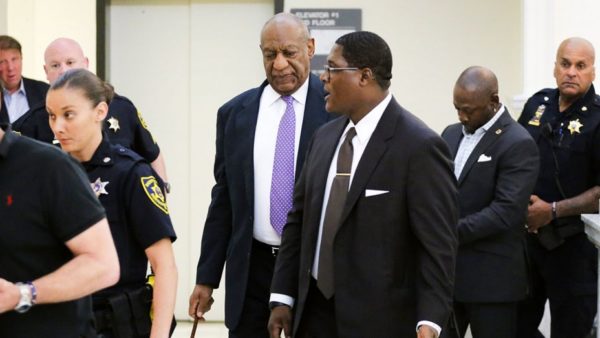 Judge Steven O'Neill made the decision after six days in court.
Bill Cosby's trial on sexual assault charges ended without a verdict Saturday after jurors failed to reach a unanimous decision in a case that helped destroy the 79-year-old comedian's image as "America's Dad."
"After 52 hours of deliberation—probably one of the most courageous acts I've ever seen—I'm compelled to grant a mistrial," Judge Steven O'Neill said.
Jurors deliberated more than 52 hours over six days before telling a judge they couldn't agree on whether The Cosby Show star drugged and molested Temple University employee Andrea Constand at his suburban Philadelphia home in 2004. The judge then declared a mistrial.
Prosecutors said they would retry Cosby, who remains charged with three counts of aggravated indecent assault.
The comedian's career and good-guy image were already in tatters by the time his chief accuser took the stand and described how Cosby gave her pills and then penetrated her with his fingers as she lay paralyzed on a couch, unable to tell him to stop.
But the jurors clearly struggled with their verdict, telling the judge on Day 4 they were at impasse. Judge O'Neill instructed them to keep working toward a unanimous decision. On Saturday, they came back and told O'Neill they were hopelessly deadlocked.
It was the only criminal case to arise from allegations from more than 60 women that cast Cosby — married more than 50 years — as a serial predator who gave drugs to women before violating them.
READ MORE  HERE  AT THE HOLLYWOOD REPORTER WEBSITE