ON THIS DAY in 1895,
comedian Stan Laurel was born in Lancashire England. With his portly pal Oliver Hardy he formed the classical comedy double act Laurel and Hardy, whose career stretched from the silent film era until post-World War II. Their almost 200 films became staples of early TV programming.  He died Feb 23 1965, serveral days after suffering a heart attack.  He was 69.

In 1907, actor Jack Albertson was born in Malden Massachusetts. The former song-and-dance man of vaudeville, burlesque and Broadway is best known to audiences as "The Man" in the TV series "Chico and the Man" (1974) (above w/Freddie Prinze), for which he won an Emmy. He also won an Oscar & a Tony as supporting actor in The Subject was Roses. He died of colon cancer Nov 25, 1981 at age 74.
In 1910, singer/actress Ilona Massey was born in Budapest Hungary.  After a brief career in Hollywood & on radio she hosted her own musical TV show in the mid 50's. She co-starred on the espionage series Rendezvous, made three guest appearances in the live dramas of Studio One, and one shots on Colgate Comedy Hour, Your Show of Shows & Lux Video Theatre.  She died of cancer Aug. 20 1974 at age 64.
In 1941, Frank & Anne Hummert's latest daytime radio serial Front Page Farrell starring Richard Widmark made its debut for Anacin.  The first year was on Mutual, the following twelve years (without Widmark) were on NBC.
In 1947, the first network TV news aired on Dumont's "News from Washington."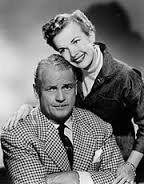 In 1952, 
Gale Storm
 (Margie Albright) and 
Charles Farrell 
(Vernon Albright) starred as My Little Margie debuted on CBS-TV. The sitcom made the unusual move from television to radio in December, 1952, airing original scripts, not simulcast, on CBS Radio for the next 2-and-a-half years.
.
Also in 1952, the No. 1 Billboard Pop Hit was the powerful ballad "Here in My Heart," by Al Martino.
In 1953, the Ford Motor Company presented one of TV's biggest events. Ethel Merman and Mary Martin headlined a gala 50th anniversary special for the automaker.
In 1956, "The Wayward Wind" by Gogi Grant topped the charts and stayed there for 8 weeks.
Still in 1956, R&B pianist/organist Bill Doggett recorded his soon-to-be-smash instrumental classic "Honky Tonk" at King Records in New York.
In 1957, Johnny Mathis was at Columbia Records in New York City to record what turned out to be his only #1 single "Chances Are," and the flip side (which also made the Top 10), "The Twelfth of Never."
Also in 1957, Sunday night's Ed Sullivan Show on CBS-TV featured Johnny Mathis singing "It's Not for Me to Say," Rusty Draper singing "Freight Train," and Don Rondo performing "White Silver Sands."

In 1958, Doris Day released her last big charting hit for Columbia Records, "Everybody Loves A Lover."
In 1959, a despondent George Reeves, the actor who played Superman in the early TV series, shot himself & died at age 45.
In 1961, an unstable Dave Garroway was fired as Today Show host.  His off-screen behaviour had become increasingly bizarre, and the man who invented the morning show format had laid down in the studio to try to force NBC to give in to his contract demands.  The network called his bluff, & let him go.  He committed suicide two decades later.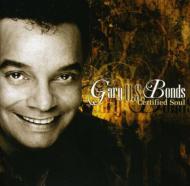 Also in 1961, Gary "U.S." Bonds was Dick Clark's guest on ABC-TV's American Bandstand, performing his #1 hit "Quarter to Three."
In 1962, deejay Bob Lewis did his first show on WABC-770, after breaking into Gotham Top 40 radio at WMGM & then WINS.  Some fans name "Bob-A-Loo" as the best DJ that WABC ever had. Five years later he would begin doing work on WABC-FM, sounding equally at home doing Top 40 or Underground/Progressive Rock. In 1970 he moved to WCBS FM and in `72 to WNEW-FM. Bob Lewis died  Jan. 23, 1987, at the age of 49.
Also in 1962, The Isley Brothers released their first Top 20 chart item, "Twist and Shout."
In 1964, the Rolling Stones paid $2,500 in return air fares from the US to honour a booking made a year earlier for £100 ($170) at Magdalen College Oxford.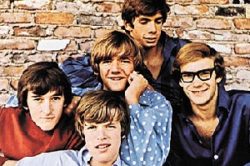 In 1965, the Herman's Hermits single "Mrs. Brown You've Got A Lovely Daughter" was certified as a Gold Record.
In 1966, The Beatles made a surprise live appearance on the British television program Top of the Pops, performing 'Paperback Writer' and 'Rain'. It became the Fab Four's last live musical TV appearance, with the sole exception of the June 1967 worldwide transmission of 'All You Need Is Love'.
Also in 1966, "The Dean Martin Summer Show" featuring the comedy team of Rowan & Martin, debuted on NBC-TV.
In 1967, the Monterey International Pop Festival opened in California, kicking off "The Summer of Love."  The first major rock festival attracted 50-thousand people over three days. Ticket prices ranged from $3.50 to $6.50 for more than two dozen top acts: Toronto rocker Neil Young and his band Buffalo Springfield, Jimi Hendrix, Janis Joplin, the Who, Otis Redding, the Mamas and the Papas, The Grateful Dead, The Byrds, Jefferson Airplane and Hugh Masekela.  The performers played for free, the proceeds went to charity.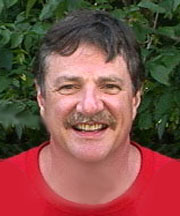 In 1968, disc jockey Jack Armstrong was first heard with his imaginary gorilla sidekick on CHUM 1050, Toronto. He left in 1969, and before & after, as Jackson Armstrong and Big Jack Armstrong, worked at many of the best known Top 40 stations in the U.S. At one point he held the Guiness World Record as fastest speaking human.  He died March 21 2008 at age 62, after a fall down stairs at his home.
In 1970, blues singer-guitarist Lonnie Johnson was found dead in his Toronto apartment at age 71. He played on 1920's recordings by Eddie Lang, Louis Armstrong and Duke Ellington.
Also in 1970, Woodstock Ventures, the sponsors of the original Woodstock the previous August, disclosed that they had lost more than $1.2 million on the three-day festival.
In 1971, Elvis Presley released one of his few unsuccessful albums either critically or commercially,  "Love Letters From Elvis."
In 1972, the New York Jazz Museum welcomed visitors for the first time to its own two-storey building in Manhattan.  A power struggle between curators brought about its closure five years later.

In 1975, John Lennon sued several U-S government officials for selective prosecution in his deportation case. Later in the year, the U-S Court of Appeals overturned Lennon's deportation order. He was granted permanent residence in the United States in 1976, four years before his murder.
In 1976, the summer variety show "The Jacksons," began a 4 week network run on CBS-TV, featuring The Jackson Five plus sisters Latoya, Rebbie and Janet.
In 1978, the movie version of "Grease," starring John Travolta & Olivia Newton-John, opened in North American theatres.
Also in 1978, former Beatle Ringo released his "Bad Boy" album, while on the same day Paul McCartney's Wingsreleased "I've Had Enough."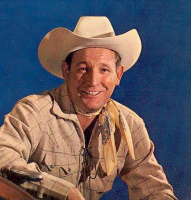 In 1980, Bob Nolan, who helped found the western singing group the Sons of the Pioneers, died after suffering a heart attack at age 72. Nolan, a New Brunswick native, composed their two biggest hits, "Tumbling Tumbleweeds" and "Cool Water." He's also credited with inventing the style of western harmony singing, which the Sons of the Pioneers were still performing in the late '70s.
In 1982, James Honeyman-Scott, guitarist with the new wave group, the Pretenders, died in London of a cocaine overdose at age 25. Less than a year later, the group's bass player, Pete Farndon, died of a heart attack brought on by drug abuse.
Also in 1982, Donny Van Zant of the group .38 Special was arrested for drinking on stage in Tulsa, Oklahoma — a dry city.
In 1985, the No. 1 Billboard Pop Hit was "Heaven," by Bryan Adams.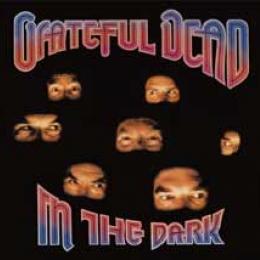 In 1987, the Grateful Dead's album "In the Dark" was released. It included "Touch of Grey," the first Dead song to make the Top 10.
Also in 1987, traditional jazz trumpeter Kid Thomas Valentine, longtime leader of the Preservation Hall band, died in New Orleans at 91.
In 1988, a Michael Jackson concert in Lyon, France was cancelled after only half the 30-thousand seats were sold.
In 1989, UK rocker Cliff Richard performed in front of 72,000 fans at Wembley Stadium in London to celebrate his 30th year in show business. Gerry and the Pacemakers showed up to help honor Cliff, as did the Kalin Twins and the Searchers.
Also in 1989, Stevie Wonder, Placido Domingo and French rocker Johnny Halliday were among the stars at the Eiffel Tower's 100th birthday party in Paris.

In 1990, ten weeks after it entered the Billboard Hot 100 at No. 67, Roxette's "It Must Have Been Love" moved into the No. 1 slot. "It Must Have Been Love" was the third No. 1 single for the Swedish duo and remained on top for 2 weeks.
In 1993, Elton John abruptly left Israel for London before a scheduled concert in Tel Aviv. He was angered by a melee outside his hotel involving his bodyguards, photographers and fans — and by passport officials who refused to give him V-I-P treatment. After Israeli officials — and the British ambassador — pleaded with John to return, he performed a day late for more than 40-thousand fans.
Also in 1993, the U-S Postal Service issued stamps commemorating Bill Haley, Buddy Holly, Otis Redding, Ritchie Valens, Clyde McPhatter and Dinah Washington. There was also a new Elvis Presley stamp — this one bearing his last name. The original Elvis stamp — issued the previous January — bore only his first name.

Still in 1993, London-Ont. born Lebert Lombardo, a member of the original Guy Lombardo Orchestra, died in Florida at age 89.
n 1994, Kristen Pfaff, bassist for Courtney Love's band, Hole, died of a heroin overdose at age 27. She was found in her bathtub with syringes and other suspected drug paraphernalia nearby.
In 1995, Pearl Jam began a tour without using Ticketmaster. They chose to use a mail order ticket service.

In 1996, sportscaster Mel Allen, forever identified as the voice of the New York Yankees for 20 years, who called 22 World Series on radio & TV, died of heart failure at age 83.
Also in 1996, Rage Against The Machine, Beastie Boys, Smashing Pumpkins, Fugees, Red Hot Chili Peppers, John Lee Hooker, Beck, Sonic Youth, Yoko Ono, De La Soul and Richie Havens all appeared at the two-day Tibetan Freedom Concert at Golden Gate Park, San Francisco.  A sell-out crowd of over 100,000 made it the largest US benefit concert since 1985's Live Aid, which had performance venues in both London and Philadelphia.
in 1997, Alan Jackson made a little history by becoming the first artist ever to win six times as male vocalist of the year at the TNN/Music City News Country Awards.
Also in 1997, Irish singer Sinead O'Connor (below) withdrew from a peace concert in Jerusalem after death threats.

In 1998, one of the best-known managers of country music artists, Jack McFadden, died in Nashville of liver cirrhosis. He was 71. He guided the careers of such stars as Buck Owens, Keith Whitley and Billy Ray Cyrus.
Also in 1998, Recording Academy chief Michael Greene announced that after two turbulent years in New York, the Grammy Awards were returning to Los Angeles.
Still in 1998, online sheet music seller Sunhawk Corp. signed a multiyear agreement with Warner Bros. Publications to sell Warner-owned sheet music via the Internet. By logging onto the Sunhawk Web Site (www.sunhawk.com), customers are able to download the sheet music and a file that includes a synthesized version of the song, using Sunhawk's Solero synthesizer software.
In 1999, singer Phil Collins was on hand for the unveiling of his star on the Hollywood Walk of Fame.

Also in 1999, Screaming Lord Sutch was found dead after hanging himself. The Brit singer turned politician was 58. He was the first long-haired pop star-boasting hair over 18 inches long and the self-styled lord (real name David Sutch), was Britain's longest-serving political leader, standing in nearly 40 elections.
Still in 1999, Cher kicked off her 122 date 'Believe Tour' at the America West Arena in Phoenix.
In 2000, on the first night of his 'Up in Smoke' tour in Chula Vista, Snoop Dogg's tour bus was stopped at the Temecula border checkpoint in San Diego after the border patrol smelled marijuana wafting from the tour bus. One member of the crew was arrested.
In 2001, a four-year-old boy drowned in Tommy Lee's swimming pool while attending a birthday party for Lee's 5-year-old son, Brandon. His parents sued Lee for negligence, claiming they should have been told that a swimming pool was involved, (their son could not swim). Lee was cleared by a jury in April 2003.
In 2002, almost a quarter century after his death Elvis Presley was #1 again in Great Britain. A remix of his "A Little Less Conversation" by a Dutch disc jockey won top spot for the week among UK singles.

In 2003, the first episode of "The Dead Zone" aired on the USA Cable Network. The sci-fi series was filmed (for the first five years) in Vancouver.
In 2004, Bob Dylan was announced by Scotland's University of St. Andrews as recipient of an honorary doctor of music degree at its summer graduation ceremony the following week.
In 2005, the CRTC authorized the XM & Sirius satellite subscription-based radio/music services for Canadian consumers.  CHUM was also okayed for an (arguably superior) terrestrial-based offering, but decided not to proceed because its business model was based on only one competitor.
in 2006, the Rolling Stones were confirmed as the most powerful Rock act in the world, according to Forbes magazine's Celebrity 100 list. The band sat at #2 behind actor Tom Cruise, on the survey, which rates stars on their earnings and media visibility during the past year.
In 2008,
 Coldplay kicked off their Viva la Vida, 161-date world tour with a free show at the Brixton Academy in London.
In 2009, vinyl was making a comeback. From the Capitol Vaults three early Red Hot Chili Peppers albums – "Freaky Styley," "Mother's Milk" and "The Uplift Mofo Party Plan" — were reissued on 180-gram vinyl.
In 2012, TV business analyst/stock tipster Dan Dorfman of first PBS, then CNN & latterly CNBC, died of cardiogenic shock, a heart condition, at age 80.
Also in 2012, Radiohead's stage collapsed during set up for a concert at Toronto's Downsview Park, killing the group's drum technician, Scott Johnson. The show was cancelled and authorities launched an investigation.
In 2015,
 longtime Detroit broadcaster Alan Almond, the legendary radio host with the baritone voice that from the 1970's to the '90's defined the popular "Pillow Talk" show on WNIC-FM (100.3), suffered a fatal heart attack at age 67. Almond never allowed himself to be photographed to enhance the effect of Pillow Talk's 'theatre of the mind.'
Also in 2015, U2 frontman Bono visited the Canadian Parliament and Prime Minister Stephen Harper to discuss foreign aid and development policy.  Said Bono, "The world needs more Canada."
In 2016, "Miss Mary Ann" King, in the 1960s and '70s the host of the KCOP-TV Los Angeles version of the "Romper Room," died at age 82.
Today's Birthdays:
Actor Bill Cobbs (I'll Fly Away, The Others, Drew Carey Show) is 83.
Country-rock singer Billy (Crash) Craddock is 78.
Songwriter Lamont Dozier is 76.
R&B singer Eddie Levert of the O'Jays is 75.
Actress Joan Van Ark (Knots Landing, Dallas, The Young & the Restless) is 74.
Singer/songwriter Ian Matthews (Shake It, Woodstock) is 71.
Actor Geoffrey Pierson (Ryan's Hope) is 68.
Actor Kale Browne (General Hospital, One Life to Live, All My Children, Days of Our Lives, Another World) is 67.
Singer James Smith of The Stylistics is 67.
Montreal-born singer Gino Vanelli is 65.
Actress Valerie Mahaffey (United States Of Tara, Desperate Housewives) is 64.
Actress Laurie Metcalf (Roseanne, Getting On, Big Bang Theory, The Norm Show) is 62.
Actor Ian Buchanan (General Hospital, All My Children, Bold & the Beautiful) is 60.
Actor John Balma (Parks & Recreation) is 58.
Pop singer Sade is 58.
Actor Arnold Vosloo (24, Veritas: The Quest) is 55.
Model-actress Jenny Shimizu (Dante's Cove, Make Me a Supermodel) is 50.
Actor James Patrick Stuart (All My Children, 90210, Andy Richter Controls the Universe) is 49.
Actor Clifton Collins, Jr. (Red Widow, The Event) is 47.
Actor John Cho (Flash Forward, Kitchen Confidential, Off Centre) is 45.
Actor Eddie Cibrian (Rosewood, CSI: Miami, Third Watch) is 44.
Manitoba-born actress Enid-Raye Adams (Da Vinci's Inquest, The Accidental Witness) is 44. 
Actor Frederick Koehler (Kate & Allie, All My Children, Pepper Dennis) is 42.
Actor Tom Lenk (Witches of East End, Buffy the Vampire Slayer) is 41.
Actress China Shavers (American Crime Story, Boston Public, ER, Sabrina the Teenage Witch) is 40.
Actress Lyndsey Marshal (Titanic 2012) is 39.
Actress Adrienne McQueen (Alesia: Ground Zero) is 39.
Actress Sibel Kekilli (Game of Thrones) is 37.
Montreal-born (Vancouver resident) actress Missy Peregrym (Rookie Blue, Reaper, Heroes) is 34.
Actress Olivia Hack (Star Trek: Generations, Any Day Now, Family Guy) is 34.
Actress Abby Elliott (Sat. Night Live) is 30.
Actor Kelly Blatz (Aaron Stone, Glory Daze) is 30.
Singer/TV personality/host Diana DeGarmo (American Idol, Sing It, Planet 360) is 30.
Actor Nathan Parsons (General Hospital) is 29.
Actress Lauren Taylor (Best Friends Forever, Richie Rich) is 19.
Actress Alexis G. Zall (Zall Good, Rad Lands) is 19.
Actress Sidney Fullmer (Paige Paints the Day) is 17.
Chart Toppers – June 16
1948
Nature Boy – Nat King Cole
Toolie Oolie Doolie – The Andrews Sisters
Baby Face – The Art Mooney Orchestra
Texarkana Baby – Eddy Arnold
1957
Love Letters in the Sand – Pat Boone
A Teenagers Romance/I'm Walkin' – Ricky Nelson
Bye Bye Love – The Everly Brothers
Four Walls – Jim Reeves
1966
Paint It, Black – The Rolling Stones
Did You Ever Have to Make Up Your Mind? – The Lovin' Spoonful
I Am a Rock – Simon & Garfunkel
Distant Drums – Jim Reeves
1975
Sister Golden Hair – America
Love Will Keep Us Together – The Captain & Tennille
I'm Not Lisa – Jessi Colter
When Will I Be Loved – Linda Ronstadt
1984
Time After Time – Cyndi Lauper
The Reflex – Duran Duran
Self Control – Laura Branigan
I Got Mexico – Eddy Raven
1993
That's the Way Love Goes – Janet Jackson
Weak – SWV (Sisters With Voices)
Show Me Love – Robin S
Should've Been a Cowboy – Toby Keith
2002
A Thousand Miles – Vanessa Carlton
Hella Good – No Doubt
I Need A Girl (Part One) – P. Diddy featuring Usher & Loon
Drive (For Daddy Gene) – Alan Jackson
2011
Rolling in the Deep – Adele
Give Me Everything – Pitbull featuring Ne-Yo, AfroJack & Nayer
E.T. – Katy Perry featuring Kanye West
Old Alabama – Brad Paisley featuring Alabama