.. D-Day in 1944!
ON THIS DAY in 1891
clarinetist/singer/bandleader Ted Lewis was born Theodore Leopold Friedman in Circleville Ohio.        
 His band was second only to Paul Whiteman in popularity during the 1920s, and arguably played more real jazz with less pretension than Whiteman.  His style became cornier as the depression progressed, but retained its commercial popularity while other groups failed & disbanded.  Lewis & his top hat ("Is everybody happy?") was still guesting on television & appearing in Las Vegas into the 1960's. He died after a heart attack Aug 25, 1971 at age 80.
In 1898, actor Walter Abel (below) was born in St. Paul Minnesota. A familiar character face in movies and television, he was also a dedicated stage actor.  Abel appeared in more than 40 TV shows, perhaps highlighted by being part of the distinguished cast of 12 Angry Men on the 'live' Studio One. (1954.) He died after a heart attack Mar 26, 1987 at age 88.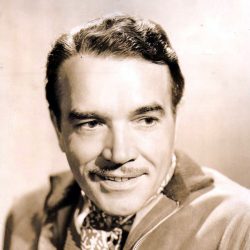 In 1938, NBC radio introduced two melodramatic soaps to the daytime airwaves, Stella Dallas and Young Widder Brown, both produced by Frank & Anne Hummert.  Stella Dallas, "the true to life story of mother love and sacrifice," continued in 15 minute radio bursts until 1955.  'Brown' outlasted it by a year.
In 1944, on what was D-Day on the beaches of Normandy, 44-year-old Toronto Star reporter Gordon Sinclair began a daily series of popular broadcasts on CFRB Radio.  Six months later, facing a 'choose us or them'  edict from the paper, Gordon walked away from the Star and continued with radio for 40 more years, until his death.
Also in 1944, CBS radio saluted America's war doctors with the first episode of The Doctor Fights. The dramatic series honored doctors in the theatres of war, and introduced America to the wonders of the newly-found wonder drug penicillin.

Still in 1944, the No. 1 Billboard Pop Hit was "I'll Get By (as Long as I Have You)," by the Harry JamesOrchestra (Harry on the right above) with vocalist Dick Haymes (pictured left).
In 1945, actor David Dukes was born in San Francisco. While he had roles in mini-series War & Remembrance & The Winds of War, and regular parts on TV's Sisters & Dawson's Creek, he is probably most notorious as the character who tried to rape Edith Bunker in "All in the Family," after which he received numerous death threats. He died after a heart attack while filming a mini-series in Spanaway Washington Oct 9, 2000 at age 55.

In 1955, Bill Haley & the Comets song that introduced rock & roll, "Rock Around the Clock" hit #1 on the Pop Charts.
Haley is pictured at the top.
In 1956, Gogi Grant (born Audrey Brown) reached the top spot on the Billboard singles chart for the first and only time in her career. Her hit, The Wayward Wind, stayed at the top of the top-tune tabulation for eight weeks and on the music charts for 22 weeks.
In 1957, CBC TV aired the first program in the long-running news-panel show "Front Page Challenge." It continued for 38 seasons, almost all with Fred Davis as host, and Betty Kennedy & Pierre Berton on the panel.  After the death of original panellist Gordon Sinclair, Jack Webster & Alan Fotheringham became regulars, as pictured below.                                                                                                                                                                                                   
In 1960, Tony Williams left the vocal group The Platters to embark on a solo career. Williams had been the lead singer on the Platters' big hits in the '50s — "Only You," "The Great Pretender" and "Smoke Gets in Your Eyes," among others.
Also in 1960, Roy Orbison's "Only the Lonely" was released. It would reach number two on the Billboard Hot 100 and inspire Bruce Springsteen to write "Born to Run."
Still in 1960, Bing Crosby was presented with a Platinum disc to commemorate his 200 millionth record sold. The sales figures were from a combined total of 2,600 recorded singles and 125 albums.
In 1962, The Beatles auditioned for producer George Martin at E-M-I Records in London. John, Paul, George and Pete Best were each paid £7.10 ($12.07) for the session. Martin was later quoted as saying he thought "they were pretty awful," but also thought them "interesting" and signed them the following month.

In 1964, The Dixie Cups started a three week run at No.1 on the Billboard singles chart with 'Chapel Of Love.'
Also in 1964, an anonymous ad in six American music trade papers declared, "In the public interest, watch The Rolling Stones crush The Beatles!"
In 1965, Herman's Hermits headlined CBS-TV's Ed Sullivan Show, singing a medley of their hits, "Mrs. Brown You've Got A Lovely Daughter," "I'm Henry The VIII, I Am" and "Wonderful World."  Also appearing were singerTrini Lopez, impressionist John Byner, and the comedy team of Stiller & Meara (Ben Stiller's parents).
In 1966, Roy Orbison's first wife, Claudette, died in his arms after being struck by a truck while they were motorcycling in Tennessee. She was just 25.
Also in 1966, the No. 1 Billboard Pop Hit was "Paint It Black," by the Rolling Stones.
Still in 1966, The Beatles completed work on their classic recording of "Eleanor Rigby," as written primarily by Paul McCartney.
In 1969, Rod Stewart, while still officially a part of the Jeff Beck Group, signed with Mercury Records. His debut solo L-P, "The Rod Stewart Album," was only a modest success.
In 1970, "Teach Your Children," by Crosby, Stills, Nash & Young was released.
Also in 1970, Elvis Presley was in Nashville to record "You Don't Have To Say You Love Me."
In 1971, for the last time, we saw Polish dancing bears, a little mouse named Topo Gigio, remembered The Beatles, The Dave Clark Five, the comedy of Jackie Mason, John Byner, Rich Little, Richard Pryor and so many more, as The Ed Sullivan Show left CBS-TV. Gladys Knight & The Pips and singer Jerry Vale appeared on the final show. The Ed Sullivan Show had been a 23 year showcase for artists from Ethel Merman to Ella Fitzgerald, from Steve and Eydie to the Beatles. The Sullivan Show was the longest running variety program on North American TV — a "rillly big sheeeew."
Also in 1971, in New York, John Lennon & Yoko Ono appeared on stage for the first time since 1969 when they joined Frank Zappa for the show he was headlining at the Fillmore East auditorium in the East Village.
In 1972, David Bowie released "The Rise and Fall of Ziggy Stardust and the Spiders from Mars," which became widely acclaimed as the definitive rock 'n' roll concept album.
In 1973, Barry White was awarded a gold record for I'm Gonna Love You Just a Little More Baby. It was his first hit and his first of five number one million-sellers.
In 1974, Billy Swan recorded his only #1 hit, the rockabilly track "I Can Help."
In 1975, actor Larry Blyden, who starred in the sitcom Joe and Mabel, and hosted the syndicated What's My Line, died in an MVA while travelling in Morocco at age 49.
Also in 1975, Pink Floyd began an ill-fated American tour in support of their album "Animals," an event that inspired the soul-searching that went into their followup, "The Wall."
In 1977, Stevie Wonder appeared as a guest lecturer at UCLA, discussing his early Motown years, at a symposium studying the record industry. He also performed.
Also in 1977, Elvis Presley released "Way Down," his last single issued by RCA Victor during his lifetime.

In 1978, the ABC-TV newsmagazine 20/20 debuted. Producer Bob Shanks, realizing that the first show was a disaster, fired the co-hosts, magazine editor Harold Hayes and Australian art critic Robert Hughes. The next week, Shanks tapped former Today and Concentration host Hugh Downs to take over the show.
In 1979, singer/comedian/actor Jack Haley, a star of bigtime radio best remembered today as the Tin Man in the Wizard of Oz movie that became a staple of TV, suffered a fatal heart attack at age 80.
In 1982, an anti-nuclear protest rally featuring performances by Joan Baez, Bob Dylan, Jackson Browne,Linda Ronstadt, Stevie Wonder and Tom Petty drew 85-thousand people to the Rose Bowl in Pasadena, California.
In 1986, CHUM 1050 Toronto, the station with North America's longest-running hit record chart, abandoned its Top-40 format for a mixture of soft rock and oldies. CHUM adopted the rock format in 1957 and published its chart for 1,512 consecutive weeks.
In 1987, Kim Wilde went to No.1 on the Billboard singles chart with 'You Keep Me Hanging On.'  The song had been a 1966 hit for The Supremes.
In 1989, officials in Easton, Maryland voted to cancel an Ozzy Osbourne concert due to complaints about the singer's lyrics and on-stage antics.
In 1990, a Fort Lauderdale judge declared "As Nasty as They Wanna Be" by 2 Live Crew to be obscene. A record store owner was charged two days later for selling the hit rap album. But an appeals court overturned the judge's decision two years later.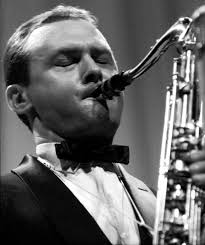 In 1991, jazz tenor saxophonist Stan Getz, who helped popularize bossa nova music in North America, died of liver cancer at his Los Angeles-area home. He was 64.
Also in 1991, NBC announced that nearly 12 months later, on May 25, 1992, Jay Leno would succeed Johnny Carson as host of "The Tonight Show."  David Letterman, who for 10 years had been following Carson on NBC's "Late Night", was devastated.
Still in 1991, actress Dana Plato, who played Kimberly Drummond on the '80's sitcom Diff'rent Strokes, was handed a 6 year suspended sentence for holding up a Las Vegas video store three months earlier.
Also in 1992, song & dance man Ben Vereen, who was Chicken George in TV's Roots, & a regular on the sitcom Webster, suffered a broken leg, head & internal injuries when struck by a van driven by Victoria's David Foster near his Malibu home.
Still in 1992, the 700th episode of the syndicated series "Soul Train" aired.
In 1994, actor Barry Sullivan, who in 1947 became the 2nd man (after Dick Powell) to play Richard Rogue on NBC Radio's 'Rogues Gallery,' and who would guest star on more than 100 TV shows over more than 25 years, died of respiratory problems at age 81.
 Also in 1994, CBC Radio One debuted what would become its very popular music program, Stuart McLean's The Vinyl Cafe. It soon began airing on CBC Radio Two, as well.
In 1995, Pink Floyd released its two-CD live album, "Pulse."
In 1996, lyrics of a song written, but never recorded by Elvis Presley, sold for 30-thousand dollars at a London auction. Presley co-wrote "Mississippi River" with Terry Fell while with the U-S Army in Germany in 1959. It's believed to be a tribute to Presley's mother, Gladys, who had died a year earlier.
In 1997, Iggy Pop suffered a separated shoulder when he dived from the stage during a Columbus, Ohio concert. He hit the ground after the audience failed to catch him.

In 1998, The Boy is Mine, by Brandy & Monica, zoomed to number 1 on the Billboard pop chart. It ruled the Hot 100 roost for 13 weeks — putting it in the top ten of longest-running #1 singles in the modern rock era.
In 1999, Backstreet Boys started a five week run at No.1 on the Billboard album chart with 'Millennium', the US boy band's first No.1 album.
In 2000, Rolling Stones guitarist Ron Wood (below) checked himself into rehab in London. Wood, accompanied by his wife, was admitted to the Priory Clinic in an effort to overcome his addiction to alcohol before the Rolling Stones launched another world tour.

In 2001, veteran banjo picker Marvin "Smokey" Montgomery died at age 88. He joined the pioneer Western swing band The Light Crust Doughboys in 1935, and was still performing the month before his death from leukemia.
Also in 2001, saying he didn't get the chance to drive them because he was out of the country so often, Elton John had Christies auction off 20 of his automobiles for $2.75 million.

In 2002, Diana Ross entered a drug and alcohol rehabilitation center in Malibu Calif.
In 2003, Dave Rowberry, a rock keyboards player who performed with the Animals in the 1960s, was found dead in in his London apartment. He was 62. Rowberry had heart problems. The original band, featuring Eric Burdon on vocals, formed in 1964. They had such hits as "House of the Rising Sun," "Don't Let Me Be Misunderstood" and "We've Gotta Get Out Of This Place." Rowberry joined the band in 1965, replacing original keyboards player Alan Price.
In 2004, Avril Lavigne was at No.1 on the Billboard album chart with 'Under My Skin', the Canadian singer's second US No.1.

In 2005, supporting actor Dana Elcar, a regular on TV's MacGyver, Baa Baa Black Sheep and the Guiding Light, died of pneumonia at age 77.
In 2006, the entertainer often credited as "the Fith Beatle," Billy Preston died at age 59.  He'd been in a coma for 7 months, after suffering kidney failure, the result of a lifetime of drug & alcohol abuse.
In 2007, emcee Bob Barker taped his final show for CBS TV's "The Price Is Right" ending his 35 years with the show and a 50 year career on daytime TV.
Also in 2007, Bon Jovi guitarist Richie Sambora checked into an L.A. detox facility following the taping of Bon Jovi's MTV Unplugged in New York. Sambora had been visibly inebriated, missed notes and his backing vocals were off-key.
In 2009, Eminem started a two-week run at No.1 on the Billboard album chart with 'Relapse', the rappers sixth studio album.
In 2010, bass guitarist/songwriter Marvin Isley of the Isley Brothers died from complications of diabetes at age 56.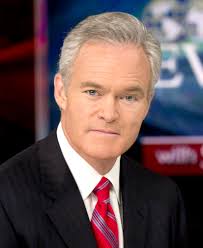 In 2011, Scott Pelley began anchoring "The CBS Evening News," succeeding Katie Couric.  His tenure would last nearly 6 years.
Also in 2011, Canada's Neil Young, an outspoken critic of digital recording technology and the MP3 music format in particular, filed the first of three patents with the U.S. Patent and Trademark Office for a high-resolution audio alternative to the MP3.
In 2013, actress and champion swimmer Esther Williams, who showcased a combination of glamour and athleticism by starring in numerous spectacular and splashy MGM musicals of the 1940s and '50s, died peacefully in her sleep at age 91.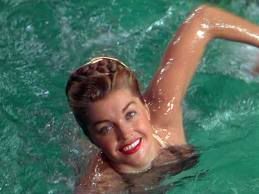 Also in 2013, actress Maxine Stuart, whose six decade stage, film and television career included a recurring role on the TV series "The Edge of Night," "Executive Suite" and "Room for One More," plus a guest spot on a memorable episode of "The Twilight Zone," died at age 94.
In 2015, singer Ronnie Gilbert, who helped catalyze the folk music revolution of the 1960s as one fourth of the Weavers, died of natural causes at age 88.  Pete Seeger was the best known member of the group, which scored hits in Kisses Sweeter than Wine, So Long, It's Been Good to Know Yuh, On Top of Old Smokey, and Goodnight Irene.
Also in 2015, retired golf announcer John Derr, who reported from the Masters a record 62 times, who was on the CBS air team for 25 years beginning with the first Masters TV coverage in 1956, died peacefully at home at age 97.
In 2016, 
  actress Theresa Saldana, a co-star of ABC-TV's The Commish and the daytime soap All My Children, who made headlines in 1982 when she was stabbed by a deranged fan, died while being treated for pneumonia at age 61.
Also in 2016, former Bay area/Chicago radio personality Dan Sorkin (KSFO, KFRC, WCFL) died shortly after being diagnosed with pancreatic cancer at age 89.  Sorkin had helped Chicago accountant Bob Newhart launch his comedy career and was announcer for Newhart's 1962 NBC-TV variety show.
Still in 2016, former Detroit TV sportscaster Al Ackerman (WDIV, WXYZ, for nearly 30 years), who coined the Detroit Tigers' 1980's rallying cry, 'Bless You Boys,' died at age 90.
Today's Birthdays:
Singer-songwriter Gary "U.S." Bonds is 78.
Country singer Joe Stampley is 74.
Actor Robert Englund (Freddy's Nightmares, Downtown, V) is 70.
Singer Dwight Twilley is 66.
Playwright-actor Harvey Fierstein (Daddy's Girls, X-Chromosome) is 63.
Actress-comedian Sandra Bernhard (L-Word, Roseanne) is 62.
Actress Amanda Pays (The Flash, Max Headroom, Thief Takers) is 58.
Record producer Jimmy Jam is 58.
Comedian Colin Quinn (Colin Quinn Show, Inked, Caroline's Comedy Hour) is 58.
Actor Gary Graham (Jace Hall Show, Alien Nation, Enterprise) is 57.
Guitarist Steve Vai is 57.
Singer-bassist Tom Araya of Slayer is 56.
Actor Jason Isaacs (Awake, Brotherhood) is 54.
Bassist Sean Ysealt (White Zombie) is 51.
Actor Max Casella (The Sopranos, Doogie Howser MD) is 50.
Actor Paul Giamatti (John Adams, Tourist Trap, Winchell) is 50.
Singer Damion Hall of Guy is 49.
Bassist Bardi Martin (Candlebox) is 48.
Guitarist James "Munky" Shaffer of Korn is 47.
NBC news journalist Natalie Morales is 45.
Vancouver-born country singer Lisa Brokop is 44.
Actor Danny Strong (Buffy the Vampire Slayer, Gilmore Girls) is 43.
Singer Uncle Kracker is 43.
Actress Sonya Walger (Parenthood, Common Law, FlashForward) is 43.
Actress Staci Keanan (Step by Step, My Two Dads) is 42.
Actor Johnny Pacar (Make it Or Break It, Flight 29 Down) is 36.
Actor Philip McGinley (Coronation Street, Game of Thrones) is 36.
Toronto-born actress Amber Borycki (Harper's Island) is 34.
Actress Ellie Kendrick (Game of Thrones) is 27.
Actress Abbie Cobb (Suburgatory) is 32.
Actress Aubrey Anderson-Emmons (Modern Family) is 10.
Chart Toppers – June 6 
1947
Mamselle – Art Lund
Linda – Buddy Clark with the Ray Noble Orchestra
My Adobe Hacienda – Eddy Howard
What is Life Without Love – Eddy Arnold
1956
The Wayward Wind – Gogi Grant
Standing on the Corner – The Four Lads
I'm in Love Again – Fats Domino
Blue Suede Shoes – Carl Perkins
1965
Help Me, Rhonda – The Beach Boys
Wooly Bully – Sam The Sham and The Pharoahs
Crying in the Chapel – Elvis Presley
What's He Doing in My World – Eddy Arnold
1974
The Streak – Ray Stevens
Band on the Run – Paul McCartney & Wings
You Make Me Feel Brand New – The Stylistics
Pure Love – Ronnie Milsap
1983
Flashdance…What a Feeling – Irene Cara
Overkill – Men at Work
Time (Clock of the Heart) – Culture Club
Lucille (You Won't Do Your Daddy's Will) – Waylon Jennings
1992
Jump – Kris Kross
Under the Bridge – Red Hot Chili Peppers
I'll Be There – Mariah Carey
Achy Breaky Heart – Billy Ray Cyrus
2001
Lady Marmalade – Christina Aguilera, Lil' Kim & Pink
Survivor – Destiny's Child
Play – Jennifer Lopez
Ain't Nothing 'bout You – Brooks & Dunn
2010
OMG – Usher featuring will.i.am
Airplanes – B.o.B featuring Hayley Williams
California Gurls – Katy Perry featuring Snoop Dogg
The Man I Want to Be – Chris Young