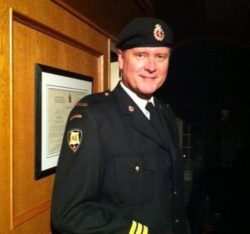 Gord Steinke receives volunteer award
By Quinn Ohler
Global News Edmonton
June 1st, 2017
 .
Dozens of Albertans received the Sovereign's Medal for Volunteers on Monday, including Global Edmonton's
Gord Steinke
, from the Governor General of Canada. The award recognizes the exceptional volunteer achievements of Canadians.
 .
"These hardworking citizens are focused on building strong, caring and vibrant communities that allow all members to thrive," Alberta's Lt.-Gov. Lois Mitchell said. "In this special birthday year for our country, it's a particular pleasure to recognize some of the people who embody the best of what it means to be Canadian."
 .
Steinke was recognized for his countless hours spent volunteering in the community over the past quarter century. Some of his biggest accolades come from his work as Honourary Lieutenant-Colonel of the 15 Edmonton Field Ambulance, part of the 41st Canadian Brigade Group, the TELUS Motorcycle Ride for Dad and his work with the Kids with Cancer Society.
 .
Read More with Video
HERE