Special to Puget Sound Radio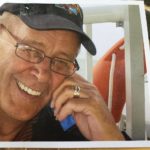 by Fraser McAlpine
PSR Contributor
Wednesday May 17th, 2017 (Time: 2:30PM)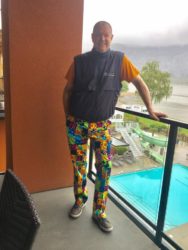 The rain is gone, the sun is shining and the second day of the B.C, 70th annual Conference of the British Columbia  Association of Broadcasters is conducting a mostly work session in the beautiful Watermark Beach Resort & Conference Center on Okanagan Lake in Osoyoos.
A very interesting presentation was made by Royal Roads University regarding the future of broadcasting as seen through the younger generation.  A group of young people were video taped in the studios of CHBC in Kelowna and their comments were video presented at today's session.  The youth interested in Media and broadcasting  were generally in their final years of education and were quizzed on their feelings about how radio and TV were meeting their needs.   The Royal Roads host asked the group to relate their days activities as to how they used media and what media they used. And how it affected their lives  As these will be possible future broadcasters their opinions were of great importance to the B.C.A.B members.  When asked about their preferences, most if not all, said they either did not have a radio in their homes or cars.  Asked further, they stated if they wanted info from radio, they sometimes did stream it through their computer or phone connection.   Most of the young people complained about too much advertising, repeating music formats and stiff interviews.  Radio executives were given the opportunity to try and find out more of the groups thoughts and how the industry could improve to gain their listenership.  The presentation of the sample group views on broadcasting in general caused somewhat of a flurry of questions.  As stated earlier, the Conference was focused on how the media can improve, and keep up with the changing interests of the youth of today.
This presentation was followed by the awarding of Quarter  Century and Half Century certificates.   These awarded to 2 half Century Broadcasters and 5 half Century broadcasters.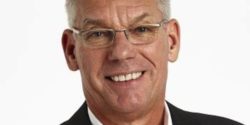 Next on the agenda Paul Ski relates 45 things I learned in radio in 45 years.  Tomorrow is the final day of sessions culminating with the Presidents Dinner and the awards gala.
The B.C.A.B. expressed their deep appreciation of the many sponsors that had supported their Conference and the Association in general.  A final note, the Porsche Sports car that was up to be won in the "hole in one" contest yesterday, did not go to anyone.  The wet weather may have been a problem but many other prizes were awarded including one to the only two golfers who managed to complete the 18 holes.
Fraser…
Fraser's Bio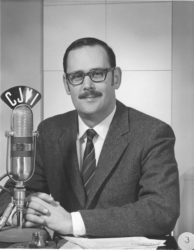 His first job in the industry was with CJAT in Trail as an announcer. Fraser then moved out to Vancouver Island, landing a job with CJVI 900 AM in Victoria. He soon crossed the street to CKDA 1200 AM, doing mid-days, news and sports, then in the mid-Sixties, CJVI came knocking at his door with an invitation he couldn't afford to turn down, doing am drive. It was in the early 70's, Fraser moved into a very successful career in sales with, the then, Selkirk Radio station, CJVI to be bought up by Rogers. CJVI , which was flipped to FM, and is now called  KiSS FM 103.1. 
Fraser and his wife Eileen are now retired and living in Penticton.