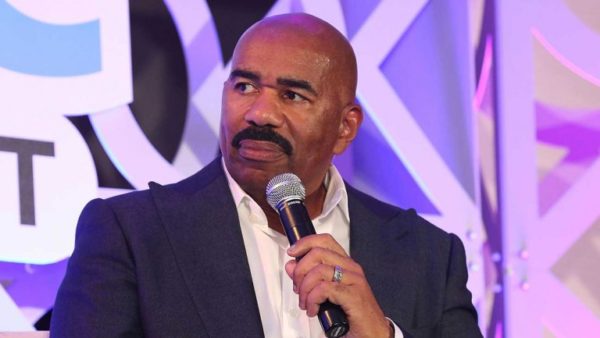 .
By Chris Gardner, The Hollywood Reporter      May 11 2017
.
The Steve Harvey letter is real.The veteran TV host admits in a new interview with ET's Kevin Frazier that he sent a tersely worded letter to his staff — one obtained and published by Chicago media writer Robert Feder — berating them for ambushing him on the set of his TV show, Steve Harvey. He also acknowledges that it, perhaps, could've been handled differently, while also expressing his surprise that its publication inspired so many headlines and so much negative reaction.

"I don't apologize about the letter, but it's kind of crazy what people who took this thing and ran, man," the host, 60, who is in the process of moving his five-year-old show from Chicago to new headquarters in Los Angeles, told ET. "I just didn't want to be in this prison anymore where I had to be in this little room, scared to go out and take a breath of fresh air without somebody approaching me, so I wrote the letter."
The contents of the email were detailed in full in Feder's blog post Wednesday with the headline "So Long, Steve: Not Everyone's Sorry to See Harvey Leave Town." Apparently it was sent ahead of the current season, which wrapped on Thursday, crafted in an attempt to lay out specific rules for how and when to approach Harvey.
"There will be no meetings in my dressing room. No stopping by or popping in. NO ONE. Do not come to my dress room unless invited. Do not open my dressing room door. IF YOU OPEN MY DOOR, EXPECT TO BE REMOVED," it reads. "I have been taken advantage of by my lenient policy in the past. This ends now. NO MORE. … I am seeking more free time for me throughout the day. … Everyone, do not take offense to the new way of doing business. It is for the good of my personal life and enjoyment."
In his ET interview, Harvey said it was a request for his staff to honor and respect his privacy. "I could not find a way to walk from the stage to my dressing room, to sit in my makeup chair, to walk from my dressing room to the stage or to just sit and have lunch without somebody just walking in," he continued. "Look man, I'm in my makeup chair, they walk in the room. I'm having lunch, they walk in, they don't knock. I'm in the hallway, I'm getting ambushed by people with friends that come to the show and having me sign this and do this. I just said, 'Wait a minute.' And in hindsight, I probably should've handled it a little bit differently."
TO READ THE HARVEY MEMO GO  HERE  TO TheHollywoodReporter.com