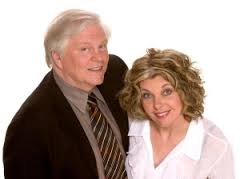 Bob's widow Linda Cullen has announced that a Celebration of Life for the late comedian/broadcaster has been set for 1:30 pm on June 30th.    It is scheduled to take place in Vancouver at the Bard on the Beach site near Whyte Avenue, northwest of the Burrard Bridge.
Robertson and Cullen co-starred in the radio and TV series "Double Exposure" on the CBC and CTV in the 80's and 90's.  He died suddenly in Nanaimo in March at age 71.
In 1994, the show was named the best weekly network program on CBC Radio and Stereo. Their later TV show earned six Gemini nominations and in 2004 it was given a star on Vancouver's Entertainment Row.
Double Exposure was known for the stars' impressions of the politicians of the day, including memorable sketches about Brian Mulroney, Joe Clark, Preston Manning, Barbara McDougall, Bill Vander Zalm and others, as well as international figures such as Margaret Thatcher.