ON THIS DAY in 1904,
actor Duncan Renaldo was born in Spain.


He began to play The Cisco Kid on film in his 40's, and transferred the role to TV in the 1950's, playing the part more clean cut and do-gooder than the roguish bandit in the books. He succumbed to lung cancer Sept 3 1980 at age 76.
In 1921, actress Janet Blair was born in Altoona Pennsylvania.  She came to TV after an extensive bigscreen career, playing opposite Sid Caesar in the sketch show Caesar's Hour, and opposite Henry Fonda in the sitcom The Smith family.  She also was a regular on the panel show Leave it to the Girls.   She died of pneumonia Feb 19 2007, at age 85.
In 1924, Canadians heard a radio broadcast of King George V opening the Empire Exhibition at Wembley in London.
In 1928, the greatest child film star ever, Shirley Temple was born in Santa Monica. Her black & white feature films made her the queen of the box office from 1935 to '38.  Fifteen years later those same movies became a popular staple of early TV.  She starred in her own CBS radio series, Junior Miss, in 1942, and hosted Shirley Temple's Storybook on NBC-TV in 1958.  After leaving show business she was appointed US ambassador to Ghana, and then Czechoslovakia.  A lifelong smoker she died of chronic obstructive pulmonary disease Feb. 10 2014 at age 85.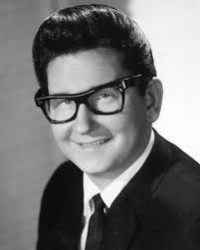 In 1936, singer Roy Orbison was born in Vernon, Texas. His biggest hit was "Oh, Pretty Woman," which stayed at No. 1 for three weeks in 1964. He was inducted into the Rock and Roll Hall of Fame in 1987 and died of a heart attack on Dec. 6, 1988, in Madison, Tenn., at age 52.
In 1939, singer Ray Peterson was born in Denton Texas.  After successfully surviving polio he had back-to-back mega hits in 1960 with Tell Laura I Love Her, and Corinna Corinna.  He died of cancer Jan 25 2005 at age 65.
In 1943, Sarah Vaughan made her debut at Harlem's Apollo Theatre, singing with the Earl "Fatha" Hines band.
In 1944, actress Sandra Dee was born Alexandra Zuck in Bayonne NJ.  Almost all her film work was on the big screen, but later in life she did appear in guest roles on TV's Night Gallery, Frasier, Police Woman, Fantasy Island & Love American Style. She died of kidney disease 20 February 2005, at age 60.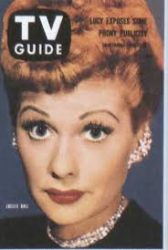 In 1954, Lucille Ball appeared solo on the cover of "TV Guide" for the first time. Ball eventually made appearances on 34 "TV Guide" covers.
In 1956, Elvis Presley made his Las Vegas debut, opening at the New Frontier for comedian Shecky Greene. Presley's engagement was cancelled after a week because of poor ticket sales, and he didn't return to Vegas for 13 years.
In 1958, the No. 1 Billboard Pop Hit was "Witch Doctor" by David Seville. Seville later created the Chipmunks, which hit No. 1 before the year was out with "The Chipmunk Song."
In 1962, The Beatles made their record debut in the US when Tony Sheridan's version of the standard "My Bonnie," with the Fab Four as the backing band, was released by Decca. It was not a hit.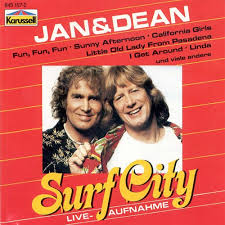 In 1963, Jan & Dean recorded "Surf City" with the Beach Boys singing backup. Three months later it became the first 'surf-rock' song to top the singles chart.
In 1965, the Rolling Stones opened their third tour of North America with a show at the Maurice Richard Arena in Montreal. It was their first live concert in Canada.
In 1968, the first public hearings of the CRTC were held in the Chateau Laurier Hotel in Ottawa.
In 1969, singers Johnny Cash, June Carter Cash, and Vicki Carr, with comedian Bob Newhart were Glen Campbell's guests on his weekly CBS-TV variety show.

In 1970, humourist/show host Herb Shriner, who had his own national programs on network radio & TV, and hosted the TV quiz "Two for the Money," died in a vintage Studebaker in Florida when its brakes failed. His wife was also killed.  Shriner was 51.
Also in 1970, Norman Greenbaum's "Spirit In The Sky" on Reprise was certified as a Gold Record. It would eventually sell two million copies.
In 1971, The Rolling Stones released the LP "Sticky Fingers," with its cover designed by Andy Warhol.  It featured a pair of jeans, complete with working zipper that opened to reveal cotton briefs.

In 1974, just before her scheduled appearance as guest host on NBC-TV's "Tonight Show," Mama Cass collapsed from exhaustion. She was taken to hospital on a stretcher.
In 1975, beset with financial difficulties, Badfinger's Pete Ham committed suicide by hanging himself in his London garage.
Also in 1975, Pink Floyd played the first of five sold out nights at the Los Angeles Memorial Sports Arena. During the five shows about 500 concert goers were arrested for possession of marijuana.
In 1976, The Rolling Stones released the LP "Black and Bllue," the band's 15th album, and their first studio recording featuring Ronnie Wood as replacement for Mick Taylor.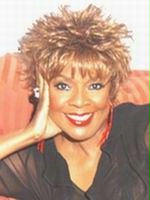 In 1977, Thelma Houston went to No.1 on the Billboard singles chart with 'Don't Leave Me This Way.'
In 1978, Sid Vicious filmed his rendition of Paul Anka's "My Way" for the Sex Pistols' film "The Great Rock n' Roll Swindle."
In 1979, the No. 1 Billboard Pop Hit was "Heart of Glass" by Blondie. When the song hit No. 1, Andy Warhol threw a party for the group at Studio 54 in New York.
In 1981, Johnny Cash, Jerry Lee Lewis and Carl Perkins gave a live performance in West Germany that was later released as an LP titled "The Survivors."

In 1985, this was a big day for the flamboyant Liberace. Lee, as he was called by those close to him, first appeared on the NBC-TV soap opera, "Another World." The sequined and well-furred pianist appeared as a fan of Felicia Gallant, a romance novelist. Later in the day, Liberace was a guest video jockey on MTV!
In 1986, composer Harold Arlen, who wrote scores of American standards like Somewhere Over The Rainbow, Blues In The Night, That Old Black Magic, Stormy Weather, It's Only A Paper Moon, etc., died at the age of 81, after a decade of living with Parkinson's Disease.
In 1987, Carole King sued record company owner Lou Adler for breach of contract. King was seeking $400,000 in royalties, plus the publishing rights to some of her 60's recordings.

In 1988, Whitney Houston smashed a chart record held by The Beatles and The Bee Gees when 'Where Do Broken Hearts Go', became her SEVENTH(!) straight single release to make it to #1.
Also in 1988, Prince released the song "Alphabet St."
Still in 1988, during a Bruce Springsteen concert at the Los Angeles Memorial Sports Arena, Roy Orbison, celebrating his 52nd (and final) birthday, was brought onstage so that fans could sing "Happy Birthday" to him.
In 1989, the song "Like a Prayer" by Madonna topped the charts and stayed there for 3 weeks.

Also in 1989, NBC aired the pilot episode of "Baywatch."
In 1991, punk rock forerunner Johnny Thunders died of a drug overdose in New Orleans at age 38.
In 1994, the US Libertarian party nominated radio shock jock Howard Stern for Governor of New York.
In 1995, iconic sportscaster Howard Cosell died of a heart embolism at age 77.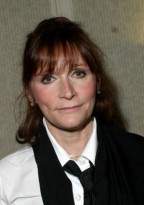 In 1996, Canadian-born actress Margot Kidder was found dazed and disheveled, hiding in bushes in a stranger's yard in Los Angeles after disappearing for three days.  Best known as the bigscreen's Lois Lane, she has since guested repeatedly on TV, notably in "Boston Common" and "Robson Arms."
In 1997, after a career that had spanned four decades, the Motown doo-wop group The Four Tops received a star for recording on the Hollywood Walk of Fame.
In 1999, Garth Brooks, Billy Ray Cyrus, Rhett Akins, Lee Roy Parnell and blues artist Johnny Neel surprised an audience of 13,000 in Nashville when they joined Charlie Daniels for his Volunteer Jam '99 concert at the First American Music Center.


In 2000, the station believed to be the world's first true radio station left its long-time home of 600 KHz. Montreal's CFCF had become CIQC, and left the air this day, while its successor CINW continued on 940 KHz. The station had begun as the Marconi Company's experimental station XWA in 1919.
Also in 2000, Johnny Cash was honored by the U.S. Library Of Congress with one of their first 'Living Legend' awards.
In 2002, Jerry Lee Lewis announced he and his sixth wife, Kerrie, were divorcing after 17 years of marriage.
In 2004, sportscaster Bill Brundige died of heart failure at age 89.  During a career of more than 40 years he did baseball play by play for the Chicago Cubs, Philadelphia Phillies and Washington Senators, and the Los Angeles Angels of the Pacific Coast League, plus scores of southern California football and basketball games, both college & pro.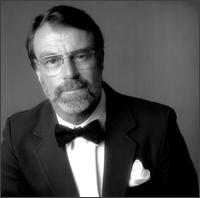 In 2005, Toronto-born conductor/composer Robert Farnon, who got his start in the 1930's playing trumpet on CBC Radio's "Happy Gang," died in England at age 87.
Also in 2005, the first video was uploaded to YouTube.com.
In 2008, Bon Jovi guitarist Richie Sambora was sentenced to three years probation after admitting to driving under the influence of alcohol. The 48-year-old Sambora was arrested in Laguna Beach after his car was seen weaving between traffic lanes.
Also in 2008, UK singer Amy Winehouse went out on a drink and drug-fuelled spree and hit and headbutted two men. At one bar in the early morning hours she shouted "I am a legend get these people out. I want to take drugs."
In 2009, Carlos Santana was honored with the Lifetime Achievement Award at Billboard's 20th annual Latin Music Conference & Awards in Miami Beach. Santana was recognized for helping to spread the influence of Latin music across other genres – including pop and Rock.
In 2010, R&B singer Norman Wright of the Dell-Vikings, whose 1950's hits included Whispering Bells, and Come Go With Me, died at age 72.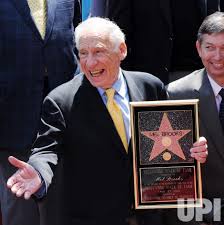 Also in 2010, 83-year old comedian/producer/director/actor Mel Brooks was on hand to help unveil his new star on the Hollywood Walk of Fame.
In 2011, Metallica, Anthrax, Slayer and Megadeth (collectively known as metal's "Big Four") played their first U.S. concert together in Indio, CA.
In 2012, bassist Chris Ethridge, best known for his work with the Flying Burrito Brothers, passed away due to complications from pancreatic cancer at age 65. "Chris was multi-talented; a great bass player, and a great songwriter," said former bandmate Chris Hillman, who was in the Byrds prior to founding the Flying Burrito Brothers.
In 2014, Guns N' Roses frontman Axl Rose received the Ronnie James Dio Lifetime Achievement Award at the Revolver Golden Gods Awards in L.A. Fittingly, GN'R, with founding bassist Duff McKagan, headlined the event.
In 2015,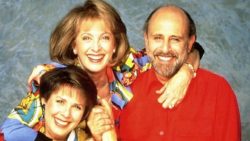 singer and children's entertainer Lois Lilienstein (pictured, center) of Canada's internationally popular singing group Sharon, Lois and Bram died after battling a rare form of cancer at age 78.  The group made their first recordings in 1978 and began their run on CBC television on "The Elephant Show" in 1984.
Also in 2015, actor Sawyer Sweeten, who played the son of Ray Romano on TV's 'Everybody Loves Raymond, who found himself with extreme money troubles in his real life, committed suicide at age 19.
In 2016, distinguished Montreal-born character actress Madeleine Sherwood, who played the stern Mother Superior on ABC-TV's "The Flying Nun" (1967-70) opposite a young Sally Field, died at age 93.
Today's Birthdays:
Actor/voicist Alan Oppenheimer (6 Million Dollar Man, Murphy Brown, St. Elsewhere) is 87.
Actor David Birney (St. Elsewhere, Serpico, Bridget Loves Bernie) is 78.
Actor Lee Majors (Six Million Dollar Man) is 78.
Actress Blair Brown (Days & Nights of Molly Brown, Feds) is 69.
Actress Joyce DeWitt (Three's Company) is 68.
Actor James Russo (No Clean Break, Broken Trail, My Husband's Secret Life) is 64.
Actress Judy Davis (Starter Wife, Life w/Judy Garland: Me & My Shadows) is 62.
Actress Jan Hooks (Saturday Night Live, Designing Women) is 60.
Actress Valerie Bertinelli (Hot in Cleveland, Touched By an Angel, One Day at a Time) is 57.
Actor Craig Sheffer (One Tree Hill, Into the West) is 57.
Comedian George Lopez (Lopez Tonight, George Lopez Show) is 55.
Actor John Hannah (Spartacus: War of the Damned, Damages) is 55.
Drummer Gen (Jesus Jones) is 53.
Actress Melina Kanakaredes (Providence, CSI:NY) is 50.
Drummer Stan Frazier of Sugar Ray is 49.
Country guitarist Tim Womack of Sons of the Desert is 49.
Manitoba-born actor Scott Bairstow (Wolf Lake, Party of Five, Lonesome Dove) is 47.
Actor Barry Watson (Samantha Who?, 7th Heaven, What About Brian) is 43.
Actor Gabriel Damon (Call to Glory, One Big Family) is 41.
Comedian/actor John Oliver (Last Week Tonight, The Daily Show with Jon Stewart) is 40.
Actor Kal Penn (Battle Creek, House M.D., 24) is 40.
Actor Eric Edelstein (We Bare Bears, Clarence, Monsters vs. Aliens) is 40.
Professional wrestler/actor John Cena (WWF Raw, WWE Smackdown!) is 40.
Actress Jaime King (Hart of Dixie, Gary Unmarried, Kitchen Confidential) is 38.
Model/actress/host Joanna Krupa (Ultimate Women Challenge, The Man Show) is 38.
Actor Aaron Hill (Twisted, Greek) is 34.
Actor Jesse Lee Soffer (As the World Turns, Ch(icago PD, The Mob Doctor) is 33.
Toronto-born actress Rachel Skarsten (Lost Girl, Birds of Prey, Little Men) is 32.
Actress Molly Burnett (Days of Our Lives) is 29.
Actress Carla Quevedo (Show Me a Hero) is 29.
Actress Anastasia Baranova (Z Nation) is 28.
Actor Matthew Underwood (Zoey 101) is 27.
Actor Dev Patel (The Newsroom, Skins) is 27.
Actor Camryn Walling (The Amanda Show) is 27.
Model/TV personality Gigi Hadid (The Real Housewives of Beverly Hills) is 22.
Actor Charlie Rowe (Red Band Society) is 21.
Actress Autumn Wendel (Every Witch Way, Astrid Clover) is 20.
Chart Toppers – Apil 23
1944
It's Love, Love, Love – The Guy Lombardo Orchestra (vocal: Skip Nelson)
I Love You – Bing Crosby
Poinciana – Bing Crosby
Too Late to Worry, Too Blue to Cry – Al Dexter
1953
Doggie in the Window – Patti Page
Pretend – Nat King Cole
I Believe – Frankie Laine
Your Cheatin' Heart – Hank Williams
1962
Good Luck Charm – Elvis Presley
Mashed Potato Time – Dee Dee Sharp
Young World – Rick Nelson
She's Got You – Patsy Cline
1971
Joy to the World – Three Dog Night
Put Your Hand in the Hand – Ocean
Never Can Say Goodbye – The Jackson 5
Empty Arms – Sonny James
1980
Call Me – Blondie
Ride like the Wind – Christopher Cross
With You I'm Born Again – Billy Preston & Syreeta
It's like We Never Said Goodbye – Crystal Gayle
1989
Like a Prayer – Madonna
Funky Cold Medina – Tone Loc
I'll Be There for You – Bon Jovi
The Church on Cumberland Road – Shenandoah
1998
Torn – Natalie Imbruglia
All My Life – K-Ci & JoJo
Frozen – Madonna
Bye, Bye – Jo Dee Messina
2007
The Sweet Escape – Gwen Stefani featuring Akon
Don't Matter – Akon
Cupid's Chokehold – Gym Class Heroes
Wasted – Carrie Underwood