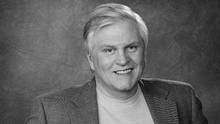 .
 .
Mark Leiren-Young remembers the day that Bob Robertson changed his life.
It was Feb. 14, 1990, and Mr. Robertson and Linda Cullen were about to perform their first live-to-air show at a venue in East Vancouver. Double Exposure, their young radio comedy series, had just surpassed the Royal Canadian Air Farce in national ratings and the two were at the top of their game.
Mr. Leiren-Young's musical comedy duo, Local Anxiety, opened the show, performing a half-hour set before rushing back stage. The fledgling duo had a few parody songs on the radio but had never performed live. They thought the Valentine's Day gig would be their first and last one.
 "There was no intention to ever become a live act," he said. "Then Bob Robertson comes backstage afterward and says, 'You should be doing this for a living' – which sounded very sweet, but then he went beyond that and said, 'Here's my agent. He'll set you up with gigs.'
"We suddenly found ourselves going from a completely unknown, really non-existent act, to having about a 10-year run doing this. Bob basically set us up."
Following Mr. Robertson's death last month, friends, family and colleagues are remembering him not only for his decades-long career as a political satirist – whose spot-on impression of figures such as prime ministers Joe Clark, Brian Mulroney and Jean Chrétien brought the humour of Canadian politics into living rooms across the country – but as a man with a big heart and boundless generosity in an industry that is so often cutthroat.
Mr. Robertson died on March 19 at Nanaimo General Hospital. He was 71. He had been diagnosed with breast cancer in January, 2016, and since then, underwent intensive radiation and chemotherapy treatments.
He leaves his wife, Ms. Cullen; two children from his first marriage, Patrick Robertson and Jennifer Robertson, an actress who stars in the TV show Schitt's Creek; and three grandchildren.
READ MORE  HERE  AT THE GLOBE & MAIL WEBSITE