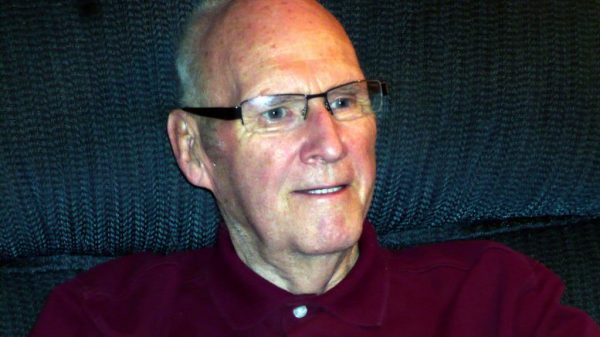 .
Chilliwack – He was one of a kind, a throw back to the early days of Chilliwack and Fraser Valley Radio. He was a staple of the Chilliwack Progress as well as the old 1270 CHWK AM.
Grant Ullyot passed away Friday after a brief illness. He was one week shy of his 82nd birthday.
Former Chilliwack MP John Les took to social media on Saturday to announce the passing of Grant Ullyot.
"Many of my Chilliwack friends will want to know that long-time CHWK 1270 news director Grant Ullyot passed away yesterday (Friday). If ever there was a news reporter who took an interest in everything going on in the community, it was Grant. He was tireless. If there was a story or event, Grant was there, microphone in hand. A real gentleman, kind, generous and caring. I will miss him. My condolences to his family."
Chilliwack Mayor Sharon Gaetz told FVN: "I am so sad to hear of Grant's passing.  Grant will always be remembered as a true blue Chilliwack icon.  I have fond memories of his career years as a newscaster on CHWK radio and am grateful for the way that he worked tirelessly to promote agriculture in our community.  Grant would often visit me at my office and would not only reminisce, but offer opinion on the latest political topic  or wise words when it came to City issues.  He was a grand man and I will always hold a special place in my heart for him.  My thoughts and prayers are with his wife, Nancy, and with his family."
FVN's News Director Don Lehn worked with Grant when in 1997, 1270 CHWK AM flipped to Radio Max.  "Grant, at the time, was a little miffed that his air time was greatly reduced, but over the years, if there was any animosity between he and I, it melted away. Grant was a little concerned that a City slicker like me, who came from Top 40/AOR was the new (at that time) Morning News Anchor for Radio Max. Gone were the farm reports which Grant took quite seriously. Then News Director Robert Linden gave me the heads up that Grant may be a little prickly at first, but he would warm up to me. I saw him a few years back, when the new School of Agriculture at UFV/Canada Education Park was unveiled. It seemed that all the old concerns simply disappeared. A Class Act. It was Anne Russell and Leslie Courchesne of UFV that brought us back together, which was the last time I saw him."
Now with the Chilliwack Chiefs in PR – Barry Douglas was the CHWK AM Sports Director. Grant was a great man and always had time for everyone. Our community will miss him. RIP Grant Ullyot Thank you for taking the time to help a young wannabe sports reporter back in the day. You always had time to help and chat to others. We all can learn a lot from how you lived your life.
READ THE REST OF THE STORY  HERE  AT THE FRASER VALLEY NEWS WEBSITE