ON THIS DAY in 1913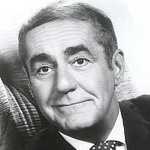 actor Jim Backus was born in Cleveland.  Although best remembered for his role in animated Mr. Magoo movies, plus the Gilligan's Island & I Married Joan TV shows, he was previously active in bigtime (OTR) radio, on the Alan Young Show, the Penny Singleton Show, and The Sad Sack.  He died of pneumonia July 3, 1989 at age 76.
On this day in 1928, the Federal Radio Commission issued the first U.S. television license to Charles Jenkins Laboratories in Washington, DC. The first commercial TV license was issued in 1941.
On this day in 1932, country singer Faron Young (below) was born in Shreveport, Louisiana. Young's recording career took off after he joined the Grand Ole Opry in 1953. Four years later he gave budding songwriter Willie Nelson a big boost by taking "Hello, Walls" to the top of the country charts.  He died December 10th, 1996, one day after shooting himself in the head at his Nashville home.  He was 64.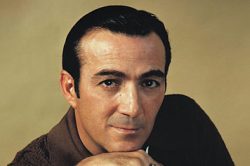 On this day in 1940, the first telecast of a hockey game was aired in New York City, 12 years ahead of the first hockey telecast in Canada. The New York Rangers whipped the Montreal Canadiens 6-2 at Madison Square Garden on experimental station W2XBS-TV. With very few TV sets in public use it's unknown how many people saw it.
On this day in 1943, singer/songwriter/rock guitarist George Harrison of the Beatles was born in Liverpool. He died of lung cancer Nov. 29 2001 at age 58.
This day in 1945 saw the official opening of the CBC's international short wave service, Radio Canada International. (The over-the-air transmissions ended and became an internet-only service in June 2012.)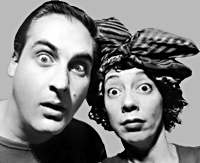 On this day in 1950, Sid Caesar and Imogene Coca debuted their Saturday night comedy program "Your Show of Shows" on NBC TV. The writing staff included future "all-stars" Mel Brooks, Neil Simon and Woody Allen.
On this day in 1956, the instrumental "Lisbon Antigua" by Nelson Riddle topped the charts and stayed there for 4 weeks.
Also in 1956, Elvis Presley had his first national hit when 'I Forgot To Remember To Forget' went to No.1 on the Billboard Country & Western chart.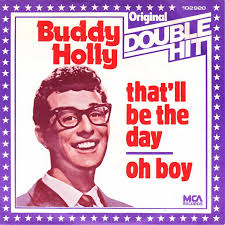 On this day in 1957, Buddy Holly and the Crickets recorded their biggest hit, "That'll Be the Day" at Norman Petty's studio in Clovis, New Mexico, after weeks of rehearsal. The record, released three months later under the Crickets' name on the Brunswick label, quickly became the first of Holly's 27 Top 40 hits, as it topped both North American and British charts.
Also this day in 1957, the Columbia label released what would be Johnny Mathis' first Top 5 single, "It's Not for me to Say."
On this day in 1960, singer Adam Wade appeared on the quiz show "To Tell The Truth" hosted by Bud Collyer.


Wade tried to fool the panel about his prior job as lab assistant to Dr. Jonas Salk, who developed the polio vaccine.
On this day in 1961, Elvis Presley played two charity concerts at the Ellis Auditorium in Memphis, his first performances since being discharged from the U-S Army almost a year earlier.
On this day in 1962, CBS-TV's Ed Sullivan Show originated from Miami Beach featuring actor Lloyd Bridges (who appeared in a water sequence) and singers Damita Jo, Patrice Munsel and the Crosby Brothers (Bing's sons).  There was a dance team, some acrobats, and comedian Jan Murray.

On this day in 1963, Please Please Me was the second record released in the U.S. by The Beatles. At the time, the single went largely unnoticed by the record-buying public. Some labels carried a famous misprint, making it an instant, and valuable, collector's item. The label listed the group as The Beattles.
Also this day in 1963, "What Will My Mary Say," Johnny Mathis' fifth Top 10 single, first hit store shelves.
On this day in 1964, The Beatles finished work on their next single 'Can't Buy Me Love', at Abbey Road studios in London, (they had started the recording a month earlier at Pathé Marconi Studios in Paris.)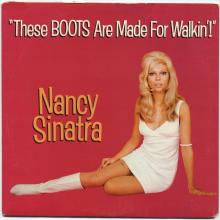 On this day in 1966, Nancy Sinatra was high-stepping with her first Gold Record for her current #1 hit, "These Boots are Made for Walkin'."
On this day in 1968, the Ed Sullivan Show on CBS-TV featured Gladys Knight & the Pips singing a medley that included "I Heard It Through the Grapevine". Dinah Shore and Ed Ames also sang, while the comedy came from Jackie Mason and Scotland's Andy Stewart.
On this day in 1969, The Beatles began recording the "Abbey Road" album.
On this day in 1971, a Led Zeppelin concert at the Paris Theatre in France was broadcast live on UK television.
Also this day in 1971, Lynn Anderson's first hit album, "Rose Garden," was certified Gold, having sold more than 500,000 copiesw.

This day in 1978 was declared "Earth Day" as Jefferson Starship released their new album, "Earth". It was premiered 2 days later.
On this day in 1981, singer Christopher Cross won five Grammy Awards, including best album for his self-titled debut L-P, and best record and best song for "Sailing."
On this day in 1982, the final episode of "The Lawrence Welk Show" aired.  But PBS kept re-airing the tapes for another 25 years.
On this day in 1983, Marvin Gaye won two Grammys for "Sexual Healing," Best Male Vocal R&B Performance and Best Instrumental R&B Performance.
On this day in 1985, director Peter Bogdanovich sued Universal Studios for 19 million dollars in an unsuccessful effort to get Bruce Springsteen's songs back into the score of "Mask." Bogdanovich had cut the picture to fit Springsteen's music, which Universal did not want to pay for the right to use.  The studio had Bob Seger do replacement songs, which Bogdanovich called inappropriate.
Also in 1985, U2 opened their first full North American tour with a concert at the Reunion Arena in Dallas Texas.
On this day in 1986, "We Are the World," the charity anthem by an all-star rock choir, won four Grammy Awards, including song and record of the year.  Lionel Richie and Michael Jackson wrote the song, which was recorded by 45 celebrities. The record raised more than 33 million dollars for African famine relief.
On this day in 1987, Frank Sinatra's guest appearance as a retired detective on "Magnum P-I" gave the CBS-TV show its highest rating ever.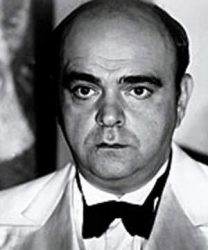 Also this day in 1987, actor James Coco suffered a fatal heart attack at age 58.  The rotund, balding Coco starred in two unsuccessful TV series, "Calucci's Dept." and "The Dumplings", and made guest appearances on many shows, including "St. Elsewhere", which won him an Emmy.  One of his last TV assignments was a recurring role on the sitcom "Who's The Boss?".
On this day in 1988, Bruce Springsteen opened his "Tunnel of Love" tour at the Centrum arena in Worcester, Mass.
On this day in 1990, rock star Stevie Nicks of Fleetwood Mac broke down during a BBC taped interview, then made headlines when she said she would never have children, & also that no man can stand her for long.
On this day in 1992, Dr. G.R.A. (Dick) Rice, the broadcast pioneer who with a partner had put Edmonton's first radio station CFRN on the air 70 years earlier, died in that city at age 91.
Also in 1992, Natalie Cole's single and album "Unforgettable" captured seven Grammy awards, including best album, best record and best song. Victoria native David Foster was named producer of the year for the album and single.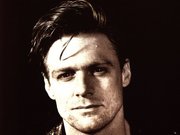 Still at the 1992 Grammys, Vancouver rocker Bryan Adams won for best song written specifically for a motion picture or television — for "(Everything I Do) I Do It For You" from "Robin Hood: Prince of Thieves."
On this day in 1993, Prince was jostled and audience members stole two microphones when he invited people on stage at a taping of "The Arsenio Hall Show" in Los Angeles. Prince was not hurt and the microphones were soon returned.
Also this date in 1993, Toy Caldwell, who formed the Marshall Tucker Band with his brother Tommy in 1971, was found dead of respiratory failure in his home in Moore, South Carolina.  He was 45.
Again in 1993, actor Dick Van Dyke got a star on the Hollywood Walk of Fame. But at the star's unveiling, Van Dyke was shocked to see that his last name had been engraved as one word instead of two.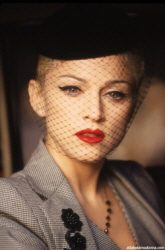 On this day in 1995, Madonna's Take a Bow became the #1 single in the U.S. The smash hit stayed at the top of the charts for seven weeks.
Also this day in 1995, at a private party for 1,200 invited guests on the closing night of the Sinatra Desert Classic golf tournament in Palm Springs, Frank Sinatra sang before a live audience for the very last time, at Marriott's Desert Springs Resort. His closing song was 'The Best is Yet to Come.'
Still in 1995, singer Lyle Lovett broke his collarbone after falling off a motorcycle while vacationing in Mexico.
On this day in In 1997, a deal was announced between Baton, Electrohome and CHUM that gave Baton control of the CTV television network.

On this day in 1998, author W. O. Mitchell, whose 1950's CBC Radio series Jake & the Kid turned him into a Canadian celebrity (& a character!), died at age 83.
Also in 1998, Bob Dylan won his first Best Album Grammy for "Time Out of Mind," his 42nd album. His performance was interrupted by a dancing man with "Soy Bomb" written on his chest. At that same ceremony, singer Shawn Colvin's acceptance speech was interrupted by rapper O-D-B, who upstaged her with a rant about his clothes.

On this day in 1999, The Artist Formerly Known as Prince filed a copyright and trademark infringement lawsuit against nine Web sites, with allegations that include selling bootlegged recordings and offering unauthorized song downloads.
On this day in 2004, The Howard Stern Show was removed from 6 Clear Channel radio stations over indecency concerns expressed by the FCC.
On this day in 2005, Edward Patten, a member of the Grammy-winning group Gladys Knight and The Pips, died at a hospital in Michigan, from a stroke he had suffered a few days before. He was 65.
Also in 2005, Whitney Houston was rushed to a hospital in Paris with suspected food poisoning after becoming ill during a flight from Los Angeles to Spain.
Still in 2005, singer Cyndi Lauper guest starred as an art teacher on TV's teen sitcom "That's So Raven."

On this day in 2006, actor Darren McGavin died in Los Angeles at age 83. He had starred in four TV series, Mike Hammer, Kolchak: The Night Stalker, Riverboat & Crime Photographer. He also won an Emmy in the role of the father of Murphy Brown.
On this day in 2007, the 79th Academy Awards telecast was hosted by Ellen Degeneres. Martin Scorsese finally won his first Oscar, for directing the Best Picture, "The Departed." Lead acting honours went to Helen Mirren & Forest Whitaker.
On this day in 2008, actress Valerie Bertinelli was on syndicated TV's Oprah Winfrey Show, talking about her ill-fated marriage to rock guitarist Eddie Van Halen.
 On this day in 2009, President Barack Obama honoured Stevie Wonder, his musical hero, with America's highest award for pop music, the Library of Congress' Gershwin prize in a ceremony at the White House. The president said the Motown legend had been the soundtrack to his youth and he doubted that his wife would have married him if he hadn't been a fan.
Also this day in 2009, Nickelback's "Dark Horse" supporting tour, with opening acts Saving Abel and Seether, began at the Sommet Center in Nashville.
On this day in 2012, saxophonist Red Holloway, one of Los Angeles' most highly regarded jazz artists for more than four decades, died after a series of strokes and kidney failure at age 84. Over the years he had played with the likes of Sonny  Rollins, Lester Young, Red Rodney and Lionel Hampton.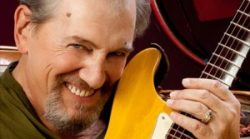 On this day in 2013, "Dangerous" Dan Toler, a southern rock guitarist who played with the Allman Brothers Band in the early 80's and later backed Gregg Allman, died at age 64 of ALS (Lou Gehrig's disease).
Also in 2013, Led Zeppelin beat Queen and Black Sabbath to be named the most influential Rock band of all time by the listeners of UK radio station Planet Rock. The Beatles did not make the Top 10.
On this day in 2014, longtime San Francisco deejay and host of TV's 'Dating Game" Jim Lange (below) suffered a fatal heart attack at age 81.
Today's Birthdays:
Actor Michael Fairman (The Young & the Restless, LA Law, Cagney & Lacey, Ryan's Hope) is 83.
Retired radio/TV talk show host Sally Jessy Raphael is 82.
Actor Tom Courtenay (Little Dorrit) is 80.
Former CBS newsman/moderator Bob Schieffer (Face the Nation) is 80.
Actress Diane Baker (House, Woman of Substance, Dr. Kildare) is 79.
Actress Karen Grassle (Little House on the Prairie) is 75.
Actress Kristina Holland (The Courtship Of Eddie's Father) is 73.
Actor John Doe (Roswell) is 63.
Actress Leann Hunley (Days Of Our Lives, Dawson's Creek, Dynasty) is 62.
Actress Jean Bruce Scott (Port Charles, Magnum PI, Airwolf) is 61.
Montreal-born actor Barclay Hope (PSI Factor: Chronicles of the Paranormal, Riverdale) is 59. 
Actor James C. Burns (General Hospital) is 58.
Singer-guitarist Mike Peters of The Alarm is 58.
Actor Douglas Hodge (Penny Dreadful) is 57.
Actress Veronica Webb (Real Life Divas, Clueless) is 52.
Actor/comedian Scott 'Carrot Top' Thompson (Hollywood Squares, Tonight Show, Late Late Show w/Craig Ferguson) is 52.
TV hostess/actress Nancy O'Dell (Entertainment Tonight, Access Hollywood) is 51.
Actor Alexis Denisof (Angel, Buffy the Vampire Slayer) is 51.
Actress Tea Leoni (Madam Secretary, Naked Truth, Santa Barbara) is 51.
Actress Samantha Phillips (Hot Springs Hotel) is 51.
Comedian Carrot Top (aka Scott Thompson) is 50.
Actress Lesley Boone (Ed) is 49.
Actor Sean Astin (24, Into the West, Jeremiah) is 46.
Actor Christen Anholt (Relic Hunter) is 46.
Singer Daniel Powter is 46.
Model.actress Patricia Kara (Deal or No Deal, Passions) is 45.
Actor Anson Mount (Hell on Wheels, Conviction, The Mount) is 44.
Actor Oliver Milburn (The Royals, Coronation Street) is 44.
Singer Justin Jeffre of 98 Degrees is 44,
Actress Laurie Fortier (Hemlock Grove, Running the Halls) is 43.
Comedienne/TV hostess Chelsea Handler (Chelsea Lately) is 42.
Actress Rashida Jones (Parks & Recreation, The Office, Boston Public) is 41.
Actor David Hoflin (American Crime, Crossbones,Alcatraz) is 38.
Actress Jennifer Ferrin (Hell on Wheels, The Knick, As the World Turns) is 38.
Actor Manuel Garcia-Rulfo (From Dusk Till Daen: The Series) is 36.
Singer/TV personality Kimberly Caldwell (American Idol) is 35.
Vancouver-born actress Tara Wilson (Cedar Cove, Nobody's Fool, Tin Man, Once Upon a Mattress) is 35.
Actor Justin Berfield (Malcolm in the Middle, Unhappily Ever After) is 31.
Actress Natalie Dreyfuss (Rita Rocks, The Secret Life of the Am. Teenager) is 30.
Actress Abby Wilde (Zoey 101) is 28.
Actor Tony Oller (Gigantic, As The Bell Rings) is 26.
Actress Isabelle Fuhrman (Masters of Sex) is 20.
Chart Toppers – Feb. 25
1950
Dear Hearts and Gentle People – Bing Crosby
There's No Tomorrow – Tony Martin
Music, Music, Music – Teresa Brewer
Chatanoogie Shoe Shine Boy – Red Foley
1959
Stagger Lee – Lloyd Price
Donna – Ritchie Valens
The All American Boy – Bill Parsons
Don't Take Your Guns to Town – Johnny Cash
1968
Love is Blue – Paul Mauriat
(Theme From) Valley of the Dolls – Dionne Warwick
(Sittin' On) The Dock of the Bay – Otis Redding
Skip a Rope – Henson Cargill
1977
New Kid in Town – Eagles
Love Theme from "A Star is Born" (Evergreen) – Barbra Streisand
Fly like an Eagle – Steve Miller
Say You'll Stay Until Tomorrow – Tom Jones
1986
How Will I Know – Whitney Houston
Kyrie – Mr. Mister
Sara – Starship
There's No Stopping Your Heart – Marie Osmond
1995
Take a Bow – Madonna
Creep – TLC
Candy Rain – Soul For Real
Old Enough to Know Better – Wade Hayes
2004
The Way You Move – Outkast
With You – Jessica Simpson
My Immortal – Evanescence
American Soldier – Toby Keith
.