Longtime sports personality Rod Simons has passed away at age 56. He was covering Spring Training for the Minnesota Twins when he passed away suddenly in Fort Myers, Florida.
Simons covered sports across the country – getting his start in the Pacific Northwest, where he worked among others with Fox Sports Northwest, KOMO Radio, and as Sports Director of Channel 11, KSTW (see lower picture, below).  Most recently he was based out of the Twin Cities.
Simons is survived by his wife Pamela and daughter Annie.
Seattle broadcasters and colleagues around the country shared condolences and memories of Rod Simons: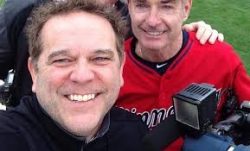 Our thoughts and prayers are with the family of Rod Simons, who passed away while covering the Minnesota Twins Spring Training.