ON THIS DAY in 1890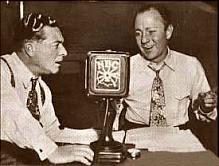 actor Charles Correll, (left) who gave birth to the 1930's radio sensation 'Amos 'n' Andy' with co-creator Freeman Gosden (right), was born in Peoria Illinois.  The two developed 'Sam & Henry' in 1926 for WGN Chicao, which they renamed 'Amos 'n' Andy' when they jumped to WMAQ in 1928. They would be staples of network radio for more than 30 years, with Correll throughout portraying Andy Brown.  Later, for the early TV cartoon show 'Calvin & the Colonel,' he was the voice of Calvin.  He died after a heart attack Sept. 26, 1972 at age 82.
On this day in 1912, composer Burton Lane was born Burton Levy in New York City.  Most of the hit songs from his Broadway musicals became radio/TV standards over the decades, e.g. How Are Things in Glocca Morra, That Old Devil Moon, How About You, I Hear Music, Look to the Rainbow, When I'm Not Near the Girl I Love, Too Late Now,  & On a Clear Day You Can See Forever.  He was credited with discovering Judy Garland at age 11.  He died of lung cancer Jan 5, 1997, weeks short of his 85th birthday.

On this day in 1927, jazz musician Stan Getz was born Stanley Gayetzby in Philadelphia. He is considered one of the greatest tenor saxophone players of all time, topping the annual Downbeat poll 17 times.  His most successful recording was the Grammy-winning Girl from Ipanema [w/vocalist Astrud Gilberto].  He died from liver cancer June 6, 1991 at age 64.
On this day in 1928, actor Howard Caine was born in Nashville.  He had recurring roles as bad guys in the TV series Hogan's Heroes & Get Smart; he played Canadian Lord Beaverbrook in War & Remembrance, plus voice work on the Scooby Doo & Scrappy Doo cartoon series, and dozens of other TV guest roles.  He died after a heart attack Dec 28 1993 at age 65.

On this day in 1932, jazz vibraphonist Arthur Lyman was born.  With unique vibraphone stylings, bird songs and bells, Lyman helped turn exotic music into a national trend in the 50's and 60's, producing more than 30 albums and almost 400 singles and earning three gold albums.  He played with Martin Denny's Orchestra from the age of 21.  He died after a battle with throat cancer Feb 24, 2002 at age 70.
Also this day in 1932. Duke Ellington & His Famous Orchestra recorded his soon-to-be classic composition "It Don't Mean a Thing (If It Ain't Got That Swing)," with vocal by Ivie Anderson. It served to introduce the term "swing" into the national conciousness, some three years before the swing era began.

On this day in 1937, Guy Lombardo and his Royal Canadians recorded one of Guy's most famous tunes. "Boo Hoo" was waxed on Victor Records and became one of the group's all-time great hits.
On this day in 1940, rocker Alan Caddy was born in London.  He helped found two of Britains most successful groups, 'The Tornadoes,' and 'Johnny Kidd and The Pirates.'  He died Aug 16, 2000 at age 60.
On this day in 1946, the radio quiz show "Twenty Questions" debuted on the Mutual network. Bill Slater was the quizmaster, and newscaster Fred Vandeventer, his wife Florence & son Bobby made up the panel. The latter two adopted different surnames to mask the nepotism. it was a major Monday night hit via delayed broadcast on CKWX Vancouver. The show ran for 8 years on radio & 6 more on TV.

On this day in 1950, Goodson-Todman's "What's My Line" began a 17 year run on CBS television.  Veteran newsman John Charles Daly (pictured, right) was the affable host throughout the network run.  A syndicated daytime version with a different cast ran five days a week for another 8 years.
On this day in 1955, North Shore radio station CKLG ("Lion's Gate") signed on at 1070 khz.  Initially it aired from 6 am-midnight with easy listening music, Broadway show tunes, classical music, international music and voice your opinion on the topic of the day.  Power was 1000 watts.
On this day in 1956, Atlantic Records signed the Los Angeles-based doo wop group The Coasters.
Also in 1956, Perry Como was in New York's Webster Hall recording studios to tape for RCA Victor
his the future novelty #1 hit "Hot Diggity (Dog Ziggity Boom)."
On this day in 1957, 
 Fats Domino appeared on NBC TV's "Perry Como Show" to sing his #1 R&B hit singles "Blueberry Hill" and "Blue Monday."  Other guests on the show that evening were Pat Boone & The Four Lads.
On this day in 1958, 'Frontier Gentleman' starring John Dehner debuted on CBS Radio. Antony Ellis wrote and directed the adventures of London Times correspondent J. B. Kendall as he wandered the American West encountering ordinary folks, as well as historical figures such as Jesse James, Calamity Jane, General Custer and Wild Bill Hickok.  The upscale radio western delighted listeners on Sundays for 41 weeks.
On this day in 1959, Buddy Holly, Ritchie Valens and the Big Bopper made what turned out to be their last public appearances at the Surf Ballroom in Clear Lake, Iowa. They died in a plane crash a few hours later.  Admission to the show was just $1.25.
Also this day in 1959, Frankie Avalon's "Venus" was released, and quickly jumped to the top of the pop charts.
Still this day in 1959, the Coasters hit tune, "Charlie Brown" was released. The tune went to #2 and stayed there for three weeks, but didn't make it to the top spot of the charts. A catchy song ("Fee fee fi fi fo fo fum. I smell smoke in the auditorium…"), it was on the charts for a total of 12 weeks. And what song was at number one, preventing "Charlie Brown" from reaching the top, you ask? "Venus", by Frankie Avalon, which had been released this same day, Feb. 2nd.

On this day in 1960, in Los Angeles, Bobby Darin recorded the standards "Bill Bailey Won't You Please Come Home" (from 1902) and "You Must Have Been A Beautiful Baby" (from 1938).  Both would later chart in Billboard's Top 20.
On this day in 1962, The Beatles played their first professionally organized gig outside of Liverpool at The Oasis Club in Manchester.
On this day in 1963, The Beatles began their first tour of the UK supporting pop singer Helen Shapiro. They shared a paycheque of about $225 a week.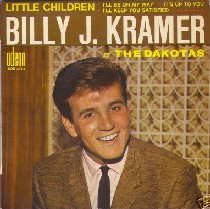 On this day in 1964, the UK group Billy J. Kramer with The Dakotas recorded what would become their biggest hit "Little Children."
On this day in 1965, Frankie Avalon guested on ABC-TV's military drama series "Combat", believeably playing quite a dislikeable character.
On this day in 1966, the No. 1 Billboard Pop Hit was "My Love" by Petula Clark. Petula was the first British woman to have two No. 1 hits in North America – the first was "Downtown" in 1965.
On this day in 1968, Simon & Garfunkel recorded their second #1 hit "Mrs. Robinson," which had just been introduced on the soundtrack of Mike Nichols' movie "The Graduate."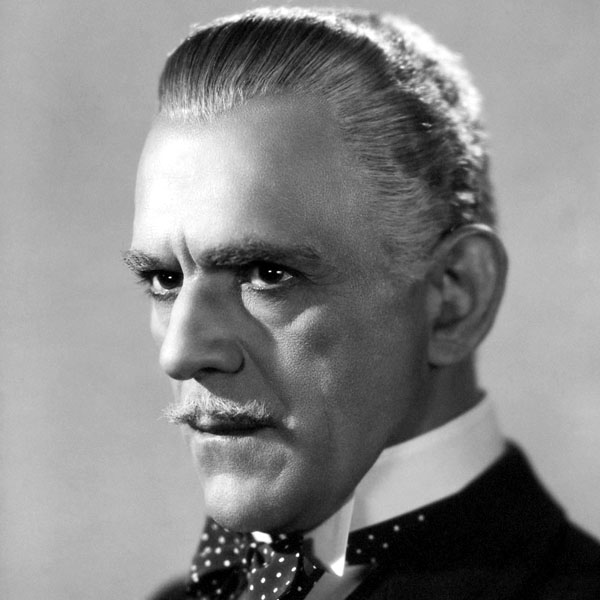 On this day in 1969, actor & film horror icon Boris Karloff succumbed to emphysema at age 81.   Best remembered for his movie portrayals of Frankenstein's monster, he guested on many radio dramas & variety shows, and starred in the 1950's BBC-TV series Colonel March of Scotland Yard.  He narrated the 1966 animated special How the Grinch Stole Christmas, and hosted NBC-TV's horror anthology Thriller.
Also this day in 1969, the Ed Sullivan Show on CBS-TV featured the American rock band Vanilla Fudge with their last hit "Shotgun," and the doo-wop group The Temptations performing "The Best Things in Life Are Free," "Runaway Child" and a medley ("Cloud Nine" & "I'm Gonna Make You Love Me").  James Earl Jones appeared in a scene from Broadway's "The Great White Hope, while the comedy came from the team of Stiller & Meara, Ben Stiller's parents.
On this day in 1973, Keith Emerson's hands were injured during a performance by Emerson, Lake & Palmer in San Francisco. His piano, rigged with pyrotechnics to shoot off fireworks, exploded prematurely.
Also this day in 1973, NBC-TV debuted a 90-minute pop concert, "Midnight Special," which would run for almost nine years in the late Friday 1 am slot following Johnny Carson. Wolfman Jack was the announcer and frequent guest host.

On this day in 1974, "The Way We Were" by Barbra Streisand topped the charts and stayed there for 3 weeks.
On this day in 1976, "The Rich Little Show," a variety program hosted by the Ottawa-born impressionist, began a five-month run on NBC-TV.  One of the guests on the premiere was fellow Canadian, actor Glenn Ford.
On this day in 1978, British actress Wendy Barrie died after a stroke at age 65.  Following a big screen career on both sides of the Atlantic she was hostess on two early TV series, The Wendy Barrie Show, & Stars in Khaki & Blue.
On this day in 1979, Sid Vicious of the Sex Pistols died of a heroin overdose less than four months after fatally stabbing his girlfriend, Nancy Spungen, at New York's Chelsea Hotel. He was 21.

On this day in 1983, the No. 1 Billboard Pop Hit was "Africa" by Toto. The group dominated the 1983 Grammy Awards, winning in six categories including Record of the Year ("Rosanna") and Album of the Year ("Toto IV").
On this day in 1985, Foreigner started a two-week run at No.1 on the Billboard singles charts with 'I Want To Know What Love Is.'
On this day in 1988, Pat Boone guested on ABC-TV's "Moonlighting," playing a part in the dreams of Cybil Shepherd's character, Maddie.
Also this day in 1988, 29-year old country singer Tanya Tucker checked into California's Betty Ford Center for treatment of her cocaine & alcohol addiction.

On this day in 1992, radio/TV host Bert Parks lost his battle with lung cancer at age 77.  He was an early announcer on radio for Eddie Cantor, and hosted both the Break the Bank & Stop the Music game shows on radio & Tv.  But he is best remembered as the singing host of The Miss America Pageant on TV for 25 years. ("There she is, Miss America….")
On this day in 1993, a judge in New York dropped gun charges against singer Harry Connick Junior. He had been arrested when he tried to bring a pistol on board a flight at Kennedy Airport.
Also this day in 1993, at a meeting in Austin Texas, Willie Nelson reached a settlement with the Internal Revenue Service, agreeing to pay $9 million of the $16.7 million he owed in back taxes.
On this day in 1995, actor Willard Waterman, the second man to play the lead in NBC radio's The Great Gildersleeve, died at age 80.  He had been a founding member of the radio actors' union in 1937.
Also in 1995, English actor Donald Pleasance died at age 75. On the small screen on this side of the Atlantic he was featured in The Adventures of Robin Hood, The Diary of Anne Frank, Centennial, All Quiet on the Western Front, and The French Atlantic Affair, among many other productions.

Still this day in 1995, the 100th episode of "Seinfeld" aired on NBC.
On this day in 1996, dancer/actor/singer Gene Kelly died in Los Angeles after complications from two strokes. He was 83 years old.  Besides his star turns on the big screen, Kelly was featured in the TV series Going My Way, and two mini-series Sins, and North & South.  He also hosted "The Funny Side" series.
On this day in 1999, the artist known as Prince released "1999 New Master." It was a re-release and re-done version of the 1982 recording of the song "1999."
Also in 1999, Tex-Mex singer Freddy Fender was on hand to help unveil his star on the Hollywood Walk of Fame.
On this day in 2002, Britney Spears (below) was both the host and musical guest on NBC's "Saturday Night Live."
On this day in 2004, Olds (Alberta) radio station CKLJ-FM signed on with a modern country format at 97.7 MHz.  Three years later it moved to 96.5 MHz with increased power.
On this day in 2005, NBC & Donald Trump announced that Martha Stewart would host "The Apprentice: Martha Stewart."  (It was a short-lived bomb!)
On this day in 2006, Nickelback performed in Detroit, the site of Super Bowl XL, as part of the Pepsi Smash Super Bowl Concert Series.
On this day in 2007, keyboardist Joe Hunter, a veteran session musician as one of the Funk Brothers who helped craft the distinctive Motown sound, died in Detroit, Michigan, at the age of 79.
On this day in 2008, Barry Morse, an English actor with deep Canadian roots via his CBC radio & early TV appearances, died at age 89.  He co-starred on the original US TV series "The Fugitive" as Lt. Gerard.

Also in 2008, The Spice Girls cut short their reunion world tour, blaming "family and personal commitments". The band said they would end their tour in Toronto on Feb. 26.
On this day in 2009, Graham Nash, Wanda Jackson and The Crickets marked the 50th anniversary of Buddy Holly's last show at the Surf Ballroom in Clear Lake, Iowa (see 1959 above), with a performance at that same venue.
On this day in 2011, the White Stripes officially disbanded because Jack and Meg White were concerned about "preserving the band's legacy." Their final live performance had been in 2009 as guests on the last episode of NBC'S 'Late Night with Conan O'Brien.'
On this day in 2013, actor John Kerr, who had a key role in the 1960's TV prime time soap Peyton Place, and guested repeatedly on The Streets of San Francisco and The FBI, died of heart failure at age 81.
On this day in 2014, actor Philip Seymour Hoffman,
 who had a very few TV credits alongside a remarkable bigscreen career, died of a suspected drug overdose at age 46.
Also in 2014, U2 aired a TV ad during the Super Bowl offering a free download of "Invisible" on iTunes. For the first two million downloads, Bank of America, a partner in the effort, donated one dollar to (RED), an AIDS charity co-founded by Bono. The promotion raised $3 million and the bank pledged a guaranteed $8 million to the charity.
On this day in 2015, ZZ Top and Weezer, billed as Wee-Z Top, performed "Sharp Dressed Man" on the debut installment of Mash-Up Mondays for ABC-TV's Jimmy Kimmel Live.
On this day in 2016,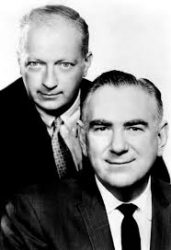 the surviving half of the outstanding radio comedy team 'Bob & Ray', Bob Elliott (pictured top), succumbed to throat cancer at age 92.  Ray Goulding had died 26 years earlier (1990).
Today's Birthdays:
Actor Robert Mandan (Soap, Three's A Crowd) is 85.
Comedian Tom Smothers (Smothers Bros.) is 80.
Singer Graham Nash (Crosby, Stills, Nash & Young) is 75.
Actor Bo Hopkins (Dynasty, Doc Elliot, Rockford Files) is 75.
Broadcast exec Barry Diller (put the FOX TV network on the air) is 75.
Singer Howard Bellamy of the Bellamy Brothers is 70.
Actor Brent Spiner (Star Trek: The Next Generation) is 68.
Bassist Ross Valory of Journey is 68.
Model Christie Brinkley (Living in the 90's) is 63.
Toronto-born ESPN host John Saunders is 62.
Actor Michael Talbott (Miami Vice) is 62.
Actress Kim Zimmer (Guiding Light, One Life to Live) is 62.
Actress Lauren Lane (The Nanny, Hunter) is 56.
Actor Michael T. Weiss (The Pretender, Legend of Tarzan) is 55.
Actress Cady Huffman (One Life to Live, The Good Wife) is 52.
Actor/comedian Adam Ferrara (Nurse Jackie, Rescue Me) is 51.
Actor/voicist D.C. Douglas (The Bold & the Beautiful, Regular Show in Space, Transformers: Rescue Bots, Sports Crash, Boston Common) is 51.
Bassist Robert DeLeo of Stone Temple Pilots is 51.
Ontario-born (Vancouver-resident) actor C. Ernst Harth (The P.I. Experiment, Battle of the Bulbs, Monster Island) is 47.
Actress Jennifer Westfeldt (Notes from the Underbelly, 24) is 47.
Drummer Ben Mize of Counting Crows is 46..
Actress Tanya Clarke (Banshee, As the World Turns, One Life to Live) is 45.
Rapper T-Mo (Goodie Mob) is 45.
Actress Marissa Jaret Winokur (Melissa and Joey, Retired at 35, Stacked) is 44.
Actress Lori Beth Denberg (All That, Steve Harvey Show) is 41.
Singer Shakira is 40.
Actor Rich Sommer (Mad Men) is 39.
Seattle-born actress Emily Rose (Haven, ER) is 36.
Country singer Blaine Larsen is 31.
Actor Martin Spanjers (8 Simple Rules) is 30.
Actress  Zosia Mamet (Girls, High School USA) is 29.
Chart Toppers – Feb. 2
1945
Don't Fence Me In – Bing Crosby & The Andrews Sisters
Accentuate the Positive – Johnny Mercer
I Dream of You – The Tommy Dorsey Orchestra (vocal: Freddy Stewart)
I'm Losing My Mind Over You – Al Dexter
1954
Oh! My Pa-Pa – Eddie Fisher
Secret Love – Doris Day
Make Love to Me – Jo Stafford
Bimbo – Jim Reeves
1963
Walk Right In – The Rooftop Singers
Hey Paula – Paul & Paula
The Night Has a Thousand Eyes – Bobby Vee
The Ballad of Jed Clampett – Flatt & Scruggs
1972
American Pie – Don McLean
Let's Stay Together – Al Green
Day After Day – Badfinger
Carolyn – Merle Haggard
1981
The Tide is High – Blondie
Celebration – Kool & The Gang
I Love a Rainy Night – Eddie Rabbitt
I Feel like Loving You Again – T.G. Sheppard
1990
How Am I Supposed to Live Without You – Michael Bolton
Downtown Train – Rod Stewart
Two to Make It Right – Seduction
Nobody's Home – Clint Black
1999
…Baby One More Time – Britney Spears
Have You Ever? – Brandy
Miami – Will Smith
Stand Beside Me – Jo Dee Messina
2008
Low – Flo Rida featuring T-Pain
No One – Alicia Keys
Clumsy – Fergie
Letter to Me – Brad Paisley