ON THIS DAY in 1918
 character actor Vito Scotti was born in San Francisco (but grew up in Naples Italy.)  He played italian waiters , maitre d's etc, in scores of TV guest appearances over 45 years.  He had recurring roles on Life With Luigi, The Flying Nun, Barefoot in the Park & Disneyland, among other series. He succumbed to lung cancer June 5 1996 at age 78.
On this day in 1926, the first annual meeting of The Canadian Association of Broadcasters was held in Toronto.
On this day in 1927, Jean Goldkette and his "Dancing Orchestra" recorded "I'm Looking Over a Four-Leaf Clover."
On this day in 1934, Walter Winchell, in his newspaper column, paid compliments to a local disc jockey in Washington DC.  As a result, 30-year-old Arthur Godfrey


began receiving offers from talent scouts and producers, and eventually was adored by millions across the country on CBS radio and TV. His trademark (strumming a ukulele and delivering down-home patter) endeared him to fans for the next 30 years.
On this day in 1940, "Beat the Band" made its debut on NBC radio with emcee Garry Moore. The band was that of Ted Weems and his 14-piece orchestra, who were joined by Elmo "The Whistling Troubadour" Tanner, and Country Washington. One other star of the show was a barber from the Pittsburgh area, who would record many hits for RCA Victor from 1943 right into the 1970s. His name was Perry Como, aged 27                                                                                                                                                                                                      .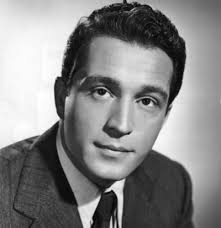 On this day in 1947, CJNB North Battleford became Saskatchewan's first new post-war radio station, signing on at 1240 KHz with 250 watts.
On this day in 1948, the first Emmy Awards were given for excellence in television. The first Emmy winner was Shirley Dinsdale and her puppet, Judy Splinters, for Most Outstanding Personality.
On this day in 1953, the one-year old Today Show on NBC-TV had as a guest a 10-month old chimpanzee named J. Fred Muggs.  He would join the cast the following week in an attempt to boost ratings, and remain Today's mascot for the next four years.
On this day in 1955, the "Top 10 R&B Show" kicked off its 42-date, 60-day U.S. tour in New York City, with the Clovers, Faye Adams, the Bill Doggett Trio, the Charms, Joe Turner, the Moonglows, and Lowell Fulson.

On this day in 1956, Elvis Presley made his first appearance on national television on "The Dorsey Brothers Stage Show" on CBS. He sang "Blue Suede Shoes" and "Heartbreak Hotel".  After the appearance, sales of "Heartbreak Hotel" skyrocketed; however the national Elvis furor did not erupt until his subsequent appearances on the Milton Berle and Steve Allen TV shows.
On this day in 1957, panelist Fred Stein, who was delightful on both radio & TV versions of Life Begins at 80, died at age 88.
Also this day in 1957, the ill-fated "Tonight! America After Dark" premiered, hosted by Jack Lescoulie (& later Al "Jazzbo" Collins) on NBC-TV for the 6 months between Steve Allen & Jack Paar.
On this day in 1960, 
  the zany Goon Show (Peter Sellers, Spike Millington, et al) aired its final episode on BBC Radio, ending a ninr-year run.
On this day in 1962, CBS-TV's "Ed Sullivan Show" featured Connie Francis singing "Don't Break The Heart That Loves You;" Buddy Greco and Italian tenor Franco Corelli also sang. Sid Caesar offered a hilarious silent movie sketch, and Frank Gorshin did his spot-on impressions of movie stars.
On this day in 1965, The Who made their first appearance on the British TV rock show "Ready Steady Go!"
On this day in 1967, the Rolling Stones released their next single "Let's Spend the Night Together," with "Ruby Tuesday" on the flip side. While "Night Together" reached #3 in the UK, the suggestive lyric caused most North American stations to play "Ruby Tuesday" and it quickly rose to #1.
On this day in 1968, CBS-TV's Ed Sullivan Show featured the 5th Dimension singing their million-seller "Up Up and Away." Nancy Ames sang "What the World Needs Now Is Love," while comedians Wayne and Shuster and Corbett Monica supplied the laughs. (There was also a juggler, and a pole-balancing act.)
Also in 1968, the Doors' Jim Morrison was arrested for being drunk in public in Las Vegas, after a hassle with a security guard at an adult movie theatre.
On this day in 1969, Stevie Wonder's fifth Top 5 pop single, "My Cherie Amour," hit store shelves in the US.

On this day in 1973, CBS-TV presented the first program of "Barnaby Jones" (a Quinn Martin Production). Lee Meriwether (Miss America 1955) played the detective's lovely daughter-in-law assistant. Buddy Ebsen played the detective, Jones. Ebsen, who started in show biz back in the 1920s, is best known for playing Jed Clampett on another CBS-TV series, "The Beverly Hillbillies".
Also this day in 1973, actor John Banner, indelibly etched in our collective memory as Sgt. Schultz on "Hogan's Heroes," died of an abdominal hemorrhage on his 63rd birthday.

On this day in 1975, the No. 1 Billboard Pop Hit was "Laughter in the Rain" by Neil Sedaka.
On this day in 1977, character actor Burt Mustin, who played Justin Quigley on TV's "All in the Family," and Grampa Jensen on "Petticoat Junction," died at age 92. Mustin's resume also included a 1921 stint as a pioneer broadcaster at Pittsburgh radio station KDKA.
On this day in 1978, after two highly-rated TV movies Fantasy Island starring Ricardo Montalban began its Saturday night run as a series on ABC. It ran for more than 150 episodes over seven seasons.
Also in 1978, the Doobie Brothers guest-starred on the ABC-TV sitcom "What's Happening." In the storyline, a bully forced Rerun to illegally record a Doobie Bros. concert.
On this day in 1979, the 200th episode of "All In The Family" aired on CBS TV.

On this day in 1983, UK singer/songwriter Billy Fury, often referred to as  the British answer to Elvis Presley, died of heart and kidney failure at age 42.
On this day in 1985, 45 of the world's top recording artists were invited to an all-night recording session for charity at the A&M studios in Los Angeles. As each of the artists walked through the studio door, they were greeted by a hand-lettered sign — put there by Lionel Richie. It simply said, "Check your ego at the door." The session started at 10 p.m. with producer Quincy Jones conducting. At 8 the following morning, the project, "USA for Africa", spearheaded by promoter, Ken Kragen, was recorded and mixed. The resulting song, "We Are the World", featuring Michael Jackson, Cyndi Lauper, Kenny Rogers, Dolly Parton, Sting, Harry Belafonte, Diana Ross, Paul Simon and many others, became the top song in the U.S. on April 13, 1985.
On this day in 1987, 
 ABC-TV moved reporter, Charles Gibson, into the coanchor chair next to Joan Lunden for the start of another era of "Good Morning America". After eleven years, David Hartman had retired as original host of the popular show, now also known as "GMA".
Also this day in 1987, Roger Mudd departed NBC News after seven stormy years. Previously, Mudd had been an icon at CBS News. When it was announced that Dan Rather would replace Walter Cronkite as anchor, Mudd felt that he had been passed over. He went on to find yet another network home at PBS, where he contributed to "The MacNeil Lehrer News Hour".
On this day in 1988, Metallica began three months of work on their breakthough album, their fourth, "And Justice for All."  25 years later it had sold enough units to be certified 8 times platinum.
On this day in 1990, Aaron Neville sang the U.S. national anthem at Super Bowl XXIV in New Orleans.

Also in 1990, Paul Abdul started a 10-week run at No.1 on the Billboard album chart with 'Forever Your Girl'. Abdul spent sixty-four consecutive weeks on the Billboard 200 before hitting number one, making it the longest time for an album to reach the top spot.
On this day in 1991, at The American Music Awards in Los Angeles, Gloria Estefan made her first live performance since injuring her back in a bus accident while on tour. She got a standing ovation.
Also this day in 1991, the news-in-depth show "A Closer Look" with host Faith Daniels debuted on NBC-TV.
In 1992, first lady Hillary Clinton apologized to country singer Tammy Wynette, who was angry over comments Mrs. Clinton made on "60 Minutes." Mrs. Clinton had said "I'm not sitting here like some little woman standing by her man like Tammy Wynette."

On this day in 1994, actor Hal Smith, who played the invariably drunk Otis on the Andy Griffith Show, and did voices on numerous cartoon shows, suffered a fatal heart attack at age 77.
On this day in 1995, TLC's "Creep" hit number one on the "Billboard" "Hot 100". The smash held down the top spot for four weeks.
On this day in 1996, Diana Ross headlined the halftime show at Super Bowl XX in Tempe, Ariz.
Also this day in 1996, singer Chris Isaak made a guest appearance on hour-long  post-Super Bowl episode of the NBC-TV sitcom "Friends," which had a huge audience.
Again on this day in 1996, the original Bert and Ernie Muppets were stolen from an exhibit in Germany. They were later returned.

On this day in 1997, singer Pat Boone abandoned his characteristic "squeaky-clean" image as he released "In A Metal Mood: No More Mr. Nice Guy," a CD of Heavy Metal songs.
Also in 1997, music guru/record producer Clive Davis was on hand to help unveil his own star on the Hollywood Walk of Fame.
On this day in 1999, Pat Boone formed the Gold Records label, which would only sign artists 45 years old and up. One of the first performers signed was two-time Grammy Award winner Jack Jones.
On this day in 2001, Ray Charles was in Tampa at Superbowl XXXV to sing "America The Beautiful."

Also in 2001, Jennifer Lopez started a two-week run at No.1 on the Billboard album chart with 'J.Lo.'
On this day in 2003, Stan Martin, a New York City radio personality, died at age 64. He worked at WQEW-FM and WNEW-AM, among others, and hosted the nationally syndicated "Solid Gold Country".
On this day in 2004, fans of Elvis Presley expressed their anger at plans to cut up a rare tape of the singer's early songs and sell the snippets at auction. The tape, which featured a recording made by Presley during the early 1950s, was now too fragile to play. US firm Master Tape Collection said the tape would be cut into two-inch snippets and sold for $460 each.
On this day in 2005, singer/songwriter/drummer Jim Capaldi, at one time a member of the band Traffic, was claimed by stomach cancer at age 60.

On this day in 2007, Dreamgirls: Music from the Motion Picture was at No.1 on the Billboard album chart. The musical based on the history of Diana Ross and the Supremes featured Jamie Foxx, Beyoncé Knowles, Eddie Murphy, Jennifer Hudson, Anika Noni Rose and Keith Robinson.
On this day in 2008, the reunited Police topped Forbes magazine's list of '07's top musical earners, as they brought in more than $140 million in U.S. music sales and concert tickets.
On this day in 2009, Lynyrd Skynyrd keyboard player Billy Powell died at the age of 56 of a suspected heart attack at his home in Florida. Powell called police saying he was having trouble breathing and emergency services tried to resuscitate him, but he was pronounced dead an hour later.  Powell had survived the band's tragic '77 plane crash.
On this day in 2011, Foo Fighters frontman Dave Grohl 
used Twitter to announce a surprise Santa Barbara show that evening at Velvet Jones, a small club, where the band introduced new songs – along with their classics. The concert quickly sold out.
On this day in 2014, Motley Crue announced their farewell tour at an event in L.A. billed as 'RIP: All Bad Things Must Come To An End.' "It's time for us to throw the towel in," said guitarist Mick Mars. The tour featured Alice Cooper as the opening act.
On this day in 2015, well-travelled (but talented) disc jockey Lee "Baby" Sims, who worked for 27 stations in Charleston, Orlando, San Antonio, Hartford, Cleveland, San Diego (twice), San Antonio (three times), Detroit, Los Angeles (four times), Miami, Santa Rosa, San Francisco (twice), Honolulu, and Phoenix, gave up his battle with cancer and killed himself at age 72.
On this day in 2016,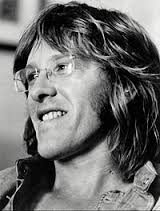 Paul Kantner, founding member, guitarist and singer for Jefferson Airplane and Jefferson Starship, died of multiple organ failure and septic shock, after suffering a heart attack earlier in the week. He was 74.
Also in 2016, Seattle-born Signe Anderson, Jefferson Airplane's original female vocalist who sang on their 1966 debut LP Jefferson Airplane Takes Off, died due to the effects of chronic obstructive pulmonary disease (COPD at age 74.
Today's Birthdays:
Actor Nicholas Pryor (Beverly Hills 90210, Port Charles) is 82.
Actor Alan Alda (West Wing, MASH) is 81.
Actor John Beck (Passions, Dallas) is 74.
Actress Susan Howard (Dallas, Petrocelli) is 73.
Ballet dancer/actor Mikhail Baryshnikov (Sex & the City) is 69.
Actress Barbi Benton (HeeHaw, Sugar Time) is 67.
Miss Washington State-1972/Seattle-born actress Susan Buckner (When The Whistle Blows, The Hardy Boys/Nancy Drew Mysteries) is 64.
Actress Harley Jane Kozak (You Wish, Harts of the West, Santa Barbara) is 60.
Guitarist Dave Sharp of The Alarm is 58.
Actor Keith Hamilton Cobb (The Young & the Restless, Andromeda) is 55.
Singer/actress Leslie 'Sam' Phillips (Gilmore Girls, Bunheads) is 55.
Actress Tyra Ferrell (Empire, The Cape, City, The Bronx Zoo) is 55.
Guitarist Dan Spitz of Anthrax is 54.
Vancouver-born actress Lynda Boyd (Republic of Doyle, You Me & the Kids) is 52.
Country bassist Greg Cook of Ricochet is 52.
Actor Chance Kelly (Aquarius, Generation Kill) is 50.
Halifax-born singer-songwriter Sarah McLachlan is 49.
Rap artist DJ Muggs with Cypress Hill is 49.
Rapper Rakim is 49.
Humourist/journalist/ TV host Mo Rocca (CBS News Sunday Morning, My Grandmother's Ravioli, The Daily Show) is 48.
Actress Kathryn Morris (Cold Case) is 48.
Singer Anthony Hamilton is 46.
Actress Gillian Vigman (Suburgatory, Sons and Daughters, MadTV) is 45.
Actress/voicist Rachel Butera (Golan the Insatiable, TripTank) is 45.
Keyboardist Brandon Bush of Train is 44.
Halifax-born actor Ty Olsson (Packages from Planet X, Men in Trees, Class of the Titans, Dragon Tales) is 43. 
Actress/dancer Melody Perkins (Power Rangers in Space) is 43.
Actress Terri Conn (As the World Turns, One Life to Live, Breaker High) is 42.
Actor Lee Ingleby (The A Word) is 41.
Singer Joey Fatone of 'N Sync is 40.
Actor Peter Youngblood Hills (Band of Brothers) is 39.
Actress Angelique Cabral (Enlisted) is 38.
Singer Nick Carter of Backstreet Boys is 37.
Actor Elijah Wood (Robot Chicken, American Dad, King of the Hill) is 36.
TV personality Camila Alves (Shear Genius) is 35.
Actor Tom Hopper (Black Sails, Merlin) is 32.
Actress Chelsea Brummet (All That) is 30.
Actress Alexandra Krosney (Last Man Standing) is 29.
Victoria-born actor Calum Worthy (Austin & Ally, Stormworld) is 26.
Actress Ariel Winter (Modern Family) is 19.
Actor/voicist Preston Strother (Ni Hao Kai-Lan) is 18.
Chart Toppers – Jan. 28
1949
A Little Bird Told Me – Evelyn Knight
Far Away Places – Margaret Whiting
Buttons and Bows – Dinah Shore
I Love You So Much It Hurts – Jimmy Wakely
1958
At the Hop – Danny & The Juniors
Don't/I Beg of You – Elvis Presley
Stood Up/Waitin' in School – Ricky Nelson
The Story of My Life – Marty Robbins
1967
I'm a Believer – The Monkees
Tell It Like It Is – Aaron Neville
Georgy Girl – The Seekers
There Goes My Everything – Jack Greene
1976
Theme from Mahogany (Do You Know Where You're Going To) – Diana Ross
Love Rollercoaster – Ohio Players
Love to Love You Baby – Donna Summer
Convoy – C.W. McCall
1985
Like a Virgin – Madonna
I Want to Know What Love Is – Foreigner
Easy Lover – Philip Bailey with Phil Collins
(There's A) Fire in the Night – Alabama
1994
All for Love – Bryan Adams/Rod Stewart/Sting
Breathe Again – Toni Braxton
Said I Loved You…But I Lied – Michael Bolton
Live Until I Die – Clay Walker
2003
Beautiful – Christina Aguilera
I'm With You  – Avril Lavigne
Landslide – Dixie Chicks
19 Somethin' – Mark Wills
2012
We Found Love – Rihanna featuring Calvin Harris
Set Fire to the Rain – Adele
Good Feeling – Flo Rida
Drink in My Hand – Eric Church