12/31/2016 5:25 PM PST courtesy TMZ.com
.
"MASH" star William Christopher — who played Father John Mulcahy on the iconic show — is the latest celebrity to die in 2016.
Christopher was part of one of the most spectacular ensembles ever on TV … a cast which included Alan Alda, Jamie Farr, Mike Farrell, Loretta Swit and Harry Morgan.
Christopher, who played a Catholic priest but was actually Methodist in real life, auditioned for the role but went off script with a rambling ad lib.  Producers loved it and hired him on one condition … that he stay on script for the series.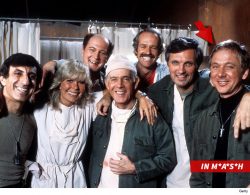 He also had roles on "Gomer Pyle," "The Andy Griffith Show" and "Hogan's Heroes."
Christopher died at his Pasadena home from non-lung, small cell carcinoma.  He leaves behind a wife and 2 kids.
He was 84.  RIP.
READ MORE  HERE