Universe: 175,050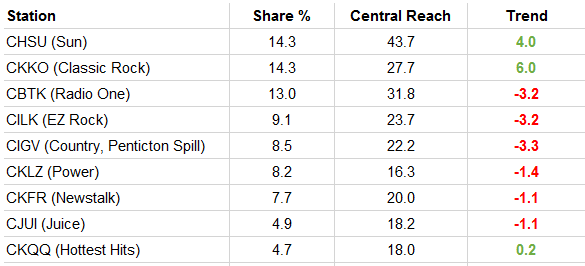 TERMS
Universe – Estimated population of the Central Market Area.
Central Market Area – A Numeris defined geographical area, usually centred around one urban centre. The definition of a Central Market Area generally corresponds to Statistics Canada Census Metropolitan Areas, Census Agglomeration, Cities, Counties, Census Divisions or Regional Districts.
Share – Within the central market area, the estimated total hours tuned to that station expressed as a percentage of total hours tuned to all radio.
Central (Ctrl) Reach – The estimated number of different people, within the central market area, who tuned to that station for at least one quarter hour during the week. Value is expressed in 000's.
Source: Numeris