Thursday December 1st, 2016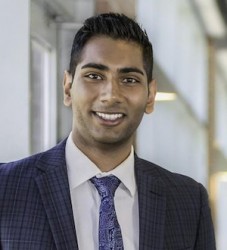 A familiar face to CTV Winnipeg viewers is returning to the city to co-host "CTV Morning Live."
Rahim Ladhani arrives from CTV Calgary to fill the spot recently left by Kris Laudien.
"It's a surreal feeling. I've been in Calgary for two years now and always tell people, Winnipeg is an underrated city," Ladhani said in an email.
"When I was living in The Peg for a year in 2014, I was still getting my feet wet in the industry and didn't take advantage of everything the city has to offer. So, this time around, I'm excited to immerse myself in the culture and really get to know the people."
"CTV Winnipeg is one of my favourite stations I've worked at and now co-hosting the morning show alongside Nicole Dubé seems like the perfect fit."
Ladhani, a Toronto native, will join fill-in co-host Gabrielle Marchand on the comfy studio chairs weekdays from 6-9 a.m. until Nicole Dubé returns from maternity leave in the summer.
His first day on the air will be December 19.
Original story and more HERE