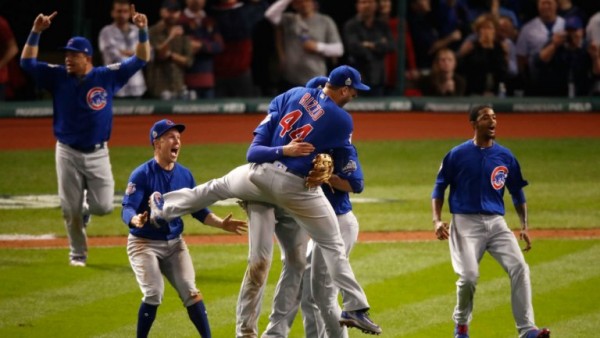 by Michael O'Connell, The Hollywood Reporter   Nov. 3 2016
.
The World Series ended on an incredibly high note, ranking as the most-watched baseball game in 25 years.After a tumultuous Game 7, one that went 10 innings and included an 11th hour rain delay, the Chicago Cubs earned the franchise's first MLB championship in 108 years. And viewers tuned in, solidifying the 2016 World Series most watched since 2004.With a huge overnight 25.2 rating among households on Fox, the Cubs' 8-7 win over the Cleveland Indians brought in more than 40 million viewers. It blasts past the previous high set on Sunday night by 65 percent, when Game 5 earned a 15.3 rating — and, ultimately, 23.6 million viewers.

This makes it the most-watched baseball game in 25 years, blowing past the handful of turn-of-the-century games that hit 39 million. The last baseball game to top the 40-million mark was in 1991. Game 6 of that World Series earned 40.8 million viewers. (The conclusion of that showdown, 50.3 million viewers in Game 7, remains unreachable.) It also makes it the most watched individual telecast this year outside the Super Bowl. Forthcoming viewership stats for Wednesday's conclusion will easily drive the seven-game average even higher. Heading into Game 7, the games had been averaging 20 million viewers.

The final average will still be shy of 2004's stunning turnout for the Boston Red Sox and the St. Louis Cardinals. That four-game series averaged more than 25 million viewers, but it only lasted four games. With seven games and such a high average, the 2016 World Series can arguably claim top ratings status since 2001.

This World Series has been a huge boon to Fox. The network, which started the 2016-17 season in the No. 4 slot, has climbed to No. 2 among adults 18-49 in the Big Four over the last month.

It should also be emphasized that baseball has managed to be a huge live draw at a time when flagging NFL ratings have gotten so much attention. Nearly every game of the 2016 World Series outmatched primetime football showings over the last month.
READ MORE ENTERTAINMENT NEWS  HERE  AT HollywoodReporter.com