­
courtesy Broadcaster Magazine Sept. 16 2016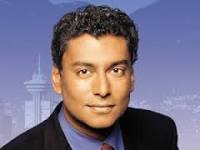 "To be a substantial part of 'The National' going forward, obviously I'd be thrilled." That's about as close as Ian Hanomansing will get to saying, yes, he'd like Peter Mansbridge's job. Mansbridge, 68, made headlines last week when he announced on-air that he would step down as CBC's chief correspondent and anchor after the Canada 150 celebrations in Ottawa next July.
That leaves CBC nearly a year to find a successor. Many would consider Hanomansing to be the heir apparent. As host of Vancouver-produced "CBC News Network with Ian Hanomansing," he won the most recent Canadian Screen Award as Canada's top national news anchor. He's also a familiar face having filled in over the years for Mansbridge on The National.
Plus, in the "because it's 2016" era of Prime Minister Justin Trudeau and the embrace of diversity, he represents the changing face of a multicultural nation. Born in Trinidad, raised in New Brunswick, and with a CBC career launched in Halifax but spent mainly Vancouver, he is in many ways the Canada 150 candidate.
.
Read More HERE