12:18 PM PDT 7/11/2016 by Marisa Guthrie, The Hollywood Reporter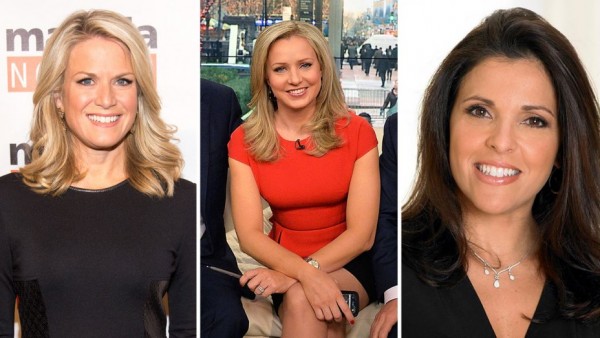 Martha MacCallum; Sandra Smith; Mercedes Colwin
                                               Getty Images; Courtesy of Mercedes Colwin
.
"I have never been instructed on the length of my skirt or the color of my lipstick," says Fox News anchor Sandra Smith.
.
A growing contingent of Fox News employees are coming forward to publicly support embattled chairman and CEO Roger Ailes in the wake of the sexual harassment claims by former anchor Gretchen Carlson.
"I have had a great personal and professional relationship with Roger. He's always been very open. We've had a lot of great one-on-one conversations," Martha MacCallum, who co-hosts America's Newsroom with Bill Hemmer, tells The Hollywood Reporter. MacCallum, who has been at Fox News for 12 years, describes Carlson's allegations as "shocking. Everybody I know at Fox was shocked."
"I was very surprised and a little bit confused," adds Sandra Smith, who hosts the all-female afternoon program Outnumbered and came to Fox News in 2007 from Bloomberg.
Mercedes Cowlin, a Fox News legal analyst since 2005 and a veteran employment lawyer, says she was "furious" when she heard about the suit.
The women join a list of female Fox News employees including Greta van Susteren, Maria Bartiromo and Jeanine Pirro, a former New York prosecutor, who have come to the defense of Ailes. Megyn Kelly, the most high-profile female anchor on the network, has yet to speak out about the controversy.
Carlson, who left the network last month after 11 years, 7 and a half them as the lone female co-host of morning show Fox & Friends, alleged in a lawsuit filed in New Jersey Superior Court that she was terminated after rebuffing sexual advances from Ailes and complaining of pervasive sexual harassment at the hands of her Fox & Friends co-host Steve Doocy, with whom she was known to have an icy relationship.
A devout Christian who taught Sunday school and is married to sports agent Casey Close, Carlson was taken off the show in 2013 and given her own 2 p.m. program. According to Carlson's suit, Ailes responded to her complaints about Doocy by "calling Carlson a 'man hater' and 'killer' and telling her that she needed to learn to 'get along with the boys.'" Carlson's attorney also alleges that Ailes ogled her, at one point asking her to "turn around so he could view her posterior" and encouraging her to wear clothes that accentuated her figure.
"Amazing, a television executive who cares what his television screen looks like. I mean, this isn't a shocker," says Smith, who adds she has "never been instructed on the length of my skirt or the color of my lipstick. It doesn't happen. I do work with women who do like to look good and feel good. Many of us are athletes and we work out, some of us work out together. That's just the environment we're in. We do care about – not just what we sound like and what we know – but what we look like. And image is important, believe it or not, when you're on a television screen."
Since the allegations exploded into public view July 6, six more women have come forward with stories of alleged harassment at the hands of Ailes, all of them before Ailes started Fox News Channel in 1996. The stories are lurid and include propositions of sex and in many cases retaliation for fending off advances. Ailes' attorney has denied all of the allegations.
READ MORE  HERE  AT THE HOLLYWOOD REPORTER WEBSITE
Original Story HERE