ON THIS DAY in 1901
the "mother of the soap opera" Irna Phillips was born in Chicago.

She created at least 10 longrunning daytime dramas, including Painted Dreams, Guiding Light, the Road of Life, The Brighter Day, Woman in White, The Road to Happiness & Young Dr Malone on radio, and Another World, As the World Turns, and Days of Our Lives for TV.  Phillips also consulted on TV's Peyton Place.   The 'Queen of the Soaps' died Dec 22 1973 of undisclosed causes at age 72.     Irna Phillips as creator/producer was portrayed in 2007 on the 70th Anniversary telecast of The Guiding Light, which is viewable HERE via YouTube.
In 1902, comedian/raconteur Myron Cohen was born in Poland.  He appeared on Toast of the Town & The Ed Sullivan Show at least 33 times, and another 10 times on The Tonight Show.  He died Mar 10, 1986 at age 83.
In 1907, pioneer sportscaster Bill Stern was born in Rochester NY.  From his first football game over WHAM in his home town, his flair for the dramatic was present in all his work, including the Colgate Sports Newsreel & the Gillette Friday Night Fights on NBC Radio. Later he joined ABC, and was the announcer on the first televised boxing match. He died after a heart attack Nov 19 1971 at age 64.
In 1923, the first permanent radio network, the AT&T web, was set up between WEAF New York and WMAF near Boston.

In 1927, Prime Minister Mackenzie King dedicated Ottawa's Peace Tower carillon in the first Trans-Canada radio network broadcast hookup over telephone and telegraph lines; celebrating the Diamond Jubilee (60th Anniversary) of Confederation.
In 1934, the Federal Communications Commission, as mandated in the Communications Act of 1934, replaced the Federal Radio Commission as the regulator of broadcasting in the United States.
In 1935, Benny Goodman's big band recorded Jelly Roll Morton's King Porter Stomp for RCA Victor Records, featuring trumpeter Bunny Berigan. Many people considered this Fletcher Henderson-arranged Goodman classic marked the beginning of the swing era.
In 1941, both CBS & NBC were granted licenses for their flagship New York TV stations, W2XBS (now WCBS) channel 2, and WNBT, now WNBC channel 4.

Also in 1941, Sam G. Ross became the first manager of Press News Limited, later known as Broadcast News, which provided Canadian Press News to private stations. Before World War II was over, Ross had resigned to become News Director and later Assistant Manager of CKWX Vancouver. In 1958 he became the first private radio member of Ottawa's Press Gallery.
Still in 1941, the Bulova Watch company sponsored the first TV commercial. Remember "It's Bulova Watch Time?"  It was broadcast over WNBT-TV in New York City, and was a familiar advertising message on TV, radio and in print for many years. That first TV ad, incidentally, cost the watchmaker nine dollars!
In 1948, the CBC bought CKY Winnipeg from Manitoba Government Telephones, switching call letters to CBW with 50,000 watts two months later.
In 1952, Hall of Fame sportscaster Jim Robson broke into radio at CJAV Port Alberni (B.C.). He was only 17 years of age and quickly migrated to Sports, doing play-by-play for the Alberni Athletics basketball team, including their win of the 1955 Canadian Senior Men's Championship game.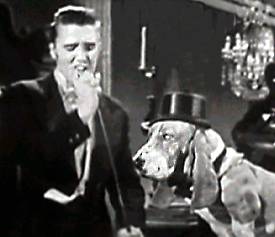 In 1956, an apparently sanitized Elvis Presley appeared on NBC- TV's 'The Steve Allen Show' in a tuxedo and sang 'Hound Dog', to a real live Hound Dog.  New York TV critic John Crosby panned the performance, describing Elvis as an 'unspeakable, untalented and vulgar young entertainer.' The Presley appearance helped Allen trounce his CBS-TV competition 'The Ed Sullivan Show' in the ratings.
Also in 1956, Brenda Lee went into a recording studio for the first time, at the age of eleven (recording her version of Hank Williams' "Jambalaya.")
In 1958, the CBC debuted nationwide TV broadcasts as the new Trans-Canada microwave relay system went into operation.
Also in 1958, 19-year-old Frankie Avalon made his first appearance on American Bandstand, lip-synching to his first Top Ten hit "De De Dinah."
In 1962, CBS-TV aired an Ed Sullivan Show that had been taped at the Moulin Rouge Nightclub in Paris, headlined by Connie Francis.

In 1963, The Beatles recorded their next single at EMI Studios, London, 'She Loves You' and 'I'll Get You', completing the two songs in less than four hours. Released in August of this year, 'She Loves You' became The Beatles' first million-selling single.
Also in 1963, Toronto's CFRB-FM became CKFM with completely separate programming. For most of its life to date the station had been simulcasting the schedule of CFRB 1010 AM.
In 1965, bandleader & composer Claude Thornhill died at age 55.
Also in 1965, The Beatles' album "Beatles VI" was certified as a Gold Record.
In 1966, Toronto CTV station CFTO-TV transmitted the first colour television in Canada.

In 1967, Scott McKenzie scored his first hit with the single, San Francisco (Be Sure to Wear Flowers in Your Hair). The song became an anthem for the Love Generation and the young people of flower power. McKenzie also co-wrote a hit for the Beach Boys in 1988, called Kokomo.
Also in 1967, The Association scored their second and last No.1 single with 'Windy'.
Still in 1967, the Beatles' album "Sgt Pepper's Lonely Hearts Club Band," went to #1 on the album charts, and stayed there for 15 weeks.
In 1968, CHUM-FM radically changed formats from classical to progressive rock.

In 1969, Vancouver's C-FUN 1410 changed its call letters to CKVN.  VN=Voice of  News.  C-FUN would get its call letters back Sept. 30, 1973
Also in 1969, in Memphis Sam Phillips sold Sun Records, one time home to Elvis Presley, Jerry Lee Lewis, Johnny Cash and Carl Perkins, to new owner Shelby Singleton.
Still in 1969, a car crash in Scotland injured John Lennon and his son Julian, along with Yoko Ono and her daughter Kyoko.  (A notoriously poor driver, John drove his white Austin Maxi into a ditch.) The adults required numerous stitches, the kids were only severely shaken up.

In 1970, Jimi Hendrix recorded his first session at Electric Ladyland Studios, New York.
In 1971, the album "Aqualung" by Jethro Tull was certified Gold.
In 1972, "Song Sung Blue" by Neil Diamond topped the singles charts, his second song to do so.
Also in 1972, a special "American Bandstand" featured Michael Jackson performing "Ben," "Rockin' Robin" & "I Wanna Be Where You Are."
In 1975, the Captain & Tennille received their first gold record with "Love Will Keep Us Together."
In 1976, 
  Connie Francis won her lawsuit against the hotel where she was sexually assaulted in 1974, and was awarded $2.5 million.
In 1977, only the first two stations, Toronto and Ottawa, were operational as Canada's CKO All-News network signed on for the first time, on the FM band. Stations in London, Calgary and Vancouver would join the network before year's end.   Awash in red ink CKO went silent at noon eastern time Nov 10, 1989.
Also in 1977, opening the North American leg of their 'In The Flesh' tour, the UK's Pink Floydplayed the first of four sold out nights at Madison Square Garden in New York.
In 1978, Foreigner's future Top Five single "Hot Blooded" was released.
In 1979, Sony introduced the portable audio device known as the Walkman.

Also in 1979, the Doobie Brothers celebrated their 10th anniversary with an all-star jam session at the Friar's Club in Los Angeles.
In 1980, although it had been Canada's de facto national anthem since 1939, an act of Parliament on this day made "Oh Canada" the country's official national anthem.
In 1981, the U.S. Supreme Court ruled that candidates for federal office had an "affirmative right" to go on national television. The ruling limited a TV network's right to determine when political campaigns begin and who may buy time.
Also in 1981, bass player Rushton Moreve, a founding member of Steppenwolf, died in a Southern California motorcyle accident at age 32. He had been fired from the group in 1969. Their biggest hit was "Born to Be Wild" in 1968.
Still in 1981, CKEG AM 1350 signed on the air in Nanaimo with 10,000 watts.

Again in 1981, actor George Voskovec, who played on all the 1950's live TV drama anthologies, and in Nero Wolfe & Skag in 1980-81, died at age 76.
In 1983, John Bongiovi signed with Mercury Records. The label, wanting to make his name easier to spell, suggested stage names such as Johnny Lightning. The compromise they settled on was Jon Bon Jovi.
In 1984, the album "Animalize" was released by KISS. It would sell a million copies and be certified 'Platinum' by the end of the year.

In 1986, JR COUNTRY 93.7 signed on at 9:37 am with Waylon Jennings' "Are You Ready for the Country".
The same day, CKDA Victoria moved from AM 1220 to AM 1200.
In 1987, WFAN-AM, New York became America's first 24/7 Sportstalk Radio station.
Also in 1987, the Grateful Dead released one of their more commercially successful LPs, "In The Dark."
In 1989, Milli Vanilli scored their first Billboard No.1 single with 'Baby Don't Forget My Number.'

In 1991, actor Michael Landon, who had three blockbuster TV hits in Bonanza, Little House on the Prairie, and Highway to Heaven, died at age 54 after a lengthy battle with pancreatic cancer.
Also in 1991, the cable channel Court TV was born. The network broadcast entire trials, both famous and low profile. It was a unique addition to the already changing climate of TV information/entertainment.
In 1995, one of the world's most famous deejays Wolfman Jack collapsed and died of a heart attack at age 57, at his home in Belvidere, in northeastern North Carolina. Fans first learned to love the Wolfman in 1963 on 250,000-watt XERF (Del Rio TX – Ciudad Acuna, Mexico), heard all over North America. You may also remember him as, that's right, Wolfman Jack, in the 1973 movie American Graffiti. And he's the same Wolfman The Guess Who sang about in their 1974 hit Clap for the Wolfman.

In 1996, WBSI TV replaced WNYC on channel 31 in New York City
In 1997, actor Robert Mitchum, who lit up the small screen in the mini-series Winds of War, & War and Remembrance, died of lung cancer & emphysema at age 79.
In 1998, singer Martina McBride joined the Lilith Fair lineup in Oklahoma City, making her the first contemporary country artist to guest on the popular festival's female-dominant bill.
Still in 1998, a track from metal-funk band White Zombie's 1993 Geffen album "La Sexorcisto: Devil Music Volume One" had the dubious distinction of being played repeatedly to ward off paparazzi at the wedding of Barbra Streisand and James Brolin. The hardcore song "Thunder Kiss '65" was played at ear-splitting levels for four hours straight from a van parked outside Streisand's Malibu villa, incensing photographers and preventing reporters from hearing the ceremony inside. The couple honeymooned on a boat in the nearby Channel Islands off the Santa Barbara coast.

In 1999, singer/actor Guy Mitchell, who had 1950's hits with Heartaches By The Number, Singing The Blues, Pittsburgh Pennsylvania, Belle Belle My Liberty Belle, My Truly Truly Fair, The Roving Kind, and My Heart Cries for You, died while undergoing cancer surgery at age 72.
In 2000, actor Walter Matthau, who starred in scores of anthology dramas in TV's first decade, before becoming a major comedic force on the big screen, suffered a fatal heart attack at age 79.
In 2002, The Who played their first show without bassist John Entwistle, who had died the week earlier. The show was in Los Angeles.
In 2003, jazz flutist Herbie Mann died of prostate cancer at age 73.  Mann was among the first jazz musicians to specialize on the flute and was perhaps jazz music's preeminent flautist during the 1960s.

In 2004, actor Marlon Brando, whose small screen appearances were limited to star turns in The Godfather Saga & Roots: The Next Generation, died of a pulmonary fibrosis at age 80.
Also in 2004, Glen Campbell began serving his sentence of 10 nights in jail along with two years of probation for a November 2003 drink-driving, hit-and-run collision. The 68 year old music star was also assigned 75 hours of community service and fined $900.
In 2005, Four Tops singer Renaldo "Obie" Benson died at age 69 in a Detroit hospital from lung cancer. The Four Tops sold over 50 million records and had hits including 'Reach Out (I'll be There)' and 'I Can't Help Myself.'
Also in 2005, R&B and soul singer-songwriter, record producer Luther Vandross died at age 54, two years after suffering a major debilitating stroke.


His 'Never Too Much', was a No.1 R&B hit; he worked with Diana Ross, Carly Simon, Chaka Khan, Donna Summer, Barbra Streisand, Mariah Carey and David Bowie. Vandross had won four Grammys for his final album 'Dance With My Father.'
In 2006, Busta Rhymes was at No.1 on the Billboard album chart with The Big Bang, the hip-hop artist's seventh album release.
In 2008, Whitesnake guitarist Mel Galley, died at the age of 60 from cancer of the oesophagus. Galley also played with Trapeze, Glenn Hughes, Cozy Powell and the Blue Jays.
Also in 2008, BBC Radio 4 aired a Beatles interview given to Scottish TV on April 30, 1964, in which John Lennon and Paul McCartney discussed how they met and the way they worked together composing.  Said John, "We write them [songs] on an old piano, anything that's lying around."  "Normally we just sit down and bash it out," added McCartney. The interview had turned up in a film can in a damp garage in south London.

In 2009, actor Karl Malden died at age 97.  He starred in the 70's in ABC TV's Streets of San Francisco, and in the 1980 series Skag, followed by a dozen made-for-TV movies. But he may be best remembered as TV spokesman for American Express, reminding cardholders "Don't leave home without it".
Also in 2009, five weeks after it debuted at #1 on the Billboard 200 album chart, "21st Century Breakdown" by Green Day was certified gold for shipments of 500,000 copies.
In 2010, actress/singer Ilene Woods, who provided the voice of Cinderella in the 1950 Disney animated feature film, died at age 81 after suffering for several years with Alzheimer's.
In 2011, an 8-foot statue of pioneer rocker Chuck Berry, funded by donations, was erected along the St. Louis Walk of Fame. It would be officially dedicated July 29th.

In 2013, actor Paul Jenkins, who will perhaps be best remembered as Professor Parks on The Waltons (1974-76), and as Ed on Dynasty(1981), died following a brief illness at age 74.   He also had small roles on such TV series as M*A*S*H, Columbo, The Partridge Family and Kojak.
Also in 2013, Canadian rockers Avril Lavigne and Nickelback frontman Chad Kroeger tied the knot at Cannes, France. They would honeymoon at Portofino Italy.
In 2015, prolific UK session drummer Bruce Rowland, whose 40-year career included recording work for a long list of artists, and stints with Fairport Convention and Joe Cocker's Grease Band, succumbed to cancer at age 74.
Today's Birthdays:
Actress Olivia de Havilland (Roots: The Next Generations, North & South: Book 2) is 100.
Actress-dancer Leslie Caron (Falcon Crest, Master of the Game) is 85.
Actor Jamie Farr (MASH) is 82.
Actress Jean Marsh (Upstairs, Downstairs 1 & 2, Doctor Who) is 82.
Bluesman James Cotton is 81.
Dancer Twyla Tharp is 75.
Gospel singer-choir leader Andrae Crouch is 74.
Montreal-born actress Genevieve Bujold (Hallmark Hall of Fame) is 74.
Singer Deborah Harry of Blondie is 71.
Actor Daryl Anderson (Lou Grant) is 65.
Singer Victor Willis of the Village People is 65.
Singer Fred Schneider of the B-52's is 65.
Ottawa-born actor Dan Aykroyd (The Real Ghostbusters, Sat. Night Live) is 64.
Actress Lorna Patterson (Private Benjamin, Goodtime Girls) is 60.
Actor Alan Ruck (Spin City, Greek, The Bronx is Burning) is 60.
Singer Evelyn "Champagne" King is 56.
Edmonton-born radio & TV hostess Marilyn Denis is 58.
Actor Dale Midkiff (The Magnificent Seven, Time Trax) is 57.
R&B singer Evelyn "Champagne" King is 56.
Chatham Ont.-born country singer Michelle Wright is 55.
Actor Andre Braugher (Brooklyn Nine-Nine, Men of a Certain Age, Homicide) is 54.
Actor Ritchie Coster (True Detective, Luck, Jonny Zero, As The World Turns) is 49.
Ladysmith BC-born actress Pamela Anderson (Baywatch, Home Improvement, VIP, Stacked) is 48.
Actor Henry Simmons (Agents of S.H.I.E.L.D., NYPD Blue, Shark) is 46.
Actress Julianne Nicholson (Boardwalk Empire, Law and Order: Criminal Intent, Ally McBeal) is 45.
Actress Melissa Peterman (Baby Daddy, Reba) is 45.
Rapper Missy Elliott is 45.
Actress Claire Forlani (NCIS:Los Angeles, Camelot, CSI:NY) is 44.
Actor Thomas Sadoski (The Newsroom) is 40.
Actress Kellie Bright (EastEnders) is 40.
Actress Liv Tyler (The Leftovers) is 39.
Actress Hilarie Burton (One Tree Hill, White Collar, Extant) is 34.
Actress Lynsey Bartilson (Grounded for Life) is 33.
Actor Evan Ellingson (CSI: Miami, 24) is 28.
Actress Hannah Murray (Game of Thrones, Skins) is 27.
Actor Mitch Hewer (Skins) is 27.
Actors Stephen and Andrew Cavarno (Party of Five) are 24.
Actress Raini Rodriguez (Austin & Ally)  is 23.
Chart Toppers – July 1
1945
Laura – The Woody Herman Orchestra
Dream – The Pied Pipers
Sentimental Journey – The Les Brown Orchestra (vocal: Doris Day)
At Mail Call Today – Gene Autry
1954
Little Things Mean a Lot – Kitty Kallen
Hernando's Hideaway – Archie Bleyer
Three Coins in the Fountain – The Four Aces
Even Tho – Webb Pierce
1963
Sukiyaki – Kyu Sakamoto
Blue on Blue – Bobby Vinton
Easier Said Than Done – The Essex
Act Naturally – Buck Owens
1972
Song Sung Blue – Neil Diamond
Outa-Space – Billy Preston
Lean on Me – Bill Withers
Eleven Roses – Hank Williams, Jr.
1981
Bette Davis Eyes – Kim Carnes
A Woman Needs Love (Just like You Do) – Ray Parker Jr. & Raydio
The One that You Love – Air Supply
Blessed are the Believers – Anne Murray
1990
Step By Step – New Kids on the Block
Do You Remember? – Phil Collins
Hold On – En Vogue
Love Without End, Amen – George Strait
1999
I Want It That Way – Backstreet Boys
Livin'  La Vida Loca – Ricky Martin
Hey Leonardo (She Likes Me For Me) – Blessid Union Of Souls
Write This Down – George Strait
2008
Take a Bow – Rihanna
Bleeding Love – Leona Lewis
I Kissed A Girl – Katy Perry
Better as a Memory – Kenny Chesney