PRESS RELEASE from
SpeakFree Media Inc. today announces the conclusion of a month-long 10th anniversary celebration of the company's syndicated radio show, Top of The Charts, with celebrity guests joining host Jeremy Bradley.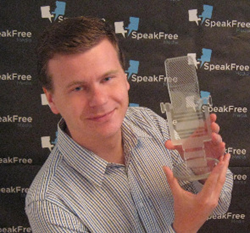 For the first time ever, the show is music-free and going all talk for two hours. Celebrity guests include Judy Sheindlin ("Judge Judy"), Nigel Lythgoe ("So You Think You Can Dance"), Ben Mulroney ("etalk"), comedian Margaret Cho, Rachel Reilly ("Big Brother") and music group O-Town. In addition, Bradley rebroadcasts some of his most memorable on-air moments and chats with colleagues about the show's history.
From humble beginnings in a Winnipeg basement, aspiring broadcaster, Jeremy Bradley, forewent a job with a major broadcaster to pursue entrepreneurialism by creating, producing and hosting a two-hour top 40 music show on a small Internet radio station in Vancouver that now a decade later is heard on dozens of North American stations. He later formed the company SpeakFree Media Inc.
After hundreds of celebrity interviews (http://www.speakfreecelebwatch.com), countless live red carpet broadcasts (live.jbonair.com) and travel/tourism programming all over North America, Bradley, also a syndicated newspaper columnist and bestselling author, takes a moment to reflect on the past decade at 10years.ca, a special website looking back at the show's milestones.
Read More HERE