ON THIS DAY in 1900 
broadcast journalist Lawrence E. Spivak was born in Brooklyn.

He is best remembered as the host of NBC's Meet the Press from 1965-75. Prior to that time he had been a member of the program's panel of questioners, from the first Mutual radio broadcast in 1947.  He died of congestive heart failure March 9 1994 at age 93.
In 1911, sportscaster Russ Hodges was born in Dayton Tennessee. As longtime baseball broadcaster for the New York/S.F. Giants, he was at the mike for Bobby Thomson's 1951 home run, the so-called 'Shot Heard Round the World.'  "The Giants win the pennant! The Giants win the pennant!"  Hodges suffered a sudden & fatal heart attack April 19 1971 at age 59.
In 1913, opera star Rise Stevens was born Rise Steenberg in New York City. Her celebrated 'Carmen' was her signature role with the Metropolitan Opera.  Her voice & good looks made her a natural for movies, and in turn led to frequent guest spots on radio & TV, notably 13 times on the Ed Sullivan Show. Ms. Stevens died March 20 2013, three months short of her 100th birthday.

In 1914, actor Gerald Mohr was born in New York City. The radio, film and television character actor appeared in over 500 radio plays, including the title role in Raymond Chandler's "Adventures of Philip Marlowe."  He made 73 films and over 100 television shows, including westerns "Maverick", "Cheyenne", "Bronco", "Sugarfoot" and "Bonanza", as well as episodes of "Perry Mason", "77 Sunset Strip", "Hawaiian Eye", "Lost in Space" etc, and did announce/narration for early episodes of "The Lone Ranger."   He died of a heart attack Nov 9 1968 in Stockholm at the age of 54.
In 1920, pianist Hazel Scott was born in Trinidad. She was a child prodigy who became one of America's premier pianists of her time. Topping her talents off with a warm singing voice to complement her glamorous presence, she was a club and radio star by the late 30s and performed with such notables as Count Basie. Her most successful recording was Tico Tico. She had two TV series in the early years of the 'new' medium, and had guest roles in the series Julia & The Bold Ones.  She died of cancer Oct. 2, 1981 at age 61.
In 1928, King Oliver and his band recorded "Tin Roof Blues" for Vocalion Records.

In 1940,
the Ink Spots, with future Vancouver resident Bill Kenny on lead vocal, recorded "Maybe" on Decca Records. By September, the single peaked at #2 on North America's pop music charts.
In 1942, the No. 1 Billboard Pop Hit was "Tangerine," with Helen O'Connell, Bob Eberly & the Jimmy Dorsey Orchestra.
In 1949, Hank Williams made his debut on the Grand Ole Opry. His performance, with the audience demanding several encores of "Lovesick Blues," is still considered one of the Opry's greatest moments. The success of his recording of that song had led to the Opry contract, and he remained with the show until being fired in August 1952 for perpetual drunkenness.

In 1953,
the all-black TV sitcom "Amos 'n Andy," which had begun on radio in 1929 with two white men playing all the parts, was driven from the air in the heat of the civil rights movement, for its so-called stereotypical characterizations.  This was the last time it was seen on CBS, though the radio series on which it was based ran until 1960.
In 1955, "Ain't That a Shame" by Fats Domino hit #1 for 11 weeks on the Billboard R&B Singles chart.
In 1957, Elvis Presley's future #1 hit "(Let Me Be Your) Teddy Bear" b/w "Loving You" was released on RCA Victor.

In 1961, Roy Orbison was wrapping up a week atop the Billboard pop chart with Running Scared, his first number one hit. Orbison recorded 23 hits for the pop charts, but only one other song made it to number one: Oh Pretty Woman in 1964.
In 1962, Pete Best was on drums for the last time as The Beatles taped several numbers for the BBC radio show "Here We Go."  The session was recorded at the Playhouse Theatre in Manchester.
In 1964, The Rolling Stones held an attention-grabbing "press conference" in the middle of Michigan Avenue in Chicago, just outside Chess Studios. Local police promptly broke it up.
Also in 1964, the UK band Manfred Mann recorded their first #1 single "Do Wah Diddy Diddy."
In 1965, the No. 1 Billboard Pop Hit was "Back in My Arms Again," by The Supremes
Also in 1965, the Rolling Stones released the EP "Got LIVE If You Want It."

In 1966,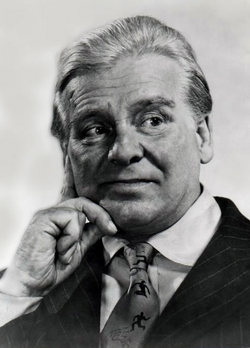 actor Wallace Ford, who co-starred with Henry Fonda in the TV series The Deputy, died after a heart attack at age 68.
Also in 1966, European radio stations falsely reported that Roger Daltrey of The Who was dead. The truth was that Pete Townshend had minor injuries from a car accident a few days earlier and the stations reported bad information.
Still in 1966, the UK publication Melody Maker reported that Eric Clapton had split from John Mayall's Bluebreakers, Jack Bruce had left Manfred Mann and Ginger Baker quit the Graham Bond Organization to form a new group called Cream.

Again in 1966,
"Paint It Black" by the Rolling Stones topped the charts and stayed there for 2 weeks.  That same day "I Am A Rock" by Simon & Garfunkel peaked at #3.
In 1967, the Mamas & the Papas were featured guests on CBS-TV's Ed Sullivan Show, singing "Dedicated To The One I Love" and "Creeque Alley."  Comedians Richard Pryor and Alan King also performed.
In 1968, at the Abbey Road studios in London on the Beatles next LP 'The White Album', John Lennon worked on 'Revolution 9' in studio 3, while Paul McCartney was in studio 2 recording 'Blackbird.'
In 1969, "The Ballad Of John and Yoko" by The Beatles hit #1 in the UK.
Also in 1969, David Bowie's single, "Space Oddity," was released to coincide with the first lunar landing.
In 1970, actor Frank Silvera, a regular on the western TV series High Chaparral, died in an accidental electrocution in his home at age 55, while trying to repair a garbage disposal.

Also in 1970, a U-S tour by Ginger Baker's Air Force was cancelled eight days before the first concert because of what was termed the "political situation in America." Not mentioned was that only three-thousand tickets were sold for the opening date. Baker, the former drummer for Cream, later opened a recording studio in Nigeria.
In 1971, a somewhat drunken Dennis Wilson, drummer for the Beach Boys, accidentally put his hand through the glass door of his home, severing nerves that kept him from drumming for the better part of three years.
In 1976, the TV game show based on pinball, "The Magnificent Marble Machine" with host Art James, aired for the last time on NBC, after an 11 month run.
Also in 1976, Wild Cherry's future #1 single "Play That Funky Music" was released.  It eventually had sales totals of 2.5 million.
In 1977, KC and the Sunshine Band became only the second group after The Jackson Five to achieve four Billboard chart toppers when 'I'm Your Boogie Man' went to #1.
In 1978,
  the No. 1 Billboard Pop Hit was "Shadow Dancing," by Andy Gibb.
Also in 1978, the Rolling Stones released "Some Girls."
In 1979,  one of America's greatest legends, both as a movie star and as a symbol of patriotism, died this day. Marion Michael Morrison, known as John Wayne, died following a courageous fight with stomach cancer. "The Duke" was 72. He had been a Hollywood hero for almost 50 years, with some 200 movies to his credit.  Many of them continued to be staples of television programmers for another ten years.
Also in 1979, Chuck Berry pleaded guilty in Los Angeles to income tax evasion. The charge stemmed from a 1973 debt of 110-thousand dollars. Berry served four months in prison.
In 1983, "My Love" by Lionel Richie peaked at #5.
In 1986, the short lived mystery series "Blacke's Magic," co-starring Hal Linden & Harry Morgan, aired for the last time on NBC-TV.

Also in 1986, The Police reunited at an Amnesty International show in Atlanta, performing five songs.
In 1988, actor Nathan Cook, a regular on TV's White Shadow, died of an allergic reaction to penicillin at age 38.
Also in 1988, a huge charity rock concert was staged at London's Wembley Stadium. Sting, Whitney Houston, Stevie Wonder, Bryan Adams, Phil Collins and other singers gathered to denounce South African apartheid and honour jailed black leader Nelson Mandela on his 70th birthday. More than 70-thousand fans paid 45-dollars U-S each to attend the nearly 11-hour concert.
In 1989, a who's who of Canadian folk music turned out on the banks of the Oldman River in Alberta to help protest construction of a dam. Ian and Sylvia, Gordon Lightfoot and Murray McLauchlan treated about eight-thousand people to a free concert.
In 1990, trumpeter and bandleader Clyde McCoy died in Memphis at age 86. Famed for his "wah-wah" trumpet sound, McCoy was best known for his 1931 hit "Sugar Blues."

Also in 1990, singer Olivia Newton-John became a United Nations environmental ambassador.
In 1992, during their worldwide Zoo TV tour, U2 invited ABBA's Bjorn Ulvaeus and Benny Anderson to join them onstage at their concert in Stockholm for a rock rendition of ABBA's hit "Dancing Queen."
Also in 1992, a Kitchener, Ontario, nightclub that billed itself as the world's largest bar, Lulu's Roadhouse, closed after declaring bankruptcy. The three-thousand-seat club owed more than 3.5-million dollars to its creditors. During its eight years, Lulu's hosted such legends as the Everly Brothers, Fats Domino, Jerry Lee Lewis, Johnny Cash and Waylon Jennings. The club re-opened several weeks later under new owners.
In 1993, two short-lived NBC TV game shows aired for the final time;  "Scattergories," & "Scrabble," after a 6 month run.  It had been the second run for Scrabble, which was first on the network between 1984 & 1990.

In 1994, actor Herbert Anderson, best remembered as the father of TV's "Dennis the Menace," died of complications from a stroke at age 77.
Also in 1994, Frank Virtue, leader of the Philadelphia-based instrumental trio the Virtues, died at age 67.  The combo's recording of "Guitar Boogie Shuffle," featuring the twin lead guitars of Virtue and Jimmy Bruno, was a top-five hit in 1959.
In 1995, Hole lead singer Courtney Love (below), widow of Nirvana star Kurt Cobain, was treated in a Seattle hospital for an apparent overdose of prescription drugs. Emergency workers were called to Love's home, where Cobain had shot himself the previous year.

In 1996, Garth Brooks signed autographs for 23 straight hours in Nashville. Some fans waited in line for up to 15 hours.
Also in 1996, a Metallica concert at a small club in San Francisco was broadcast live via the Internet.
In 1998, Stone Temple Pilots lead Scott Weiland skipped a scheduled Superior Court date in Los Angeles and checked himself into a drug treatment facility. The court date stemmed from charges filed in the beginning of the year for possession of heroin.
Also in 1998, following much fanfare, Seattle-based Amazon.com expanded its operation from books only to include music as well. Amazon.com's online CD seller opened for business with a list of titles numbered at 120,000 divided among 14 genres.

In 1999, actor DeForest Kelley who played Dr. McCoy on "Star Trek," died outside Los Angeles after a long battle with stomach cancer. He was 79.
In 2000, Aaliyah went to No.1 on the Billboard singles chart with 'Try Again'. It became the first "airplay-only" song to reach No.1 on the singles chart (no points from the sales of a single release).
In 2001, Sir Paul McCartney married Heather Mills at St Salvator Church, Ireland. Heather walked down the aisle clutching a bouquet of 11 'McCartney' roses.
Also in 2001, the first episode of "Fear Factor" aired on NBC-TV.

Still in 2001, Depeche Mode opened their Exciter world tour with a concert at the Coliseum in Quebec City.
In 2002, in Ireland, three hundred guests, including Elton John, David Gilmour, Chrissie Hynde, and former bandmate Ringo Starr, attended the wedding of Paul McCartney to former model and current activist Heather Mills.
Also in 2002, the live Bee Gees album "One Night Only" was released on CD.

In 2003, veteran NBC and ABC television newsman & anchor David Brinkley died of complications from a fall at age 82.
In 2004, Courtney Love surrendered to LA police after allegedly assaulting a woman at the home of her former manager and ex-boyfriend Jim Barber. She was later released on bail. The charges related to an incident six weeks earlier, when Ms Love allegedly assaulted a woman with a bottle and a torch.
In 2005, Jimmy Page, Led Zeppelin founding member and guitarist, was awarded an OBE in the Queen of England's Birthday Honours list, and Queen guitarist and founding member Brian May was awarded a CBE.

In 2006, Victoria's Nelly Furtado was at No.1 on the UK singles chart with 'Maneater', the Canadian's first No.1 hit since her first hit 'I'm Like A Bird' five years earlier.
In 2007, the final episode of "The Sopranos" aired on HBO (Movie Central in Canada.)
In 2008, The American Federation of Musicians filed a federal lawsuit against the producers of American Idol, claiming musicians were underpaid because the show's live music had been recorded for re-runs. The union filed the suit seeking unspecified damages in the US District Court in Los Angeles.
Also in 2008, Frank's daughter Nancy Sinatra appeared before a U.S. House subcommittee. pleading for legislation that would require all performers, not just songwriters, to be paid a fee whenever their recordings air on commercial radio.

In 2009, in Britain Peter Doherty was released on £50,000 bail to await trial accused of driving dangerously after a gig. The Babyshambles frontman pleaded guilty to possessing heroin and to having no driving licence or insurance.
Also in 2009, in London, John Lennon's widow Yoko Ono received a lifetime achievement honor at the Mojo magazine awards, the first trophy in her 41-year music career.
In 2012, 
  Vancouver-born film actress Ann Rutherford, who was Scarlett O'Hara's sister in Gone With the Wind, and appeared in four Perry Mason TV hours as well as two dozen other TV roles late in her career, died at age 91.
In 2013, guitarist Johnny Smith, who was equally at home playing hillbilly music and cool jazz as with the New York Philharmonic, died 12 days short of his 91st birthday.
In 2014, Ruby Dee, the award-winning black actress whose seven-decade career included triumphs on stage, screen and television, died at age 91.  Dee — often with her late husband, Ossie Davis — was a formidable force in both the performing arts community and the civil rights movement. She had key roles in the series 'Little Bill', 'Street Gear,' 'The Guiding Light' and 'Peyton Place', and the groundbreaking mini-series 'Roots: the Next Generations.'
Also in 2014,
Country Radio Hall of Fame disc jockey Lee Rogers died following a stroke at age 67.  His 40-year career included air assignments at Seattle (KMPS), Denver, Minneapolis, San Diego and Jacksonville, and culminated in 15 years as morning man at KUPL Portland, where he retired in 2009.
In 2015, Jim Ed Brown, whose easygoing vocal style led to a seven-decades-long career that included Grand Ole Opry membership and 2015 election into the Country Music Hall of Fame, lost his lengthy battle with cancer at age 81. He was best known as the lead singer of 'The Browns' which included his two sisters.
Also in 2015, Ornette Coleman, the alto saxophonist who was one of the most powerful and contentious innovators in the history of jazz, died of cardiac arrest at age 85.
Today's Birthdays:
Actor Gene Wilder (Electric Company, Something Wilder) is 83.
Comedian/actor Johnny Brown (Laugh-In, Good Times) is 79.
Former race car driver/TV commentator Jackie Stewart is 77.
Former actress Christina Crawford (Joan's adopted daughter) (The Secret Storm) is 77.
Singer Joey Dee is 76.
Actress Adrienne Barbeau (Maude, Carnivale) is 71.
Drummer Frank Beard of ZZ Top is 67.
Actor Michael Swan (One Life to Live, As The World Turns, Stop Susan Williams) is 66.
Rock singer Donnie Van Zant is 64.
Actor Peter Bergman (All My Children, The Young and the Restless, Starland Vocal Band) is 63.
Fox News Channel host Greta Van Susteran is 62.
Actor Hugh Laurie (House MD, The Night Manager, Jeeves & Wooster) is 57.
Daytime TV's Dr. Oz (The Dr. Oz Show) is 56.
Actress Britta Phillips (Mary Shelley's Frankenhole, Moral Orel, Jem) is 53.
Actor Wren T. Brown (Whoopi, Bless This House) is 52.
Actress Pamela Gidley (Skin, The Pretender, Strange Luck) is 51.
Country singer Bruce Robison is 50.
Actress Clare Carey (Crash, Jericho, Point Pleasant) is 49.
Actor Peter Dinklage (Game of Thrones) is 47.
Bassist Smilin' Jay McDowell (BR5-49) is 47.
Bassist Dan Lavery of Tonic is 47.
Actor Lenny Jacobson (Nurse Jackie, Big Time in Hollywood, Fl.) is 42.
Rock musician Tai Anderson (Third Day) is 40.
Saskatoon-born actor Shane Meier (Intelligence, Adv. of Sonic the Hedgehog) is 39. 
Vancouver-born actor Joshua Jackson (Fringe, Dawson's Creek) is 38.
Rapper Lil' Zane is 31.
Dream Street singer Chris Trousdale is 31.
Vancouver-born Marianas Trench lead singer Josh Ramsay is 31.
Actor Shia LaBeouf (Even Stevens) is 30.
Actress Jelly Howie (The Spoils of Babylon, Rockville CA) is 29.
Actress Claire Holt (The Vampire Diaries, Pretty Little Liars) is 28.
Actor Ralph Rodriguez (Chicago Fire) is 24.
Actress Ivana Baquero (The Shannara Chronicles) is 22.
Reality TV personality Sadie Robertson (Duck Dynasty) is 19.
Actress Katelyn Nacon (The Walking Dead) is 17.
Actress Saxon Sharbino (Touch) is 17.
Chart Toppers June 11
1952
Kiss of Fire – Georgia Gibbs
Blue Tango – The Leroy Anderson Orchestra
Be Anything – Eddy Howard
The Wild Side of Life – Hank Thompson
1961
Running Scared – Roy Orbison
I Feel So Bad – Elvis Presley
Stand by Me – Ben E. King
Hello Walls – Faron Young
1970
Everything is Beautiful – Ray Stevens
Which Way You Goin' Billy? – The Poppy Family
Up Around the Bend/Run Through the Jungle – Creedence Clearwater Revival
Hello Darlin' – Conway Twitty
1979
Love You Inside Out – Bee Gees
We are Family – Sister Sledge
Just When I Needed You Most – Randy Vanwarmer
She Believes in Me – Kenny Rogers
1988
One More Try – George Michael
Together Forever – Rick Astley
Everything Your Heart Desires – Daryl Hall John Oates
I Told You So – Randy Travis
1997
MMMBop – Hanson
Return of the Mack – Mark Morrison
The Freshmen – The Verve Pipe
It's Your Love – Tim McGraw & Faith Hill
2006
Hips Don't Lie – Shakira featuring Wyclef Jean
Where'd You Go – Fort Minor
What's Left of Me – Nick Lachey
Settle for a Slowdown – Dierks Bentley