Wednesday June 8, 2016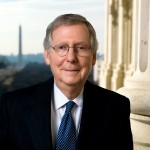 The Washington Examiner has the details from the Senate Majority Leader Mitch McConnell who said the reason Republican base voters have unrealistic expectations is because of talk radio. And when politicians say talk radio, that usually means Rush Limbaugh, Sean Hannity, Mark Levin, Glenn Beck and other conservative talkers. McConnell also said talk radio may have contributed to Donald Trump's win in the party's presidential primary.
While some talk radio hosts, such as Glenn Beck and others, have been dead set against Donald Trump, others such as Rush Limbaugh have not endorsed any candidate. That has been taken by some as a tacit endorsement of the long-time businessman, especially when there were other staunch conservatives in the field before Trump won the nomination and those conservative talkers did not come right out and support them, such as Ted Cruz.
Read More HERE