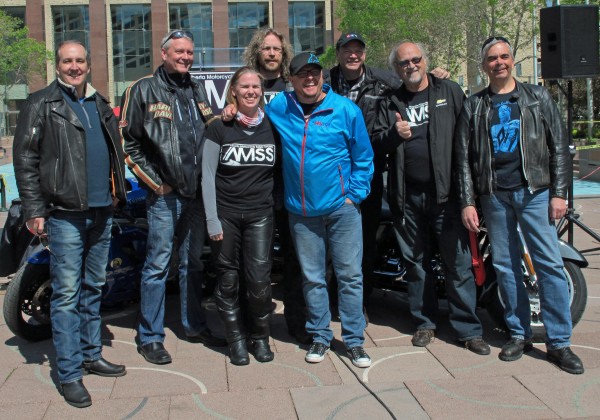 By Marty Forbes
PSR Contributor
May the 11th, 2016
Something very unique has just happened in Edmonton radio this week.
The biggest multi media traffic safety campaign ever produced in Edmonton was launched by a group that featured several key Media 'riders' from radio, television and print.
.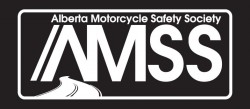 .
The Alberta Motorcycle Safety Society (
AMSS
) launched a campaign of television psa's, radio commercials, and print coverage that highlights the 6 deaths of motorcycle riders last year in Edmonton – as well as the 208 'accidents' that happened on the roads.
.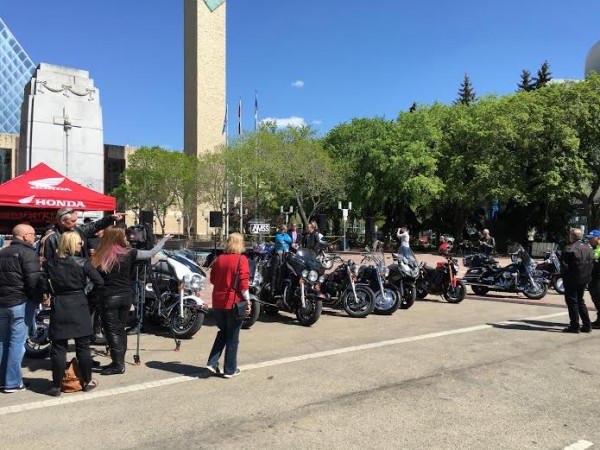 .
The campaign is called "We are…" and it's a series of people taking their helmets off and identifying themselves as "your next door neighbour, your Dentist, your Doctor, the Military, your grandfather, etc.  Each spot is TAGGED by a Media rider and includes people like CTV's
6 o'clock 
anchor Daryl McIntyre, Globals Gord Steinke, radio guys like CFCW morning man Sean Burke, Capital FM's Shane Michaels, and 630 CHED's J'Lyn Nye.  They can all be seen at
ab-amss.org
or on the AMSS
Facebook
site.
.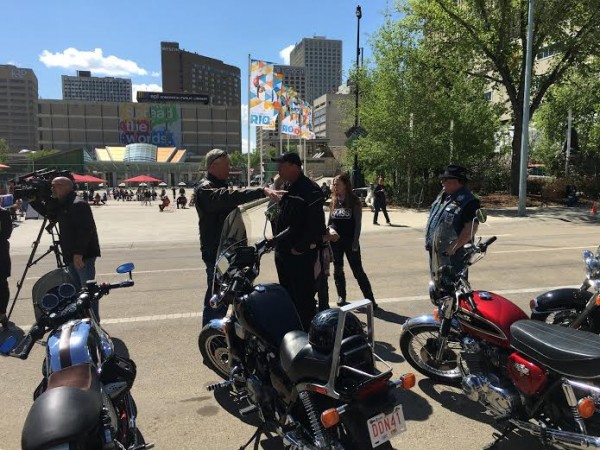 .
Radio spots are 'personalized' by the media riders too – including K97 Morning Man Terry Evans (who MC'd the launch); K97/Global Televisions Todd James who describes TWICE being hit by 'left turning' drivers and destroying his motorcycle; Rob Berg of K97, Steve Zimmerman of The One, and Cam Hayden of CKUA.  Generic spots were produced and are being aired by radio stations that don't currently have media 'riders.'
.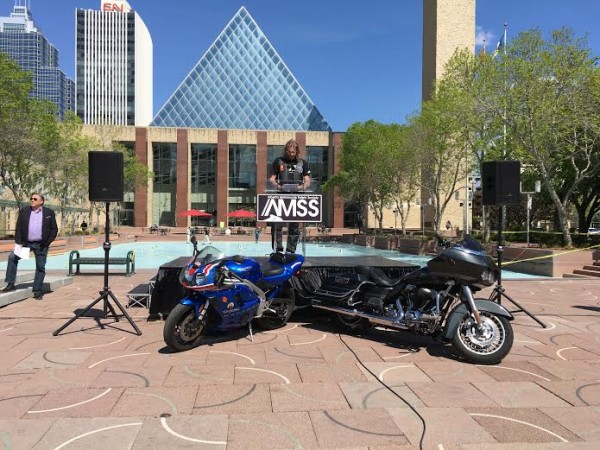 The campaign is being run by 'every' television station; every radio station; and in print by Edmonton Sun columnist and long time media guy Marty Forbes.
.
.
There's a social media campaign on Facebook; a Twitter site; Instagram and a special Soundcloud account where podcasts are being recorded that highlight traffic safety, riding tips, and other motorcycle information.
.
All creative was produced by Chris Duncan and his team at Shaw Cable.  All voicing by high profile media voice Dan Tucek and 'all' of the campaign has been given to the AMSS 'free' from all Edmonton media.
.
The launch was also sanctioned by the City of Edmonton Traffic Safety Department as it ties in to the current Vision Zero plan.
.
President of the AMSS Liane Langlois kicked the campaign off at City Hall on Wednesday, May 11th – and it will run for several months on Edmonton media.
Many of the participants took a break from coverage of the horrible Fort McMurray fires to participate in the AMSS campaign.
 .
It is one of the most unique and powerful campaigns ever produced by media – and Edmonton shines…as usual.
.
Marty's Musings