May 3rd, 2016
A number of recent stories alleging bias by conservative Talk radio and television hosts in their coverage of GOP presidential hopefuls, illustrate just how many media reporters still remain unclear on the difference between a "news" show and a "talk and opinion" show.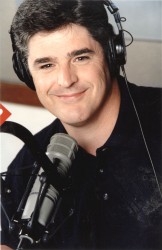 One radio and TV host who unapologetically answers the charge he's been too soft on Donald Trump and other Republicans is Sean Hannity. "I'm biased. I want the Republican nominee to win, and conservatives and Republicans to unite," tweeted the Premiere Networks syndicated radio talker and FOX News Channel host in recent days. "I am a talk show host, not a journalist. I want the R to win, I say it everyday."
In a feature penned by Dylan Byers for CNNMoney, Hannity addressed critics who say he's favored Trump over Ted Cruz and other GOP candidates. "To be perfectly blunt, I'm looking forward to when we have a candidate and can unite and rally around that candidate," he said. "The person is either going to be Ted Cruz or Donald Trump. My advice to you is to go fight hard for the person you believe in. Fight for your principles. Fight for what you believe in." Read the full story HERE.
NTS Media On Line.com and Other stories HERE