By Greg Simpson

April 2016
CMW IS PROUD TO ANNOUNCE THE RECIPIENT OF THE 2016 ALLAN WATERS YOUNG BROADCASTER OF THE YEAR AWARD IN HONOUR OF STEVE YOUNG TO TYLER MIDDLETON, X92.9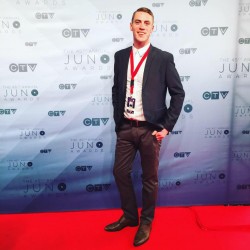 Canadian Music Week is proud to announce that Tyler Middleton, host of X-Mornings with Tyler & Lynch on Calgary's Alternative X92.9, is the recipient of the 2016 Allan Waters Young Broadcaster of the Year Award in honour of Steve Young.
This is the 9th year The Allan Waters Young Broadcaster of the Year Award in Honour of Steve Young will be presented at the Canadian Music and Broadcast Industry Awards (MBIA's). The MBIA's will take place as part of Canadian Music Week on Thursday, May 5, 2016 at the Sheridan Centre Grand Ballroom in Toronto.
Steve Young was one of the most loved broadcasters and consultants in Canadian radio history. After cutting his teeth in Canadian radio he moved on to become a well respected consultant with Joint Communications and helped put together some of North America's greatest radio stations before moving Stateside and establishing The End in Seattle which itself influenced many other stations. The award is presented by the Watters family to honour Allan Waters radio legend and founder of CHUM.
MORE ABOUT OUR RECIPIENT:
Growing up in small town Ontario, Tyler loved listening to the radio and when it came time to make some life decisions, he came to the conclusion radio was the best way to combine his love for comedy and music. After attending the radio broadcast program at Humber College in Toronto, and garnering some motivation from mentors within the industry, Tyler packed up his life and headed to Alberta to start his career. In four short years, Tyler's unique style of radio and drive to improve has moved him from hosting afternoons on Wayne FM in Wainwright AB, a market of a mere 6000 people, to Edmonton for an evening show on HOT 107, and then finally to Calgary where he has worked his way up from mornings alongside music director Chris Lynch. He also hosts The Alt 30 Countdown with Lynch and Tyler on Saturday's and Sunday's. When he's not working you can probably find him in the back of the local comedy club or catching a concert.
Tyler will be honoured at the Canadian Music Industry and Broadcast Awards Dinner and formally presented with his award at the Broadcasters Round Table on the morning of Friday, May 6, 2016 at Canadian Music Week in Toronto.
LINKS
http://cmw.net/awards/music-broadcast-industry-awards/
Greg Simpson is a regular contributor to Puget Sound Radio with his daily feature 'Today's Almost Forgotten Track" (T.A.F.T.)