Our facebook friend Robbin Reay announced on her page this morning, she left the Jim Pattison radio station last Friday…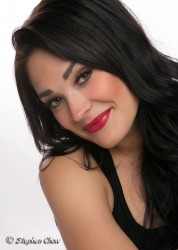 This post is bitter-sweet.
Friday was my last day on the air at up! 99.3. I feel so fortunate to have had the chance to work alongside so many extraordinary people over the past 5 1/2 years, and I've got a boatload of memories to go along with it. However, sometimes change is a blessing in disguise.
"Just Be Yourself". A line that is often fed to us growing up, but we should always remind ourselves of as life goes on. Unfortunately, I was in a role where I felt the very opposite. This was no secret to the people closest to me, and even though I gave it my best shot, it was obvious that my heart and my head were experiencing some major disconnect.
Sometimes it's just better for both parties to let go, and let be. (Can you tell I've been listening to a lot of James Bay lately?)
I truly believe that the things that scare us most in life, are always the most worthwhile. This is my fresh start, my clean slate, and I really do look forward to the next adventure.
Thank you to everyone who has reached out – your support means the world to me. I'm really going to miss all you crazy hooligans.
Robbin