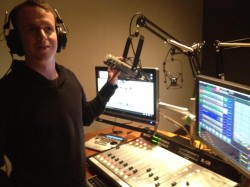 By Donovan Tildesley
PSR Contributor

Wednesday April the 13th, 2016
As those of you who have read my posts already know, I'm all about nostalgia. There are those of us in life who look forward, but I've recently come to the conclusion that I'm one who prefers to look back. Radio is one vehicle for me in which to do so. And in my mind, there was always something special about travelling and radio. To this day, anytime I visit a new city, the first thing I do is turn on the radio in order to get a feel for the place. Granted, this is much harder to do with today's overly-streamlined radio, but still possible in some instances. Small town radio has always held a special place in my heart, which leads me to this week's feature.
Shawn Rosvold on CFTK Terrace, August 9, 1984 (11:29)
Courtesy the man himself, this aired a mere three weeks after my birth! The 1984 Olympics are well underway, and "Shawn in the Mornin'" is waking up Terrace with great music, TM jingles, and his unique brand of dry humour. (Why do I feel that I'm listening to a less surly version of Superjock Larry Lujack??) This was a full-service morning show, but sadly all of the other elements (news and sports) are scoped out. We're treated to two live Overweighty commercials, and a Trivial Pursuit contest winner. Why he asks for the contestant's number live on-air is somewhat puzzling. This was small town British Columbia, but the presentation sounds major market. Shawn's wit and personable style would have fit like a glove at CKNW around this time. Shawn later went onto gigs at the Okanagan's OR-Radio (where I first heard him in Summer '92), prior to stops in San Francisco and New York City.
This weekly feature is brought to you by Donovan and Buntain Insurance of Vancouver.
INSURANCE and Donovan Tildesley go hand in hand. Contact Donovan for all your insurance needs, be it house, property, personal possessions, Auto Insurance, Mr. Tildesley is your man.
Donovan Tildesley, BA CAIB
Give Donovan a call at 604-733-3000
or email him [email protected]
Buntain Insurance Agencies Ltd.
3707 West 10th Avenue
Vancouver BC, V6R 2G5