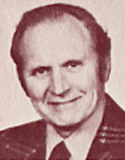 One of the nicest guys ever in Canadian radio, Rudy Hartman, turns 99 on Wednesday April 6th.  He's still got some of the best pipes ever to be heard over a Vancouver, Victoria or BBC microphone (during WWII), and while his health is not the absolute best, he still manages to make it to our monthly luncheons of the Victoria "radio bunch."  We had an early 99th birthday party for him Monday afternoon, with a delightful birthday cake that he thoroughly enjoyed.
And Rudy still has all his wits about him, which means he can enjoy a good conversation … and a good joke.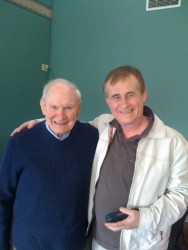 If you ever worked with Rudy during his stops at the pre-rock CKLG, CHQM, CJVB, CJVI or CFMS, or if you remember him as a listener, I know he'd be delighted to hear from you.  He is residing at the Berwick Retirement Home on Elk Lake Drive, and can be reached through their switchboard at (250) 386-4680.
Thanks to Gord Lansdell at Vancouver Broadcasters for the solo  photo of Rudy.