ON THIS DAY in 1878
in Victoria BC, R. B. McMicking demonstrated the city's first 2 telephones.

In 1912, actor Karl Malden was born Mladen George Sekulovich in Chicago. In a 7-decade acting career his best-known role was alongside an emerging Michael Douglas as Lt. Mike Stone in ABC TV's 1970s police drama, The Streets of San Francisco. (A later generation will remember hin best for his American Express commercials, pictured above.) He died July 1 2009 at the age of 97.
In 1916, orchestra leader/composer George Wyle was born in New York City.  He directed the baton for TV's Flip Wilson Show, The Captain & Tenille Special, & Jimmy Durante Presents The Lennon Sisters. He was chorale director for The Jerry Lewis Show, The Andy Williams Show, & The Dinah Shore Chevy Show.  He composed the theme & music for Gilligan's Island. He wrote the Christmas favorite The Most Wonderful Time of the Year for Andy Williams, etc.  He died of leukemia May 2 2003 at age 87.

In 1917, actress Virginia Grey was born in Los Angeles.  She was a veteran of both A & B movies by the time TV arrived & offered her repeated roles in Wagon Train, The Millionaire & Fireside Theatre, plus scores of one-shots. She died of heart failure July 31, 2004 at age 87.
In 1920, actor Ross Martin was born Martin Rosenblatt in Grodek Poland.  He starred for 4 years in TV's The Wild Wild West, and had recurring roles on Hawaii 5-0, Mr. Lucky & Treasury Men in Action. He was a regular player on Mike Stokey's Pantomime Quiz.  He died after a heart attack July 3, 1981 at age 61.
In 1922, pioneer radio station WLW, Cincinnati, Ohio began broadcasting under Crossley ownership with 50 watts.  At one point in its history (1934-39) it was powered by 500,000 watts.

In 1924, TV announcer Bill Wendell was born William Joseph Wenzel, Jr. in New York City.   He was a voiceover announcer for NBC TV for almost his entire professional career.  His highest profile was gained via his work on David Letterman's Late Night shows at both NBC & CBS, until he retired Aug. 18 1995, to be succeeded by Alan Kalter. He succumbed to cancer April 14 1999 at age 75.
In 1930, the "Stein Song (University of Maine)" by Rudy Vallee hit #1 and stayed there for 10 weeks.
In 1942, the quiz show, "The Better Half", was first heard on Mutual radio. The wartime radio program brought four married couples to compete in stunts involving traditional concepts of, er, "manhood" and "womanhood".

In 1948, NBC Radio's "Voice of Firestone", a 30-minute showcase of semi-classical music, became the first commercial radio program to be carried simultaneously on both AM and FM stations.
In 1952, Uncle Dave Macon, the first star of the Grand Ole Opry, died in Readyville, Tennessee at 81. The singing banjo player had joined the Opry in 1926.
In 1955, at Sun Records in Memphis, John Cash, who had been renamed "Johnny" by his producer/label owner Sam Phillips, recorded "Hey Porter," his first single. Released in July, it edged out Elvis at #1 in Memphis that summer and hit #14 on Billboard's C&W chart. Johnny earned his first Sun royalty check, for $2.41.

In 1956, Carl Perkins was severely injured (his brother Jay was killed) in a car accident near Wilmington, Delaware. He was on his way to New York to perform his hit song "Blue Suede Shoes" on NBC's "Perry Como Show."  With a fractured neck and severe concussion Perkins was forced to spend months in the hospital. By the time he recovered, Elvis Presley's cover version of "Shoes" had far surpassed his own, and Perkins' career was never the same.
In 1957, RCA Victor released Elvis Presley's fourth #1 hit single "All Shook Up."
In 1958, at the urging of his mother, Hank Williams Jr. made his stage debut at the age of eight in a small town in Georgia.
In 1960, the Seattle-based Ventures recorded their huge surfer-rock hit "Walk – Don't Run."

In 1961, Dee Clark recorded "Raindrops," which was destined to be his one and only Top 10 hit.
Also in 1961, Elvis Presley was in the middle of a three-day recording session in West Hollywood, taping the 24-year old standard "Blue Hawaii," the title tune from his next movie.
In 1963, The Beatles' debut album, "Please Please Me," was released in the UK by the Parlophone label.
In 1964, CBS-TV's Ed Sullivan Show featured Bobby Vinton singing his third straight Top Ten hit,"My Heart Belongs to Only You." Movie star Van Johnson sang the standard, "Just One of Those Things," The Ladybugs performed "I Saw Him Standing There," while the comedy came from Totie Fields, George Kirby, and Sullivan's favorite Italian mouse puppet, Topo Gigio.

In 1965, Bob Dylan's first electric album "Bringing it All Back Home" was released.
In 1967, The Who made their U.S. debut, performing on the stage of the Paramount Theater in New York City.
In 1970, CFMI 101.1 FM Vancouver signed on with an automated rock/country hybrid, "Canadiana" vignettes and international music on Sundays.


From 1974-81 CFMI would play more vocals, and progress to an adult contemporary, then to a classic rock format.
Also in 1970, the No. 1 Billboard hit was "Bridge Over Troubled Water" by Simon & Garfunkel. The album and single won six Grammys including Record, Album and Song of the Year. It was the duo's biggest hit, selling more than 1 million copies and topping the pop chart for six weeks.
In 1971, Nova Scotians enjoyed the first radio and TV coverage of the proceedings of their provincial legislature.
Also in 1971, John Lennon released the single "Power To The People" in North America, ten days after it had been issued in the UK.
In 1974, The Eagles released their third studio album, "On The Border," recorded in London and Los Angeles.

In 1975, singer/comedienne Cass Daley, who had her own radio show in the 1940's, and guested with others on TV in the 50's, died after a home accident involving a glass table at age 59.
Also in 1975, Frankie Valli went to No.1 on the US singles chart with 'My Eyes Adored You', his first solo No.1.
Still in 1975, Barry Manilow made his first television appearance, performing "Mandy" and "It's A Miracle" on ABC's "American Bandstand." The gig would lead to a long and productive friendship with Dick Clark, who employed the singer/songwriter on many of his shows.
In 1977, country singer Stoney Cooper died at age 58. He and his wife Wilma Lee were considered among the most authentic singers of traditional West Virginia mountain music.
Also in 1977, ABC aired the John Denver TV special "Thank God I'm a Country Boy," with guests Glen Campbell, Johnny Cash and Roger Miller.
In 1978, "The Rutles: All You Need Is Cash," a Beatles parody special that grew out of sketches on ex-Monty Python member Eric Idle's UK show "Rutland Weekend Television," got its first U.S. airing on NBC. Unfortunately it attracted the lowest viewership that week of any network show on US prime time television.

In 1980, Pink Floyd started a 4-week run in the #1 slot on the pop charts with their smash, "Another Brick in the Wall." (When the boys popped open their gold record and threw it on the stereo, they heard "Flowers on the Wall" by the Statler Brothers.)
In 1981, RCA put its Selectravision laser disc players on the market. Soon, the product was called the Edsel of the entertainment field. The units cost $500 and the videodisks about $15 each. The combination failed to catch the consumer's fancy.
In 1982, the first solo album by Diana Ross for RCA Victor, "Why Do Fools Fall in Love," having sold more than a million copies, was certified Platinum.
In 1984, Canada's first woman broadcaster Jane Gray died at age 87. She began her career in 1924 at CJGC (now CFPL) radio in London, Ont., by hosting Canada's first advice show.

In 1985, Clara Peller, the lady who said, "Where's the Beef?" in those Wendy's hamburger ads, said, "Where's my final paycheck?" She ended her relationship with Dave Thomas and company when she "found the beef" for a spaghetti sauce company. The hamburger chain said filming an ad for some other outfit caused her to "lose credibility."
In 1986, singer Mark Dinning, who had a 1960 million-seller with "Teen Angel," died at age 52. The ballad was written by his sister, Jean. It told of a girl who returned to a stalled car to retrieve her boyfriend's high school ring, only to die when the vehicle was hit by a train.

Also in 1986, the No. 1 Billboard hit was "These Dreams" by Heart. The song was the Seattle group's first chart-topping single.
In 1987, comic actress Joan Shawlee, who had running TV roles with Abbott & Costello, the Dick Van Dyke Show, the Betty Hutton Show, and The Feather & Father Gang, succumbed to cancer at age 61.
In 1991, Kingston Trio co-founder Dave Guard (pictured, right) died of cancer at age 56. The Trio's late-'50s hits such as "Tom Dooley" and "M-T-A" helped lead to the '60s folk revival. Dave Guard left the Trio in 1961, but never achieved similar success.

In 1994, singer-songwriter Dan Hartman died in Westport, Connecticut of
an AIDS-related brain tumour at age 43. Ten years earlier, his "I Can Dream About You" from the "Streets of Fire" movie soundtrack had reached number six on the Billboard pop chart.
Also in 1994, two disparate music acts Bob Dylan and Liberace played NBC-TV's Late Night with David Letterman.
In 1996, a man claiming to have a bomb held a radio station manager hostage in the New Zealand city of Wanganui. He demanded to hear Kermit the Frog's "Rainbow Connection."The bomb was a fake, and the man was charged with kidnapping.
In 1997, Paul McCartney's custom-made bass guitar went for 200-thousand dollars (U-S), and a grey suit worn on stage by John Lennon sold for 35-thousand, at a Tokyo auction of Beatles memorabilia.

Also in 1997, shock-rock band Marilyn Manson was forced to cut short a show at the Nimitz Concert Hall in Honolulu, after lead singer Manson injured his hand during the performance. Manson had fallen onstage and cut an artery in his hand.
Again in 1997, "Can't Nobody Hold Me Down" by Puff Daddy topped the charts and stayed there for 6 weeks.
In 1998, Vancouver-based singer Sarah McLachlan capped a banner year with four Juno awards. In 1997 and early '98, McLachlan's all-women Lilith Fair was hailed as the North American tour of the summer, and she won two Grammy awards.

In 1999, Britney Spears' album "…Baby One More Time" was certified triple platinum by the RIAA.
In 2001, film & TV animation giant William Hanna of the Hanna-Barbera team, died at age 90.   Hanna-Barbera were the creators of cartoons Tom & Jerry, The Flintstones, The Huckleberry Hound Show, The Jetsons, Scooby-Doo, The Smurfs, and Yogi Bear.
In 2004, Ozzy Osbourne topped a Yahoo poll as the UK's choice for ambassador to welcome aliens to our planet.
In 2005, guitarist Rod Price of Foghat died when he suffered a heart attack and then fell down a flight of stairs.  He was 57.

In 2006, Aerosmith lead singer Steven Tyler's pending throat surgery forced the band to pull out of the last 12 dates on their North American tour, and sparked unfounded rumours that Tyler was battling throat cancer.
In 2007, Calgary radio station CKCE FM 101.5 launched at 1:01 pm with the song "What Goes Around . . . Comes Around Interlude" by Justin Timberlake followed by "Like a Prayer" by Madonna.
Also in 2007, Nickelback frontman Chad Kroeger told a news conference that the band's charity single "If Everyone Cared" raised more than $200,000 for Amnesty International and International Children's Awareness Canada.
In 2008, country singer Alan Jackson was at No.1 on the Billboard album chart with his fifteenth solo album 'Good Time.'

In 2011, at the Auckland Town Hall the Foo Fighters played the first of two shows that raised over $1 million for victims of the Australian floods and New Zealand earthquakes.
In 2013, British jazz trumpeter Derek Watkins, who played with every notable UK bandleader as well as the Royal Philharmonic Orchestra, the London Symphony Orchestra and The Beatles, succumbed to cancer at age 68.
Also in 2013, a rare set of 61 black-and-white photos photographs taken at The Beatles' 1965 concert at Shea Stadium were auctioned for $46,700. Photographer Marc Weinstein had used a fake press pass to get backstage.
In 2014,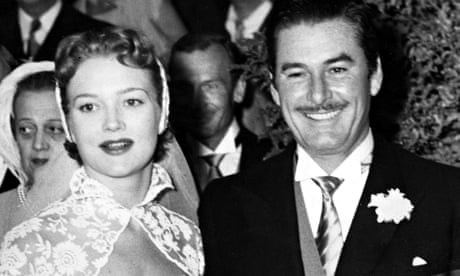 actress/singer/dancer Patrice Wymore, a Warner Bros. contract player who became the 3rd (and final) wife of Errol Flynn (pictured), who guest starred for 15 years in various TV series, died of natural causes at age 87.
Today's Birthdays:
Composer Stephen Sondheim is 86.
TV evangelist Pat Robertson (700 Club) is 86.
Montreal-born actor William Shatner (Star Trek, TJ Hooker, Boston Legal) is 85.
Actor M. Emmet Walsh (Sandy Duncan Show, Unsub, East of Eden) is 81.
Singer Roger Whittaker is 80.
Singer Jeremy Clyde of Chad and Jeremy is 75.
Vancouver-born actress Barbara Parkins (Peyton Place, Scandalous Me: the Jacqueline Susann Story) is 74.
Singer-guitarist George Benson is 73.
CNN News anchor Wolf Blitzer is 68.
Composer Andrew Lloyd Webber is 68.
Sportscaster Bob Costas is 64.
Country singer James House is 61.
Actress Lena Olin (Alias) is 61.
Singer-actress Stephanie Mills is 59.
Actor Matthew Modine (Weeds, The Bedford Diaries) is 57.
Actor Steve Toussaint (Scott & Bailey, Inspector Lewis) s 51.
Actor Eric Bruskotter (Tour of Duty) is 50.
Actor Keegan-Michael Key (MADtv, Key and Peele) is 45.
Actor Will Yun Lee (Witchblade, Strike Back, Hawaii 5-O 2010) is 45.
Actor Guillermo Diaz (Scandal, Weeds, Mercy) is 41.
Actor Cole Hauser (Rogue, Chase. High Incident) is 41.
Actress Anne Dudek (Covert Affairs, House, Mad Men) is 41.
Actress Kellie Shanygne Williams (Family Matters, What About Joan) is 40.
Actress Reese Witherspoon (Return to Lonesome Dove) is 40.
Drummer John Otto of Limp Bizkit is 39.
Vancouver-raised actress Kandyse McClure (Battlestar Galactica, DaVinci's Inquest, Hemlock Grove) is 36.
Actress Tiffany Dupont (Greek) is 35.
Rapper Mims is 35.
Actress Constance Wu (Fresh Off the Boat) is 34.
Actor James Wolk (Mad Men, The Crazy Ones) is 31.
Vancouver-born actress Katie Stuart (The 100, The Crow: Stairway to Heaven) is 31.
Actress Lizzie Brocheré (American Horror Story) is 31.
Actor Matt Bush (Glory Daze, The Goldbergs) is 30.
Actress Tania Raymonde (Trial, Switched at Birth, Lost, Malcolm in the Middle) is 28.
Guitarist Lincoln Parish of Cage The Elephant is 26.
Actor Mick Hazen (As the World Turns) is 23.
Comox BC-born actor Gig Morton (Mr. Young) is 20.
Chart Toppers – March 22
1948
Now is the Hour – Bing Crosby
I'm Looking Over a Four Leaf Clover – The Art Mooney Orchestra
Beg Your Pardon – Francis Craig
I'll Hold You in My Heart (Till I Can Hold You in My Arms) – Eddy Arnold
1957
Young Love – Tab Hunter
Little Darlin' – The Diamonds
Party Doll – Buddy Knox
There You Go – Johnny Cash
1966
The Ballad of the Green Berets – SSgt Barry Sadler
19th Nervous Breakdown – The Rolling Stones
Nowhere Man – The Beatles
Waitin' in Your Welfare Line – Buck Owens
1975
My Eyes Adored You – Frankie Valli
Lady Marmalade – LaBelle
Lovin' You – Minnie Riperton
Before the Next Teardrop Falls – Freddy Fender
1984
Jump – Van Halen
Girls Just Want to Have Fun – Cyndi Lauper
Somebody's Watching Me – Rockwell
Elizabeth – The Statler Brothers
1993
Informer – Snow
Nuthin' But a "G" Thang (facts) – Dr. Dre
Freak Me – Silk
Heartland (facts) – George Strait
2002
Can't Get You Out of My Head – Kylie Minogue
Ain't It Funny – Jennifer Lopez
Hands Clean – Alanis Morissette
The Cowboy in Me – Tim McGraw
2011
Born This Way – Lady Gaga
F**k You (Forget You) – Cee Lo Green
S&M – Rihanna
Don't You Wanna Stay – Jason Aldean with Kelly Clarkson